The Supercharged Life: How To Sleep, Move, And Eat Your Way To Better Healt...
Description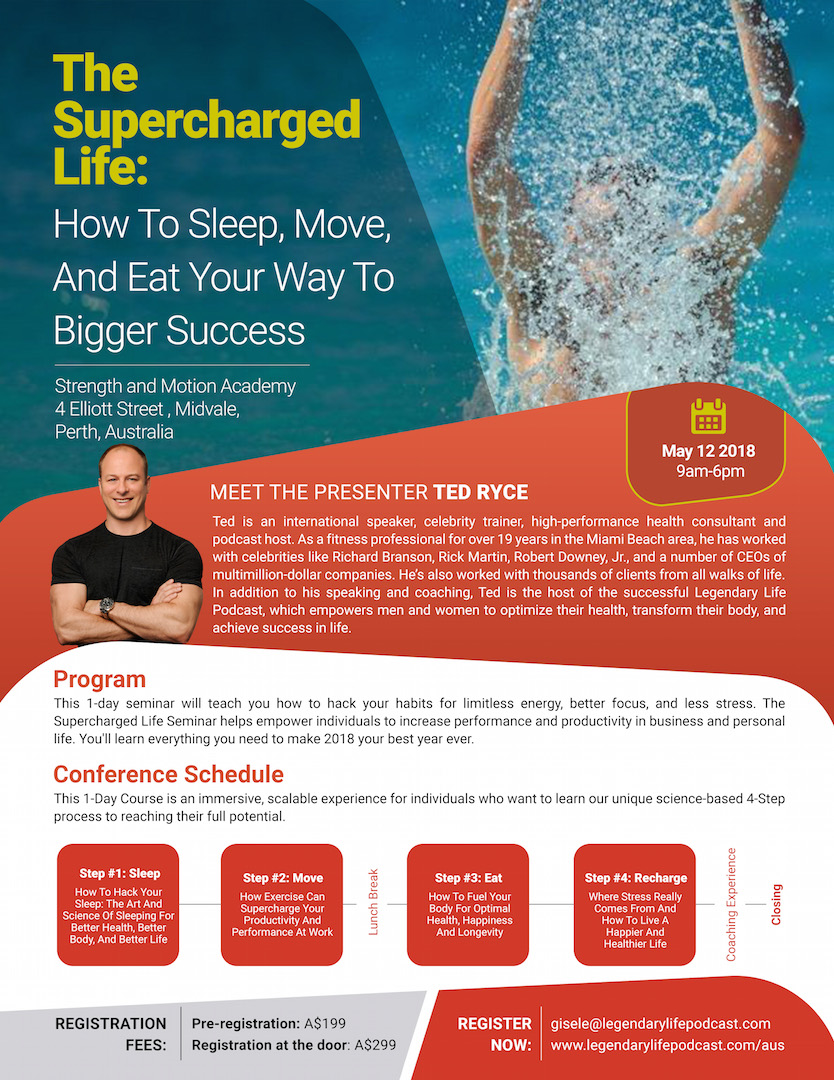 Face it. We don't always take care of ourselves as well as we should. But whether it's convenient or not, maintaining our health should come first, before our daily to-do's, before our work.
Why? Because if we aren't healthy, we can't perform at a high level--at work or at home.
This 1-day seminar will teach you how to hack your habits to limitless energy, rejuvenating sleep, and healthier eating habits. The Supercharged Life Seminar helps empower individuals to increase performance and productivity in business and personal life.You'll learn everything you need to make 2018 your best year ever.
"The higher your energy level, the more efficient your body. The more efficient your body, the better you feel and the more you will use your talent to produce outstanding results." --Tony Robbins
At the Supercharged Life seminar, you'll learn our unique science-based 4-Step process to reaching your full potential:
Step #1: SLEEP - It will teach you how sleep deprivation can affect your career and health. Then you'll learn how to hack your sleep with supplements and sleep rituals for better health and boosted productivity.
Step #2: MOVE - It will help you feel energized every morning. Think of boosting your productivity and performance at work by adding daily movement to your routine. Plus, you'll learn how to stay fit while traveling.
Step #3: EAT - It will give you practical tools and advanced strategies for fueling your body for optimal energy levels, better health, and longer life. No diets. No food cravings. No BS. Plus, best brain foods for memory, focus, and mood.
Step #4: RECHARGE- It will help you incorporate a healthy lifestyle and mindfulness techniques that will equip you to handle stress and prevent burnout. Also, focusing on the power of community and the free time formula to guide you find work/life balance.
This 1-Day Course is an immersive, scalable experience for individuals who want to become physically energized and mentally focused high performers who are ready to accomplish more in their lives.
During the training, the participants will immerse in exercises, small group sessions, and leave with a personalized action plan to finally create lasting behavior change while unleashing their highest potential in their work and life.
---
Meet Supercharged Life Founder Ted Ryce
Ted is an international speaker, celebrity trainer, high-performance health consultant and podcast host. As a fitness professional for over 19 years in the Miami Beach area, he has worked with celebrities like Richard Branson, Rick Martin, Robert Downey, Jr., and a number of CEOs of multimillion-dollar companies. He's also worked with thousands of clients from all walks of life.
In addition to his speaking and coaching, Ted is the host of the successful Legendary Life Podcast, which empowers men and women to optimize their health, transform their body, and achieve success in life.
---
1-Day Seminar Agenda
---
Step #1: Sleep
How To Hack Your Sleep: The Art And Science Of Sleeping For Better Health, Better Body, And Better Life
The importance of sleep
Why sleep deprivation is killing you and your career
Top hacks for better sleep
The best and worst foods to eat for sleep
Supplements and sleep
How to track – then hack – your sleep
Bonus: Sleep Guide
Most Asked Questions and Hot Seat
Step #2: Move
How Exercise Can Supercharge Your Productivity And Performance At Work
The importance of adding daily movement to your busy routine
What happens to your body when you don't exercise
How much exercise do you need to see health benefits
Strength Training / Aerobic Exercise (HIIT) / Mobility & Flexibility
Top hacks to add more exercise to your life
How to track – then hack – your exercise routine
Best supplements for workout performance and recovery
Bonus: How to stay fit on the go
Bonus: Supplement Guide
Most Asked Questions and Hot Seat
---
1:00-2:00 Lunch Break
---
Step #3: Eat
How To Fuel Your Body For Optimal Health, Happiness And Longevity
Modern life, obesity, and chronic disease
The importance of eating healthy
The science of food cravings (and how to rewire your appetite for weight loss)
How to fix your gut for optimal health
Top foods you should eat to boost your productivity
Kitchen makeover and how to control your food environment
Healthy eating hacks while traveling
The best brain foods for memory, focus, and mood
Bonus: Supplement guide
Most Asked Questions And Hot Seat
Step #4: Recharge
Where Stress Really Comes From And How To Live A Happier And Healthier Life
How the biology of stress affects our life
The importance of adopting a healthy lifestyle
Top stress management habits
The power of community for personal and professional success
Meditation for relaxation and stress reduction
Mindfulness: How mindfulness can beat job stress and burnout
How to maximize health and longevity using stress management strategies
Bonus: Stress management guide
Most Asked Questions and Hot Seat
Coaching Experience:
Participants will form small groups and receive personalized coaching advice from celebrity trainer and high-performance coach Ted Ryce.
______________________________________________________________________________________________________
5:45-6:00 Closing
______________________________________________________________________________________________________