Description
THE SUBSCRIPTION LAB

An intensive 3-day training on building a business to scale with a membership, subscription or continuity model to create more flexibility and freedom with online products and services.

This event is for business owners and solo-preneurs that want to leverage their business

Melissa Lanz has built a multiple 7-figure business from scratch starting as a one woman show and leveraging her resources to scale a team, enlist vendors, and grow an audience to over 140,000 paying subscribers for her membership site The Fresh 20.
The Subscription Lab - a 3-Day Workshop for membership, subscription and continuity sites and anyone looking for ways to leverage their business with a digital platform.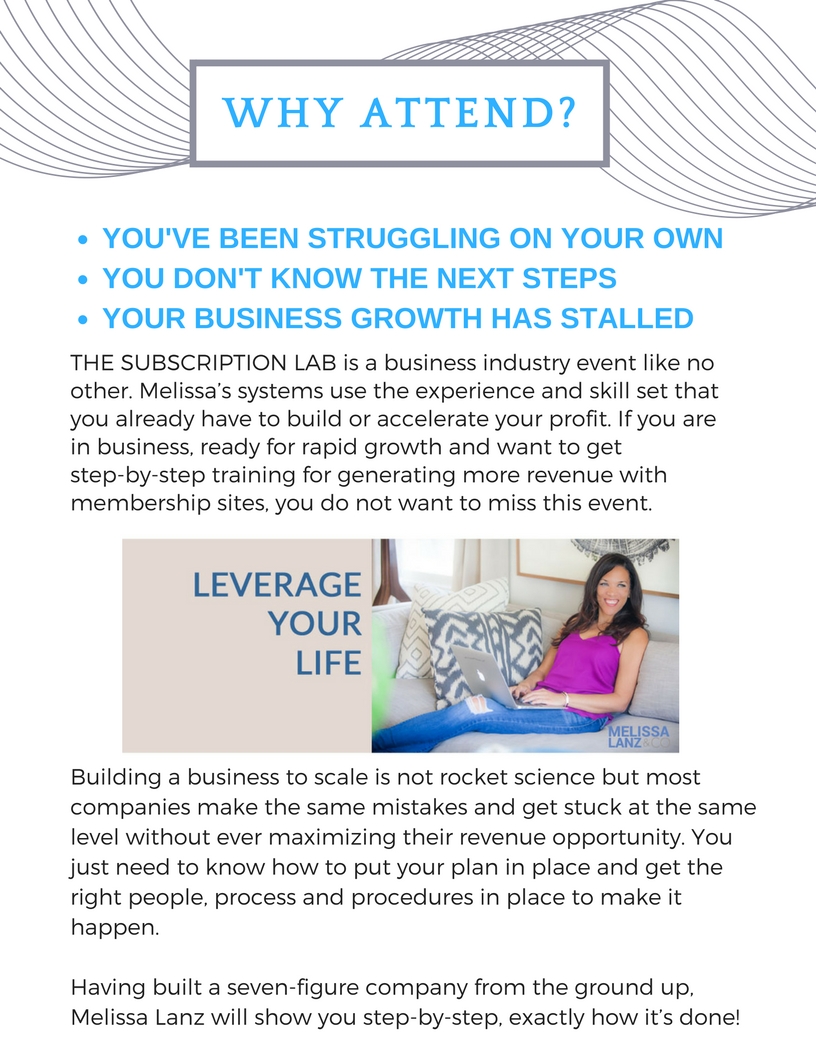 What does the event cover?

-Business Models for Subscription, Membership & Continuity
-How to Leverage Existing Content & Streamline Content Creation
-Setting up Evergreen vs. Launch Campaigns
-Keys to Community Growth
-Client Retention Strategies
-Scaling to a Freedom model of working from anywhere
-Live Case Studies, Hot Seats and Expert Q&A
-Industry Expert Roundtables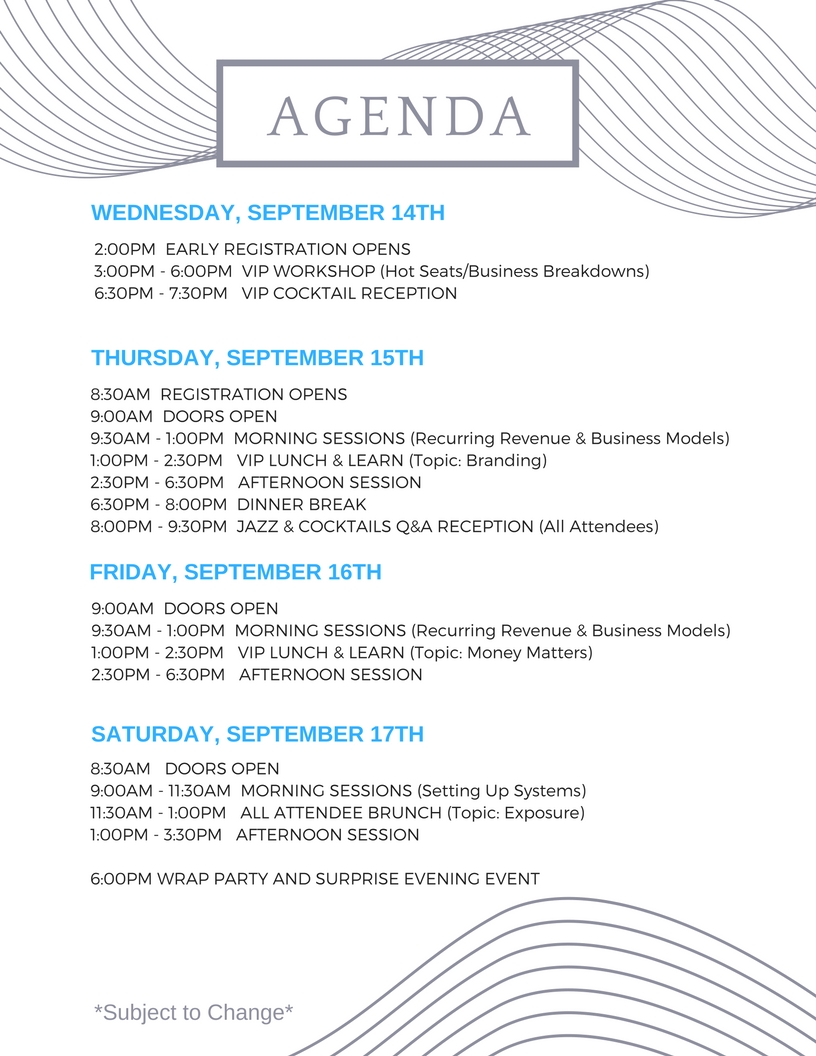 EVENT HOST - MELISSA LANZ

Building a business to scale is not rocket science but most companies make the same mistakes and get stuck at the same level without ever maximizing their revenue opportunity. You just need to know how to put your plan in place and get the right people, process and procedures in place to make it happen. Having built a seven-figure company from the ground up, Melissa Lanz will show you step-by-step, exactly how it's done!

THE SUBSCRIPTION LAB is a business industry event like no other. Melissa's systems use the experience and skill set that you already have to build or accelerate your profit.
If you are in business, ready for rapid growth and want to get step-by-step training for generating more revenue with membership sites, you do not want to miss this event.
THE VENUE
The Subscription Lab is taking place at Avenue of The Arts Hotel in Orange County, California - A boutique hotel with lots of nooks for networking. A discount room block has been reserved and there is a free airport shuttle to get you here from John Wayne International Airport (SNA).

TICKETS

GENERAL ADMISSION $499

3 Days of intensive learning on membership sites and scaling your business from industry leaders


Membership Strategy & Launch Plan Workbook (leave with an action plan)

General seating at a table


Jazz & Cocktails Network Lounge on Thursday Evening w/ special guest

Catered Lunch Saturday for all attendees with special guest speaker

Access to the private Subscription Lab FB community
VIP $699
Exclusive Pre-Event Workshop Intensive on Membership Sites Setup (September 14th)


Exclusive Pre-Event VIP Cocktail Reception (September 14th)

3 Days of intensive learning on membership sites and scaling your business with industry leaders

Membership Strategy & Launch Plan Workbook (leave with an action plan)

VIP swag bag (Melissa's favorite books, products and tools)


Exclusive Catered Lunch (Day 1) with Special Branding Expert Guest


Exclusive Catered Lunch (Day 2) with Expert Guest


Catered Lunch Saturday for all attendees with special presentation


Access to the private The Subscription Lab FB community