Description
Lee Rocker and the Stray Cats sold more than 10 million records, garnered an astounding 23 gold and platinum records worldwide, and were music video pioneers of the MTV. The Stray Cat's worldwide mega hits "Stray Cat Strut," "Sexy and Seventeen" and "Rock this Town" have become a part of the fabric of rock and roll. The Rock and Roll Hall of Fame has included "Rock this Town" as one of the 500 most important songs in rock.
From the cover of the Rolling Stone magazine, to appearing on Saturday Night Live, to headlining the US Festival and touring with the Rolling Stones, Lee Rocker has seen and done it all. In 1982, Rocker and his father Stanley Drucker, (classical clarinetist) both received Grammy nominations; this was something that has only occurred twice in the history of the Grammy Awards. In 2012, Lee appeared in Broadway in the hit musical "Million Dollar Quartet" and in 2014 he was inducted into the Bass Player Hall of Fame. Rocker has received numerous honors for his contributions to music and the arts, including being inducted to the Rockabilly Hall of Fame, the Long Island Music Hall of Fame and he is a recipient of the Visionary Artist Award by the City of Laguna Beach California.
BYOC- Bring Your Own Chair. Children age 12 & under are granted free entry to The Freeman Stage for all General Admission performances and must be accompanied by an adult.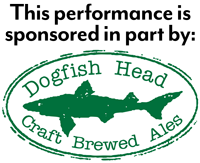 What's the refund policy?

The Freeman Stage at Bayside is an outdoor venue and inclement weather may result in the cancellation of events. All ticket sales are final, nontransferable and nonrefundable, even in cases of inclement weather, unless the area is officially closed due to public safety reasons. Umbrellas of any size are prohibited. For the most updated information, visit our website (freemanstage.org), Facebook page (facebook.com/freemanstage), Twitter feed (twitter.com/freemanstage) or call The Freeman Stage Box Office (302-436-3015). Events are subject to change without notice.
Beware of third party ticket vendors.
Only those tickets purchased directly through freemanstage.org (through our ticket vendor Eventbrite) or the Eventbrite App will be supported and/or honored for performances held at The Freeman Stage at Bayside. Individual reselling of tickets is also prohibited.
House & Ticket Policies: https://freemanstage.org/visit/venue-policies
Need help? We're here for you!
Call The Freeman Stage Box Office at 302-436-3015 or email info@freemanfoundation.org
Seating Map illustration for this performance