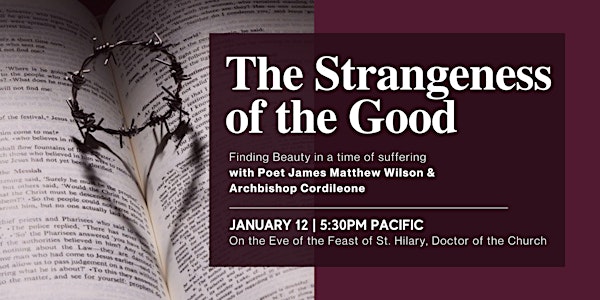 The Strangeness of the Good: A Poet and an Archbishop Speak
The Strangeness of the Good: A Poet and an Archbishop speak--with readings from James Matthew Wilson's new book of poetry
Refund Policy
Contact the organizer to request a refund.
Eventbrite's fee is nonrefundable.
About this event
Note to Late Registrants: We set this up so you will receive a zoom link in an email 2 hours before the event and then again ten minutes before the event! See you soon! Maggie
The Strangeness of the Good: A Poet and an Archbishop speak--with readings from James Matthew Wilson's new book of poetry, The Strangeness of the Good
James Matthew Wilson is a poet and a philosopher and Benedict XVI Institute's poet-in-residence. Wilson's poetry helps us see the mystery of Being in ordinary things: To see beyond the sentimental straight through into the Mystery revealed by suffering, illness, death. As National Review's Kathryn Jean Lopez writes, "The Strangeness of the Good is a beautiful act of faith. As we seek to see and reflect God's beauty in the world, these poems will help us be enchanted with the Divine life."
On this Eve of the Feast of St. Hilary of Poitiers, (310-367 A.D.) Doctor of the Church, we will also read and reflect on Pope Benedict XVI's reflection on Saint Hilary. Join us for Truth, Beauty and Goodness with Archbishop Cordileone and James Matthew Wilson on January 12, 5:30 pm Pacific/8:30 pm Eastern.
Register today to receive a Zoom link the day of the event. We ask you for a $25 donation in lieu of a ticket, if and only if you can reasonably afford this gift. If not, come. Enjoy. Let your spirit be uplifted.
See you on January 12.
Maggie
Maggie Gallagher, Executive Director
About James Matthew Wilson
JAMES MATTHEW WILSON is the author of nine previous books, including The Hanging God (Angelico, 2018) and Some Permanent Things (Wiseblood, 2018). Wilson serves as poetry editor of Modern Age magazine, the series editor of Colosseum Books, and the Director of the Colosseum Summer Institute. He is associate professor of Humanities and Augustinian Traditions at Villanova University, and Poet-in-Residence of the Benedict XVI Institute and the author of The River of the Immaculate Conception, inspired by Frank La Rocca's Mass of the Americas.
Praise for the Poet James Matthew Wilson
"There are poets who, alas, can only feel. And poets who, regrettably, can only think. James Matthew Wilson can do both."—ROBERT ROYAL, President, Faith & Reason Institute
"James Matthew Wilson makes the everyday lyrically urgent and memorable." KEVIN HART, The University of Virginia
"For years, I searched for a wisdom and humanity in father figures like Robert Lowell and John Berryman and found only in shards there what I have found (to my surprise and delight) in someone decades younger than myself….James Matthew Wilson has wrought comfort and light out of darkness and managed to 'build new worlds at the center of the old.'"—PAUL MARIANI, author of Gerard Manley Hopkins: A Life
James Matthew Wilson speaks:
On the mystery of form:
"Isn't it the human calling to look at things that are (at being), to discern within the muck the mystery of form, of the good that makes things what they are? And from there, in discerning the desirability of being, don't we proceed to see the order of things, and in seeing that order, don't we at last arrive at a vision of the God who is Goodness itself and who made all things?"
On the fragility of the sentimental
"When [Darwin' first saw the men of Tierra del Fuego, he found them grotesque, monstrous, and was led to observe that "Viewing such men, one can hardly make oneself believe that they are fellow-creatures, and inhabitants of the same world." Like many a Victorian, his idea of goodness was sentimental, and, like all sentiments, it withered the moment it was challenged by the vision of evil.
Then, you will preach a different sort of text,
Just like the naturalist who turned explorer:
Each painted face he saw left him perplexed,
And made him feel our brotherhood with horror."
On his creative process:
"I'm the sort of person who will annoy his wife by carrying in silence a punchline around for years, even a decade, and then will suddenly conceive a joke for which it is suitable—and then finally tell the joke no matter the circumstances, because it finally came. So also will I carry a word around with me, waiting for it to find its proper place in a poem. Conversely, …for one poem in my last book, The Hanging God, I needed a two-syllable, fore-stressed word in the last line of a sonnet, but the right one just would not come. Then I heard Seth Meyers, on Saturday Night Live, say the word I was yearning for in my ignorance. I don't watch that show, but somehow I was watching that night and I'm glad."
On the Mystery revealed by suffering:
"The Strangeness of the Good goes far deeper into the mystery of things, I think, but it also acknowledges the way flowers in the vase lose their color and begin to rot, as in "All Your Life," which has the rather Robinsonian or Larkinesque quatrain that runs,
And, friends forget your failings soon
But not your wife
Who carries then like an old tune—
Or sharpened knife.
By acknowledging illness and disappointment and death, I am also trying to see through it, to the mystery beneath. To do so leads to the unveiling of the reality, the being, that is the sub-stance, the thing standing beneath all feelings and appearances that alone can make them genuinely good in themselves."
On the necessity of truth
"Everybody is terrifically nice in Huxley's Brave New World. They are so nice that God is dead and, along with him, truth. The moment one thinks it is more important to say the nice thing than the true thing, it is the truth itself that has died in one's heart and been replaced by sentimentality."
Pope Benedict's reflections on St. Hilary of Poitiers:
http://www.vatican.va/content/benedict-xvi/en/audiences/2007/documents/hf_ben-xvi_aud_20071010.html