Description
The Story of Wheel and Flute
Japan is renowned for its traditional arts and has a rich history of pottery and music. Focusing on Karatsu, a peaceful coastal town on the western tip of Kyushu, Southern Japan, Master Tarouemon Nakazato presents a talk on the art of Karatsu Ceramics, followed by a Shinobue Flute concert by Kazuya Sato.
Venue: Discovery Centre, Jewry St, Winchester SO23 8SB

Date: 6th June 2018

Time: 7pm

RSVP For free tickets: https://wheelandflutetickets.eventbrite.com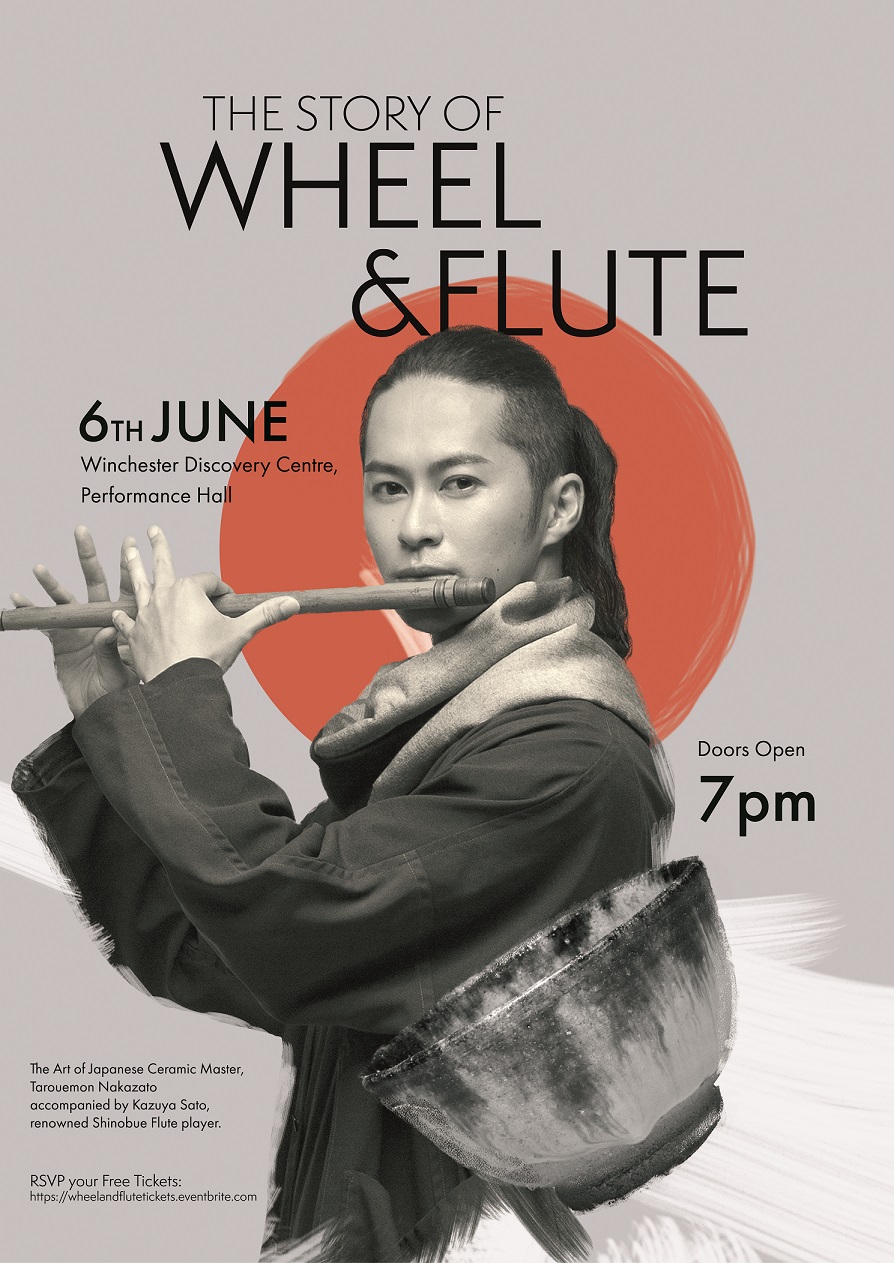 Japan's National Treasure comes to Winchester.
Winchester will have the honour of receiving one of Japan's most famous potters at its cultural event- The Story of Wheel and Flute. Master Tarouemon Nakazato presents a talk on the art of Karatsu Ceramics, followed by a Shinobue Flute concert by Kazuya Sato.
This cultural event is to bring to light the arts and traditions of Japan, exploring the links between ceramics and the bamboo flute. There will be specific focus on Karatsu, a peaceful coastal town on the Western tip of Kyushu, Southern Japan that is well known for its specialised ceramic works called "Karatsu Yaki". At the end of the 16th Century Karatsu ware originated from Korean potters, who combined the Japanese ceramic work production techniques with advanced foreign production techniques from Korea.
The Nakazato family name is synonymous with the production of Karatsu ceramics. These descendants of Japanese potters have for generations passed on the pottery making skills from father to son and as a consequence have profoundly influenced the development of Karatsu ware ceramics throughout its history.

The appeal of Karatsu Yaki is its simple beauty as a tool for daily life. It has the "beauty of service" that is manifested through its functionality - for serving food and for flower arrangement. A unique warmth and strength can be felt from the raw clay, which is rough and austere.
At the event you will be addressed by his eldest son Tarouemon Nakazato (Born in 1957, Fourteenth generation Tarouemon). He started making pottery in the family studio in 1983 after a period of studying glazes in the Tajimi Pottery Design and technical Centre and in the Nagoya Institute of Technology.

Following his introduction to the work there will be a video presentation followed by a question & answer session. This will be facilitated by the use of an Interpreter, Mrs Naoe Foley.
Which will then be preceded by a Shinobue Flute performance by the renowned Kazuya Sato.Born in Saga prefecture in Kyushu, Japan and raised in Karatsu city near the ocean; Kazuya Sato spent his early youth learning music for their traditional Japanese music festival - "Karatsu Kunchi". In his adolescent years he discovered traditional Japanese instruments to express himself. After graduating from university it was then he discovered the bamboo flute.
Today he is based in Tokyo and is a successful player and teacher of the bamboo flute all over Japan.
Recently he started his career as a composer and in 2013 participated in the composition of "Amenochi Hareruya", a song for a Japanese Pop duo Yuzu. "Amenochi Hareruya" was selected for the theme song of the TV drama, "Gochisousan", and received an excellent work award at the Japan Record Award 2014.
Artist Information:
Master Tarouemon Nakazato : https://www.nakazato-tarouemon.com/
Kazuya Sato: https://www.kazuyasato.com/profile