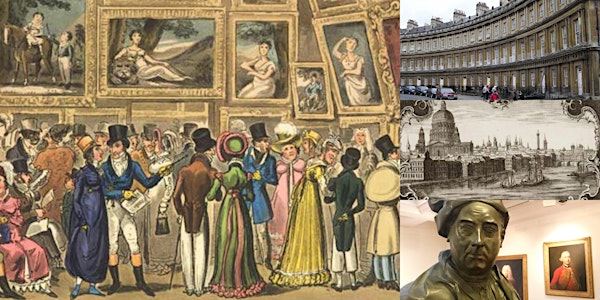 'The Story of London, Chapter 6: Georgian London' Webinar
Can't make it live? Register and get access to the replay for one week after the series finale! New York Adventure Club | AdventureClub.com
About this event
From art to architecture, politics to pleasure, and trade to transportation, the city of London is one of the world's greatest urban centers in so many different ways. But how exactly did a small Iron Age settlement on the banks of the River Thames develop into the world's largest city by the 20th century? With the help of some of London's top tour guides, it's time to uncover the most pivotal events in London's history, and how those moments helped the city become one of the greatest metropolises on Planet Earth.
Join New York Adventure Club for an epic eight-part series on the incredible story of London, spanning from the height of the Roman Empire nearly 2000 years ago to the death of Queen Victoria in 1901. In Chapter 6: Georgian London, we'll dive into 18th century London and explore the convergence of a brand new royal dynasty — The Hanoverians — with a palpable atmosphere for change and regeneration.
Led by award winning London Blue Badge Tour Guide Karen Goulding, this chapter of our digital showcase will include:
An overview of the time period to uncover the essence of 18th century London in all its color and energy
A look at the explosion of new ideas on the capital as London welcomed in the Age of Enlightenment
The development of commercialized leisure, which was embraced by the emerging nouveau riche as London became the largest city on earth
A discussion of The Hanoverians monarchy and why their reign brought about much-needed stability in London
Afterward, we'll have a Q&A session with Karen — any and all questions about London are welcomed and encouraged!
Can't make it live? Don't worry, you'll have access to the full replay for one week after the entire series concludes!
Register for the entire Story of London series by clicking here.
See you there, virtually!
*Once registered, you will receive a separate, automated email containing the link to join this webinar
**For the best possible viewing experience, please ensure you're using the latest version of your internet browser — Google Chrome is the most compatible. Exact technical requirements and a webinar user guide will be shared in the automated confirmation email upon registration.
***A full replay will be available after the experience for all registered guests
About Karen
Karen is a specialist London Blue Badge guide with 20 years experience and a passion for theatre and literature. A journalist and reformed actress, she is also a published author, her book "Royal London - The Haunts and Hideouts of Kings and Queens" is a lighthearted guide to all things royal in London .
In recent years she has worked as a television presenter , appearing in a series of thirteen in-depth travel programmes for Discovery Television's "London Next Stop".
Karen also won the "Blue Badge Guide of the Year" award when she qualified in 2002 and was listed by "Travel and Leisure Magazine" as one of the World's Greatest Tour Guides.
The Story of London Series
Chapter 1: Beginnings
Chapter 2: Saxon London
Chapter 3: Medieval London
Chapter 4: Tudor London
Chapter 5: Stuart London
Chapter 6: Georgian London
Chapter 7: Regency London
Chapter 8: Victorian London
Testimonials
"Breadth of subject matter and presenter knowledge" -Christine
"Karen was an excellent presenter and very knowledgeable. The slides were fabulous and carefully thought out." -Pink
"Karen gave fascinating details about London and the life of that time period. Thanks so much." -Andasia
"The presenter is terrific! Please invite her to do other webinars with you." -Michele
"Karen's presentation was so engaging, full of great information & a great pleasure to listen to." -Mary
"Very informative. Learned not only about major events and people, but about the small details which are sometimes more interesting!" -Rosalie
"The presenter was an absolute wealth of information so much detail so many photos and maps.. It really helped to understand how different groups combine to make the monarchy such as the house of Hanover in Germany and the importance of religion in all these disputes" -Sharon
"Great speaker - definitely invite her back" -Diana
"Everything! Good visuals, sound information, an engaging speaking style, a nice balance between political, cultural and social history -- everything was A+! I especially appreciated the material on Thomas Coram and the Vauxhall Pleasure Gardens: I was reasonably familiar with Coram but Karen mentioned quite a bit I didn't know and was aware of the Pleasure Gardens only by name. It's always great to have one's world gently expanded!" -Lahring
"Ppresenter has a lovely voice that is perfect for this type of class; material was interesting and engaging" -Julie
"Presenters takes obvious joy in her subject but told with a sense of humor. Fast paced but easy to follow." -Kitty
"The presenter was the best yet. Such enthusiasm, so articulate, good choice of subject matter and visuals." -Donna
"Lots of things I had not heard about before. Loved the way the presenter had the talk organized. It flowed… like the Thames! She gave insight as to why things happened, like the influx of people from the country, the reason gin was so dangerous, etc." -Carol
"Speaker was quite knowledgeable and excited about the subject." -Dorian
"So much information....interesting and engaging!" -Patricia
"Really wonderful presenter." -Deborah
"The presenter is very knowledgeable and enthusiastic." -Audrey
"Everything and the presenter was superb! So knowledgeable." -John
"Karen was fantastic. If you don't bring her back for more webinars, you're crazy!" -Karen
"The wealth and breadth of knowledge of presenter Linda, and her sonorous speaking voice and sense of humor." -Richard
Disclaimer
By attending a New York Adventure Club experience, you accept our terms of service.
Categories: Virtual, Moments in History