Christina and Edward Sledge celebrate the launch of, The Story of Christina and I. There will be Q&A, games and discussion.
About this event
Come to their book launch event and experience Christina and Eddie's first hand account of how they arrived at their happily ever after in their compelling new book! It will be an interactive, entertaining, experience reading excerpts from their book and live discussion with you.
J Optiks host of Mind on Matters podcast will moderate the discussion. 
See you there -- don't forget to get your free ticket!
Book Synopsis:
Lead by destiny, experience the true love story of two Brooklyn high school sweethearts as they navigate life and love. Share their heartaches and blessings. One was encircled by poverty, crime, sex, drugs and alcohol. The other was raised by a tight knit family, filled with happy experiences, and positive role models.
Eddie, from Flatbush and Canarsie, tries to survive in his drug and crime ridden neighborhood. While Christina is from Crown Heights destined for higher education and success, struggles to stay focused on her plan to achieve her dreams. They constantly cross paths unknowingly to finally begin their endearing love story. Their union is so powerful that they are able to conquer any obstacle they encounter and turn it into success. Their story is one of resolve and resilience.
A real-life urban fairy tale that compels you to find out how they finally get to their happily ever after…
Christina and Edward have been happily married for more than 21 years. Graduates respectively of The George Washington University, Temple University, Towson University and Georgia Southern University. They co-founded Sledge House Media in 2021. Both are planning to write more books together in the future.
Find them on Instagram: @sledgehousemedia and www.sledgehousemedia.com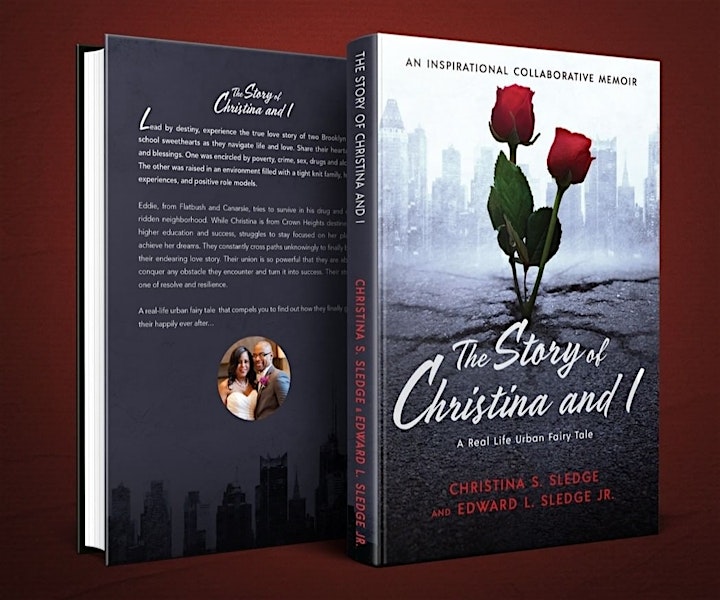 Available on Amazon, Barnes and Noble, Books-a-Million and Apple Books
Organizer of The Story of Christina and I Virtual Book Launch