The Storm Cellar + Forage Sisters | Rosé Brunch at Wisehart Springs Inn
Join us as we share our high-elevation rosé wines, paired with a multi-course brunch menu, featuring the cuisine of the Forage Sisters.
About this event
Al Fresco Rosé Brunch
We are showcasing our 2019 rosé wines, paired with an elevated, locally sourced brunch menu, brought to you by the Forage Sisters. Your hosts, Jayme and Steve, sommeliers and winemakers at The Storm Cellar, will be pouring wines table-side and sharing stories with you.
Upon arrival, you will be greeted with a glass of sparkling rosé, crafted by our friends at Sauvage Spectrum, with a paired welcome bite and led to a table on the expansive patio of Wisehart Springs Inn, overlooking the North Fork Valley and the West Elk Wilderness.
Local farmers and chefs Nicole Carrillo and Mirasol Gomez will guide you through three brunch courses, featuring locally sourced, seasonal cuisine, paired with two of our 2019 rosé wines, our Rosé of Pinot Gris and Rosé of St. Vincent.
We have been missing our dinners and events, and we can't wait to (safely!) throw this delicious rosé brunch party at such an incredible location!
The Menu
Welcome Bite
Brûléed Crostini, Western Culture Camembert, Grapefruit, Orange Mint, Sugar
Sparklet Rosé, Sauvage Spectrum, Grand Valley, 2019
First Course
Buckwheat Waffle, Buttermilk Fried Chicken, Honey Sriracha
Veggie Option: Fried Cauliflower
Rosé of Pinot Gris, The Storm Cellar, West Elks, 2019
Second Course
Creamy Polenta, Soft Egg, Roasted Red Pepper Pesto, Wilted Greens, Grilled Steak, Crispy Garlic Chips
Veggie Option: Roasted Summer Vegetables
Rosé of St. Vincent, The Storm Cellar, West Elks, 2019
Sweet Bite
Almond Drop Biscuit, Stone Fruit Cardamom Compote, Mascarpone Cheese
Notes
Although most of the patio at Wisehart Springs Inn is shaded, please wear outside-appropriate attire – hats and sunscreen are encouraged.
This menu is entirely free of gluten and includes vegetarian options. Please state your preferred style when purchasing your tickets – vegetarian or meat-friendly.
We are adhering to proper social distancing guidelines and are only seating groups together who make joint reservations. Tables will be adequately spaced to ensure safety.
Our team will be wearing masks and are ensuring the cleanliness of the premises. Please wear masks upon arrival, until you are seated at your table. We appreciate your cooperation for the safety of our team, you and your guests, and your neighbors.
Please call us directly, if you have any further questions or concerns at 970.589.3142.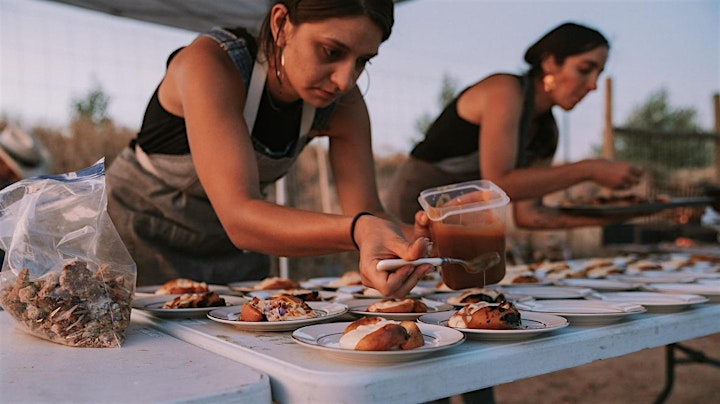 Meet the Forage Sisters
"We are Mirasol and Nicole. Though we are technically business partners, we are truly like sisters. Our shared love for curating events focused on food from local, Western Slope farms led us to create Forage Sisters. We are inspired by our backgrounds of Italian and Argentinian earthen and simplistic styles of food, the spirit of Colorado, our love for sustainable living, and above all, our love for people, community and gathering."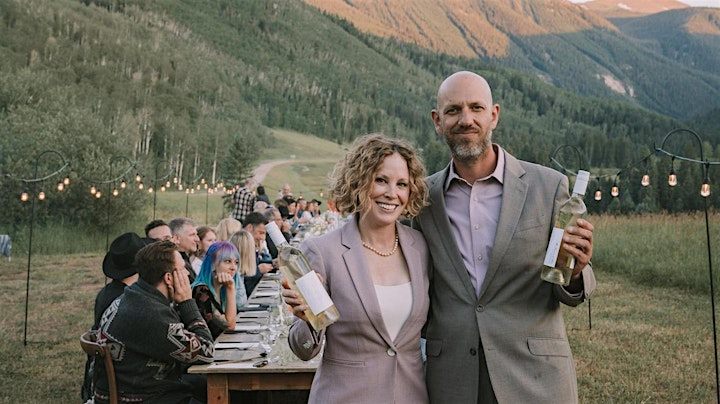 Meet the Winemakers
Jayme Henderson and Steve Steese spent many years in the Denver restaurant scene, as managers, sommeliers, mixologists, event planners, and wine directors. They have led wine dinners with world-famous producers, interned and studied throughout the broader wine world, written wine articles for numerous publications, and led workshops and tasting seminars throughout their careers.
In the summer of 2019, they released their first vintage of high-elevation white and rosé wines, under their label, The Storm Cellar, to high acclaim. Their clean, aromatic, crisp wines have been featured in The Wall Street Journal, Wine Spectator, and the Colorado Governor's Cup Collection. Together, they farm 16 acres in the West Elks AVA in Hotchkiss, Colorado, with an emphasis on quality in both farming and winemaking.