Description
WEDNESDAY NIGHT IS SOLD OUT
Inspired by night markets from around the world, The Stop's Night Market brings Torontonians together to celebrate community and the power of food.
Our most popular fundraiser features all-you-can-eat dishes from 65+ of Toronto's best chefs, accompanied by unique drink vendors and an eclectic mix of local musicians, DJ's, and performers.
Venue change! This year, we're heading to Stackt Market, an innovative shipping container market nestled in the heart of downtown Toronto.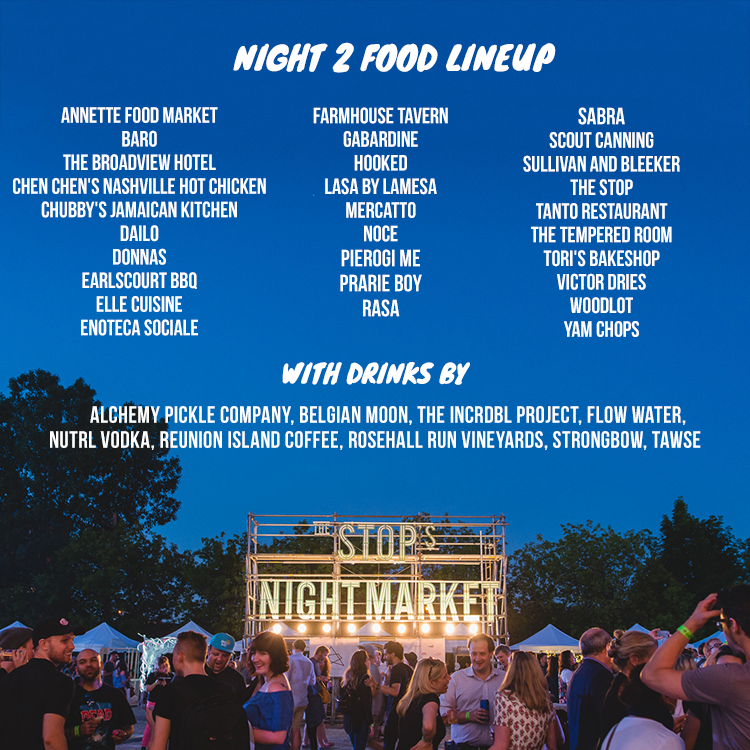 FAQs
What do I get when I buy a ticket?
Your ticket gives you access to The Stop's Night Market for one night only.
Once you enter the event, you can eat and drink as much as you like from our food and beverage vendors from 7PM to 11PM! Relish the vibrant atmosphere, connect with friends (and make new ones!), and enjoy some music and live performances.
My plans changed – can I switch my ticket to the other night?
You can only enter the event on the night for which your ticket is valid. There are no exceptions. All sales are final, no exchanges and no refunds can be issued.
Will there be vegan and alcohol-free options?
Always!
Is the event 19+?
Yes. Please bring a valid photo I.D. for the security check at the entrance.
No one under the age of 19 will be admitted.

Is the event venue accessible?
Yes! There are no physical barriers at the venue and we will have an accessible toilet onsite. If you have questions or concerns about accommodations, please contact us.
What happens if it rains?
The Stop's Night Market is happening rain or shine, so dress appropriately for the weather!
How does buying a ticket help The Stop?
The Stop's Night Market is a fundraiser for The Stop Community Food Centre at a time when our programs have never been more urgently needed. Skyrocketing housing costs, precarious employment, unlivable social assistance rates, and lack of affordable childcare are among the policy shortcomings that continue to challenge our neighbours and their families in their aspirations for healthy, dignified lives.
For more FAQs, click here.