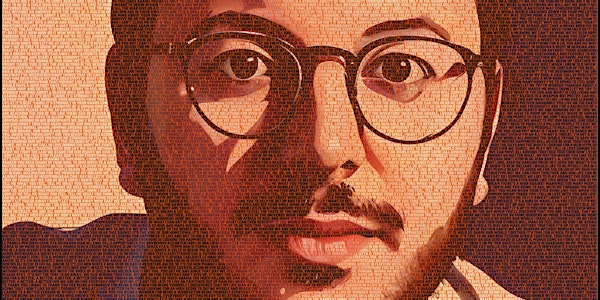 The Stereoteller 4.0
The Stereoteller & friends live concert and show in Torino: 4.0
When and where
Location
OFF TOPIC 35 Via Giorgio Pallavicino 10153 Torino Italy
About this event
Luigi Giuseppe Cavallito, aka The Stereoteller, in the live show "4.0", a unique event in which the artist explores the opportunities and challenges of the fourth industrial revolution through music, video and stories.
The event aims to be a moment of transition that coincides with the fortieth birthday of the Turin artist, born in 1983, now based in Beirut in Lebanon.
A moment of collective exploration and celebration of the possibilities, challenges, limits and emotions of the world we live in.
The show will be held on 29 January 2023 in Turin, at Off Topic , starting at 9.30 pm and will see the participation of various Turin and international artists.
https://linktr.ee/thestereoteller
On stage with The Stereoteller: Filo Q, Liede, Matteo Tambussi, Rodolfo Graziani, Jessica Toale, Vladimiro Orengo, Mattia Martino, Giacomo Felicioli, Stefano Dughera, Stefano Pesca, Francesco Ventura, Andrea Torchia, Davide Bonarrigo, Erminio Capogrosso, Eugenio Marulli, Simone Garino, Stefano Colosimo, Stefano Cesone, Francesco Derchi, Luca Ruella, Nino Azzarà, Stefano Ferrari, Diego Mirenghi, Luca Porru.
ITA
Luigi Giuseppe Cavallito, in arte The Stereoteller, darà vita ad Off Topic allo spettacolo 4.0, un evento unico e inedito in cui l'artista esplora attraverso musica, video e racconti le opportunità e le sfide della quarta rivoluzione industriale.
L'evento vuole essere un momento di passaggio che coincide con il quarantesimo compleanno dell'artista torinese, classe 1983, ora basato a Beirut in Libano. 
Un momento di ricerca e celebrazione collettiva in cui esplorare le possibilità, le sfide, i limiti e le emozioni del mondo in cui viviamo.
Lo spettacolo 4.0 si terrà il 29 Gennaio 2023 a Torino, presso il locale Off Topic, con inizio alle ore 21.30 e vedrà la partecipazione di diversi artisti torinesi ed internazionali.
https://linktr.ee/thestereoteller
////
Opening Act: Semantica Ferrari; https://linktr.ee/semanticaferrari
A seguire DJ Set by Filo Q