About this Event
NASHVILLE, TN - Old News, the new album from Nashville based southern-inspired rock band The Steel Woods is set for a January 18th release via Woods Music/Thirty Tigers. Centered around the soulful and commanding vocals of lead singer Wes Bayliss and the instrumental prowess of guitarist Jason (Rowdy) Cope, Old News makes a statement in the continuing evolution of The Steel Woods as a unit and the Bayliss/Cope combo as songwriters, something their 2017 debut Straw In The Wind only scratched the surface of.
Over the last two years The Steel Woods have built a loyal and passionate fan-base through their road warrior touring mentality and extraordinary live shows. Whether headlining or supporting artists such as Dwight Yoakam, Lynyrd Skynyrd, Jamey Johnson, Cody Jinks, Miranda Lambert, Blackberry Smoke and many more, The Steel Woods consistently convert audiences with each performance. Click here for a full schedule of The Steel Woods tour dates.
The themes reflected on Old News range from perseverance ("Wherever You Are", "All of These Years"), to unity ("Blind Lover") to hope and resilience in the stand out title track "Old News". Their belief in finding common ground through shared life experiences and a musical connection was inspired by the conversations the band had with people they met on the road.
As with their acclaimed debut album, The Steel Woods again included a Black Sabbath cover ("Changes"), but also felt the need to acknowledge some important artists we have recently lost. The four tribute tracks honor Tom Petty ("Southern Accents"), Merle Haggard ("Are The Good Times Really Over (I Wish A Buck Was Still Silver)"), their dear friend Wayne Mills ("One Of These Days") and Gregg Allman ("Whipping Post").
Old News was recorded at Echo Mountain Studio (Asheville, NC) and Blackbird Studio (Nashville, TN) and features band members, Wes Bayliss (guitar/vocals/keys/mandolin/ harmonica), Jason Cope (guitars), Johnny Stanton (bass) and Jay Tooke (drums/percussion).
The Steel Woods are a band steeped in Southern culture with a modern approach and powerful intensity in live performance. Though their style is unapologetically Southern Rock and Rock, just pull back the layers to find lyrics that feature passionate storytelling and messages that resonate.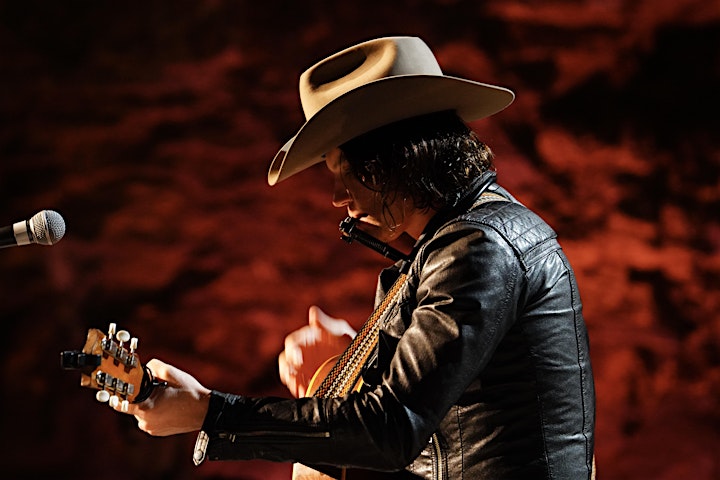 Tennessee Jet
Describing a Tennessee Jet show isn't easy…because there is no other
band that sounds like him. You could say it's Dwight Yoakam meets The
White Stripes or Waylon Jennings meets the Black Keys, but that would
only be a jumping off point in describing the one-of-a-kind performance he
and his band deliver.
Imagine intimate whisper-soft hear-a-pin-drop solo acoustic alt country
renderings one minute and full-boar high volume fuzzed out rock 'n roll
offerings the next. Picture a one-man band version of Hank's "I Saw the
Light" where everyone is singing and stomping along followed by a
blistering full-band set of revved up bluesy twang. Because this is a show
about the exchange of energy, stark contrast, and the power only a song
can possess.
TN Jet grew up on Country Music from the bench seat of his parents truck
going from rodeo to rodeo and his extensive knowledge of traditional
country music is ingrained in his performances. If you're looking for
something that ain't the same old same, Tennessee Jet is a good place to
start.
TJ is currently finishing up his 3rd album recorded in Los Angeles by 5-time
Grammy winning engineer Ryan Freeland (Ray LaMontagne, Milk Carton
Kids), and the album is slated for a Summer '19 release. Tennessee Jet's
current single is a duet with Cody Jinks on the Waylon Jennings song
"Waymore's Blues".
Performers
Date and Time
Location
Refund Policy