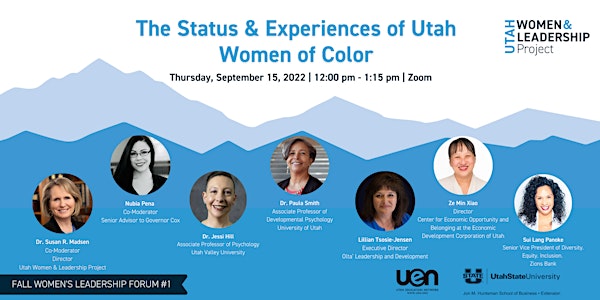 The Status & Experiences of Utah Women of Color
Join us for a forum with accomplished women of color to discuss their observations, experiences, and insights being women of color in Utah.
About this event
The Utah Women & Leadership Project invites you to join us for our first Fall Women's Leadership Forum.
As Utah continues to become more diverse, it is critical that we understand the status and experiences of girls and women within all social and identity groups – including race and ethnicity. To this end, the Utah Women & Leadership Project published five research snapshots that documented the available data on Utah women in the following ethnic/race categories: Pacific Islander, Asian, Black, Hispanic/Latino, and American Indian/Alaskan Native. The UWLP team also hosted 11 community conversations—two for women in each of these categories and one with New American women. These were then summarized in a series of short reports. This event brings together accomplished women who represent each race/ethnic group to share and discuss these reports and their own observations, experiences, and insights being women of color in the state. This panel will also discuss how to best move forward to support and empower girls and women of color in Utah.
Sponsors: Jon M. Huntsman School of Business and Extension at Utah State University & Utah Education Network (UEN)
Moderators & Panelists
Dr. Susan R. Madsen is considered one of the top global scholars and thought leaders on the topic of women's leadership, has authored or edited eight books, and has published hundreds of articles, chapters, and reports. Her research has been cited in the U.S. News and World Report, The Atlantic, The New York Times, Parenting Magazine, Chronicle of Higher Education, and The Washington Post. She is also a regular contributor to Forbes and other local and state newspapers. Professor Madsen is the Karen Haight Huntsman Endowed Professor of Leadership in the Jon M. Huntsman School of Business at Utah State University and serves on many nonprofit and community boards. She is also the Founding Director of the Utah Women & Leadership Project, and her passion is to strengthen the impact of girls and women in Utah and worldwide.
Nubia Peña is the Senior Advisor for Equity & Opportunity to the Cox-Henderson Administration and the Director for the Utah Division of Multicultural Affairs where their mission is to promote an inclusive climate for Utah's growing diverse community through training, outreach, and youth leadership development. She is a national training consultant dedicated to bringing awareness to intersections of trauma and the school-to-prison pipeline. She received her Juris Doctorate from the University of Utah in May 2016, and she was one of 25 law students in the nation recognized for her social justice activism. Director Peña received the National Juvenile Justice Network 2019 Emerging Leader Award and is certified by the National Juvenile Defender Center as a Juvenile Training Immersion Program facilitator.
Dr. Jessi Hill is a broadly prepared cognitive developmentalist who studies lifespan changes in cognition. She's an internationally recognized scholar on teaching and learning in higher education and an award-winning educator who incorporates culturally relevant and learner-centered teaching across delivery modalities. A published author, she teaches general psychology, cognitive psychology, and research methods. She co-created the Utah Women's Leadership Exchange. Dr. Hill won UVU's Presidential Award of Excellence for leadership in 2022 for her work developing women leaders at UVU and throughout Utah. As UVU's Diversity, Equity, and Inclusion Fellow for Student Success, she focuses on how to provide equitable access to education for marginalized groups.
Sui Lang L. Panoke serves as Senior Vice President of Diversity, Equity, & Inclusion for Zions Bank. She is the founder of Rethink International, a global social enterprise and international training organization designed to challenge people to rethink how and what they think. She has trained thousands of leaders around the world. Additionally, she founded Rethink Tank, a social think tank, and Women Politics Media, a global leadership and media training organization. She also serves on multiple boards and commissions. Sui Lang earned her MPA from American University with a Certificate in Women, Policy, and Political Leadership, and was awarded the Outstanding Leadership Award from the Women & Politics Institute upon graduation.
Lillian Tsosie-Jensen, born Yellow Woman, is a member of the Dineh' Nation. Her clan is Bitter Water, born for the Danish People. Lillian is best known for her services on the Utah Education Task Force for Native American/Alaska Native Education, the Governor's Native American Summit, and the Governor's Task for Women in Education; Coalition of Minority Advisory Committee; Indian Walk-In Center; Utah School Counseling Association; Utah Coalition of Childhood Protection; the Utah Attorney General's Safety and Crisis Tip Line/SafeUT Commission. Lillian is also an award-winning educator. Lillian currently serves on the Governor's Multicultural Commission and is work with Restoring Ancestral Winds Coalition as a Community and Educational Specialist.
Dr. Paula Smith is a developmental psychologist with expertise in school-based prevention in middle and high schools. Her primary research interests lie at the intersection of schools and juvenile justice systems: the school-to-prison pipeline, juvenile justice, restorative justice, and access to mental health resources. She is also the Principal Investigator of a research initiative to improve the quality of doctoral socialization for Black graduate students, addressing the ways in which anti-Black racism permeates academia. Dr. Smith is a Board Member for the Society of Prevention Research, the National Prevention Science Coalition, and the Chair of the Utah Prevention Research Group. She advocates for socially just and equitable policies and practices in PK-12 schools and other youth-serving agencies.
Ze Min Xiao directs the Center for Economic Opportunity and Belonging at the Economic Development Corporation of Utah. In her 13-year career with Salt Lake County, she served as the director of the Mayor's Office for New Americans where she guided immigrant and refugee integration strategies on the local, state, and national levels. Under her leadership, Salt Lake County became the first county in the nation to achieve Welcoming Certification. Ze holds a master's degree in Community Leadership from Westminster College and is a graduate of the W.K. Kellogg Foundation's Community Leadership Fellowship. She is one of 75 leaders to participate in the 2022-2023 Marshall Memorial Fellowship.