The Statewide Child Abuse Prevention Conference 2016

Monday, April 4, 2016 from 8:30 AM to 4:30 PM (EDT)
Event Details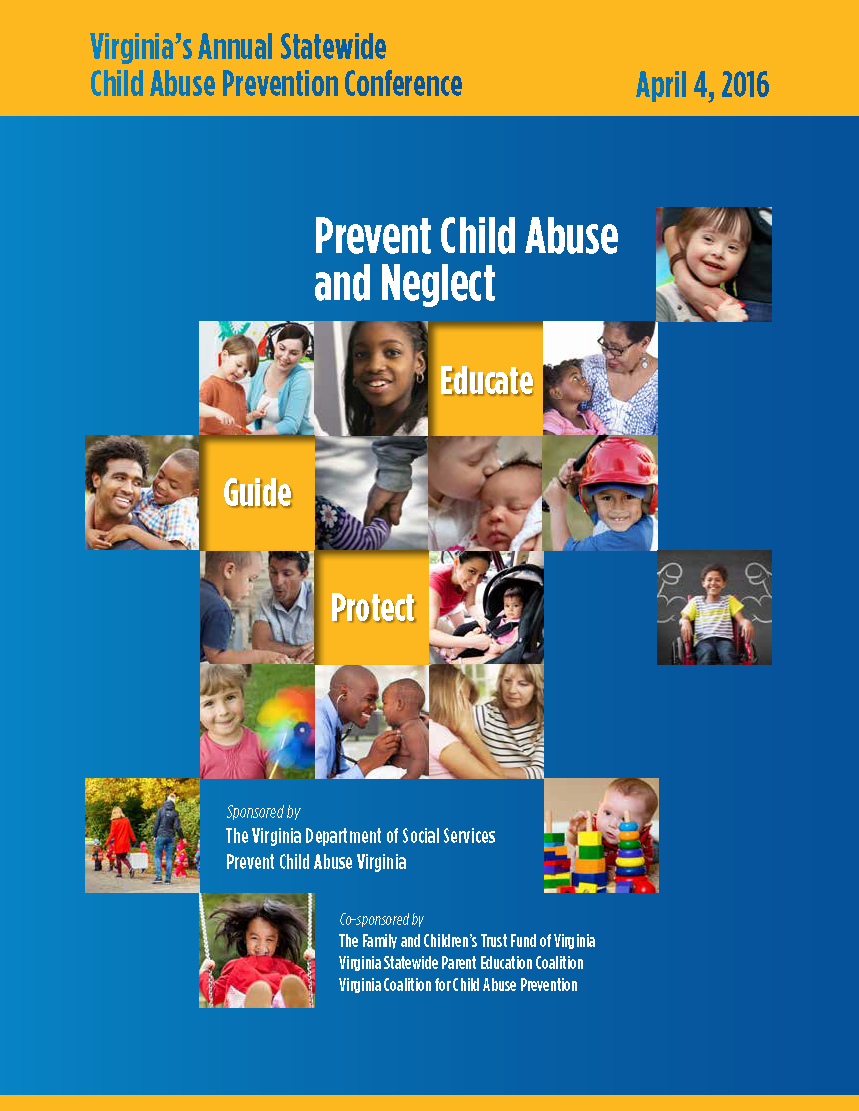 In honor of Child Abuse Prevention Month, please Wear Blue to the conference!
Conference Schedule:  7:30am - 4:15pm
Keynote Speaker: Pat Stanislaski
Pat is the Director of her own consulting firm: Partnering for Prevention. Prior to that, she served as Administrator of the Office of Early Childhood Services at NJ's Department of Children & Families. While there, her duties included managing prevention programming for the most vulnerable children – 0 to 6 years old.   For much of her career, she served as the Executive Director of the New Jersey Child Assault Prevention (CAP) Project and the Executive Director of the National/International Center for Assault Prevention.   Pat has conducted trainings in child abuse prevention for more than 4,000 people across the United States as well as 16 countries outside the US. 
A frequent presenter at national and international conferences, she is the recipient of several awards including the prestigious Commissioner's Award from the US Department of Health and Human Services, awarded to one person from each state for outstanding contributions in the field of child abuse prevention. A longtime member of the International Society for Prevention of Child Abuse and Neglect (ISPCAN), she has served as a member of their Expert Faculty and is also an active member and former Membership Chair of the National Coalition to Prevent Child Sexual Abuse and Exploitation.
Luncheon Speaker: Teri Covington, MPH
Theresa (Teri) Covington is the Executive Director for the HRSA funded National Center for Fatality Review and Prevention, supporting states, tribes and territories in their child death review processes.  She also manages the data coordinating center for the CDC's Sudden Death in the Young and Sudden and Unexplained Infant Death Case Registries, of which Virginia is a grantee.  Teri is a Presidential Appointee to the National Commission to Eliminate Child Abuse and Neglect Deaths.  She started her public health career as a Peace Corps Volunteer and then as a health educator for the Northern Cheyenne and has over 35 years' experience working in community based maternal and child health.   She has an MPH from the University of Michigan.
Closing Speaker: Josh Bailey
Joshua is the President & CEO of Gray Haven. He is a Strategic Advisor to RestoreNYC, advises Virginia legislators, the Department of Criminal Justice Services, Office of the Attorney General, Virginia Department of Social Services, and anti-trafficking programs on effective responses to human trafficking. Joshua regularly guest lectures at the University of Richmond and Virginia Commonwealth University as well as providing on-going expertise to law enforcement, state and local agencies, and non-profits to strengthen the collective goal of eradicating human trafficking and slavery.
---
Registration: 7:30-8:30am
Opening Session: 8:45-10:00am
Keynote Speaker  Pat Stanislaski,  "Footprints and Footsteps" 
This keynote focuses on the hard work people do every day on behalf of children and families. None of us is out there alone. Others have been there, have laid the groundwork, have given us footprints to follow. And many are still walking alongside us today. Still others are just beginning the journey and, when we step aside, they will walk on ahead of us. No matter what we do in this life, that perspective of who walked before us, who walks with us and who will walk on ahead is an integral part of how we look at our work, where it has taken us and where we yet want to go. With a lifetime of work- locally, nationally and internationally- in the field of child abuse prevention, the speaker helps the audience understand the great value they bring to this field and offers validation and encouragement for their efforts.
Morning Workshops: 10:15-11:45am
Luncheon: 12:00 - 1:45pm: FACT Awards, Champion for Children Award
Luncheon Keynote: Teri Covington, MPH -- "A Report from the National Commission to End Child Abuse and Neglect   Fatalities: What was Learned and What is Being Recommended to Put an End to Child Abuse and Neglect Deaths"
The National Commission to Eliminate Child Abuse and Neglect Fatalities, established by Congress in 2012, has finished its work and released its report to the President and US Congress. Ms. Covington, one of the 12 Commissioners, will provide us with an overview of the Commission's work and recommendations, especially those focused on child fatality prevention. 
Afternoon Workshops: 2:00-3:30pm
Closing Session: 3:30-4:15pm
Closing Keynote:   Josh Bailey "Embracing Uncertainty" 
If our brains interpret uncertainty as a threat, why do we still crave significance, meaning, purpose and to change the world when there are no guarantees? When the issues are as complex as those involved in the persistence of human trafficking and slavery, this talk explores the greatest threat we face when trying to make change.
Meet & Greet with Speakers
---
MORNING WORKSHOPS:
Why Some Bounce Back and Some Never Do: Resilience in Those Who Experience Childhood Abuse- Pat Stanislaski, Director, Partnering for Prevention

This workshop examines sources of resilience in children, responses and conditions that foster resilience and the relationship between protective factors and resilient children. It also offers suggestions for what parents and caregivers can do to promote resilience in their children.

Practice Profiles: Vision and Values Transformed "From Paper to Practice" -Anne Kisor, MSW, PhD, & Judy Gundy, MSW;  Virginia Department of Social Services

Learn how a Practice Model, Practice Profiles, and Coaching Supervision intersect to provide a framework for best practices, develop and sustain worker competency, promote consistency in service delivery, facilitate continuous improvement strategies, and support effective recruitment and retention in the social services setting.

Using Stories to Build Social and Emotional Competence of Children- Lynne Edwards, LCSW

Children love stories. Through stories and the characters with whom they identify, they learn about the world around them, and how to overcome everyday obstacles. Parents and other caregivers reading together with children also helps build strong emotional connections and lays the foundation for school readiness. Purposeful reading of stories coupled with planned activities that emphasize children's learning can foster the skills they need to develop social and emotional competence, to increase their language aptitude, and prepare them for life.

The Changing Faces of Poverty – Panel Discussion

Emily Griffey- Senior Policy Analyst, Voices for Virginia's Children

Hope Kestle- Director of Child Nutrition Programs, FeedMore

Nicole Austin, PhD- Early Childhood Education, Old Dominion University

Mark Golden- Economic Assistance and Employment Manager, VDSS

Kimberly Tucker- Senior Director of Housing & Homelessness, St. Joseph's Villa
Parent Education: Finding the Best Fit for Families- Virginia Statewide Parenting Education Coalition (VSPEC) Members- Michele Tryon, MA, BS, CCLS; Angela Borsella, PhD; Carol Dolber McMurray, MSW, ACSW

All parent education is the same, right? NOT! Parenting Education comes in different levels and forms. How do we determine the best fit responding to family needs? What is best practice in P.E.? Join us for this interactive workshop and application of the VSPEC Tool Kit as we collaborate to serve families.  
AFTERNOON WORKSHOPS:
Creating an Empathy Epidemic: The Importance of Creating, Building and Sustaining Empathy -Pat Stanislaski, Director, Partnering for Prevention

This workshop will address what empathy is, how vital it is in human communication and interaction and why it is essential that we teach it to children as early as possible. The presenter will also discuss new information from the scientific community regarding empathy and brain development as well as empathy in non-human animals and the importance of mirror neurons - now being seen as the cornerstone for empathy, language and other vital human processes.

Home Visiting 101 -Laurel Aparicio, Director, Virginia Home Visiting Consortium

Research consistently demonstrates the effectiveness of early childhood home visiting programs in improving the health and safety of our most vulnerable families and children. Learn more about Virginia's early childhood home visiting programs and the impact these programs are having in communities throughout the Commonwealth.  

Human Trafficking: From Basics to Action- Josh Bailey, President & CEO of Gray Haven

The workshop will begin with a brief overview of human trafficking, a modern day form of slavery, and how it affects children and young adults across the world, the United States, and Virginia. We'll answer the question, "Why do we need to understand the global and national issue when we are focused in one community?" Then the session will dive deeper into what exactly trafficking is, whom it affects, and why it persists. We will breakdown some of the myths associated with human trafficking, share our data, and give each workshop participant a working knowledge of human trafficking. That working knowledge will translate into an ability to identify a victim of human trafficking and what to do when someone is suspected of being a victim of human trafficking.

The Hidden Rules: What Drives Your Families to Make the Choices They Do 
Whitney Kern, LCSW, Prevention Consultant, Chesterfield Mental Health

In this workshop, we will discuss Ruby Payne's groundbreaking book,

A Framework for Understanding Poverty

. Participants will discover some of the book's major concepts: an inclusive definition of poverty; how use of language affects our work with others; knowledge of the hidden rules of poverty; and strategies for partnering with others for effective interventions. Come join us to find out why this book has been called "transformative". Prior reading/knowledge of the book is not necessary.

Child Neglect: Where Do We Go From Here?

- Viola Vaughan-Eden, PhD- Norfolk State University

Child neglect is the most common form of child maltreatment, yet it continues to be one of the most challenging to assess. The consequence of neglect impacts individuals, families, and communities but also has serious societal implications. Some types of neglect are easily recognized, while others go unnoticed. Neglect and associated risk factors will be address in terms of the latest child maltreatment research. Protective factors and supportive services, along with other intervention strategies will be        discussed.
---
 Continental breakfast, lunch and afternoon snacks included.  On-site exhibits. 
Registration deadline is March 24th.
Conference registration is $50.  Payment by credit card only. No refunds. 
No checks or cash will be accepted.  Purchase orders will not be issued for this event. 
No exceptions.
Online registration through EventBrite only.  Registration by phone is not available.  
For overnight accommodations at the Hilton Richmond Hotel & Spa/Short Pump please call 804-364-3600 or click on the link below:
https://secure3.hilton.com/en_US/hi/reservation/book.htm?execution=e1s1
A limited number of rooms have been reserved at the special rate of $89 plus tax (single occupancy) and $99 plus tax (double occupancy). Discounted hotel rates available through March 15th, or until block of rooms is full. 
In honor of Child Abuse Prevention Month, please Wear Blue to the conference!
When & Where

Hilton Richmond Hotel & Spa/Short Pump (804) 364-3600
12042 West Broad Street
Richmond, VA 23233


Monday, April 4, 2016 from 8:30 AM to 4:30 PM (EDT)
Add to my calendar
Organizer
Prevent Child Abuse Virginia
Prevent Child Abuse Virginia (PCAV) is a statewide, private nonprofit organization that strives through advocacy, education, direct services and partnerships to eliminate child abuse and neglect in the Commonwealth. PCAV leads a coalition of independent agencies and Healthy Families programs across Virginia and provides a range of support and information to help families and children thrive.
The Statewide Child Abuse Prevention Conference 2016