Description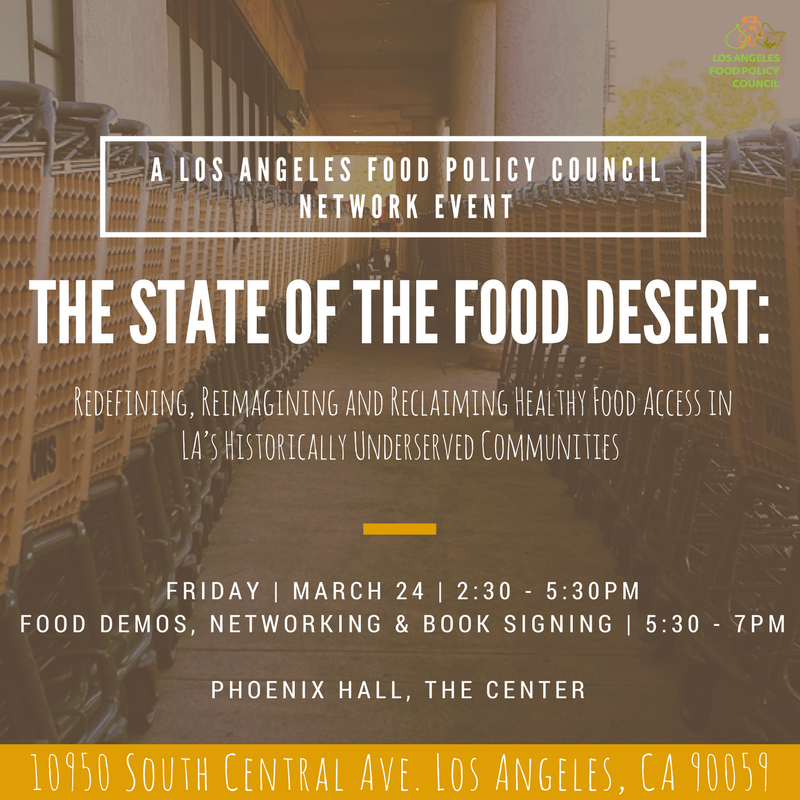 Join us on Friday March 24th at Phoenix Hall in The Center in Watts for the Los Angeles Food Policy Council's March Network Event—The State of the "Food Desert": Redefining, Reimagining and Reclaiming Healthy Food Access in LA's Historically Underserved Communities.
We'll review healthy food access in Los Angeles from past to present to better understand the problems and systemic causes of "food desert" conditions, solutions for addressing them and the best measures of success. We'll hear from experts working in food justice as well as community voices most impacted by disparities to identify relevant solutions and build our collective vision for achieving food equity in the city. Through collaborative discussions on diverse topics impacting food access disparities, we'll develop a policy platform that will serve as a blueprint to inform the food movement in Los Angeles over the next few years.
Tentative Schedule:
2:00pm | Registration
2:30pm | Opening Remarks + Presentation: State of Food Access
3:20 pm | Community Voices Panel + Collaboration
5:30pm - 7pm | Food Demo & Book Signing
Opening Remarks by:
Panelists:
Bryce Fluellen
Gwendolyn Flynn
Mary Lee (PolicyLink)
Crystal Gonzalez (

American Friends Service Committee

)
Breakout Sessions:
Business and Economic Development in healthy food retail
Alternative Food Systems
Hunger and Food Insecurity
Healthy Development without displacement
Youth Engagement and Community Organizing in the Food Justice Movement
Bridging Healthy Food Access and Nuisance Abatement
Read more about the session topics here.
**The event is wheelchair accessible.
***Spanish translation will be available.
Special tastings from Chef Bryce Fluellen and Gwendolyn Flynn who both recently released food books!
This event is produced in partnership with:
PolicyLink, Watts Labor Community Action Center, Social Justice Learning Institute, Prevention Institute, Community Coalition, Social Model Recovery, Community Health Councils, Peace 4 Kids, Chef Bryce, Avivar Capital, LA Community Action Network, Collaborative for Urban Agroecology LA, Hunger Action Los Angeles, Everytable, American Friends Service Committee, LURN, APIOPA, UPROXX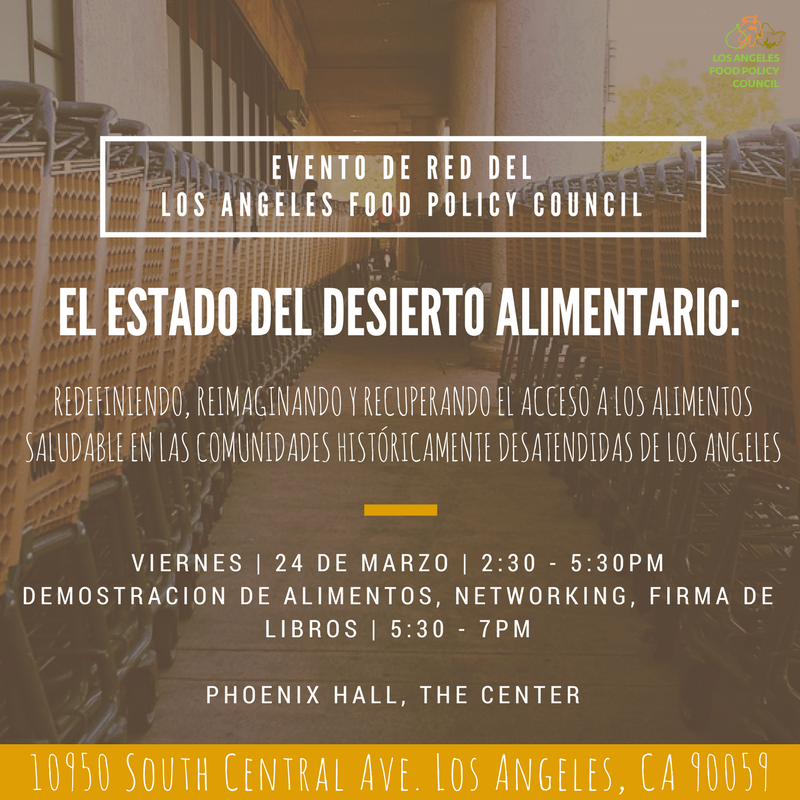 Horario Tentativo:
2:00pm | Registro
2:30pm | Comentarios de Apertura + Presentacion: Estado del Acceso a la Comida
3:20 pm | Panel de Voces de la Comunidad + Colaboración
5:30pm - 7pm | Demostracion de Alimentos y Firma de Libros
Sesiones de Trabajo:
Desarrollo Económico y Comercial en la Venta de Alimentos Saludables

Sistemas Alimentarios Alternativos

El Hambre y la Inseguridad Alimentaria

Desarrollo Saludable sin Desplazamiento

Participación de los Jóvenes y Organización Comunitaria en el Movimiento de Justicia Alimentaria

Cómo Lograr el Acceso de Alimentos Saludables y la Reducción de las Molestias
**El evento es accesible por sillas de ruedas.
***La traducción en español estará disponible.
¡Botanas especiales de Chef Bryce Fluellen y Gwendolyn Flynn que recientemente publicaron libros de comida!
Este evento es producido en colaboración con: PolicyLink, Watts Labor Community Action Center, Social Justice Learning Institute, Prevention Institute, Community Coalition, Social Model Recovery, Community Health Councils, Peace 4 Kids, Chef Bryce, Avivar Capital, LA Community Action Network, Collaborative for Urban Agroecology LA, Hunger Action Los Angeles, Everytable, American Friends Service Committee, LURN, APIOPA, UPROXX