Join us for Manny's Super Civic Cyber Conversations! #MSCCC
About this event
**Note: This conversation will be hosted digitally, not in the real live world.**
Click HERE to tune in to the conversation.
What lessons can we learn during this pandemic regarding the environment? How can we continue climate action from home? How is the environment changing following the slowdown of major cities around the world?
Joins us for a cyber conversation with Director of San Francisco's Department of the Environment, Debbie Raphael, to discuss the state of the environment during and following Coronavirus.
More about Debbie Raphael:
Debbie Raphael is the Director of the San Francisco Department of the Environment and believes that cities can take bold action to address environmental harm. A scientist by training and public servant by profession, Debbie has spent most of her career working in government to ensure that everyone has an equal right to a safe and healthy environment.
At the City of Santa Monica and City and County of San Francisco, Debbie crafted first-in-the-nation policies on toxics reduction, green building, Integrated Pest Management (IPM), healthy nail salons, and championed the precautionary principle – a decision-making framework that protects the public from exposure to harm, even in the face of scientific uncertainty. In 2011, Governor Edmund G. Brown appointed Debbie as Director of the California Department of Toxic Substances Control. While there, Debbie implemented the state's groundbreaking Safer Consumer Products Law to better regulate which chemicals can be used in products sold or manufactured in California.
As Director of the San Francisco Department of the Environment, Debbie is focusing on leading the City's efforts on tackling climate change and ensuring a healthy environment for all. She has led the most significant update to the City's recycling and composting program in over 15 years, the launch of an industry-funded safe disposal program for unused medicines, and pioneering policies for rooftop solar panels and electric vehicle charging capacity in all new construction. In partnership with the Mayor, Board of Supervisors, and fellow city departments, Debbie has helped steer the city towards greater greenhouse gas emission reductions, including setting a new audacious goal of achieving net-zero emissions by 2050.
Named one of the world's 100 most influential people in climate policy, Debbie is a frequent keynote speaker at international climate conferences and a national spokeswoman on environmental issues. She serves as President of the Urban Sustainability Directors' Network, an External Advisor to the Global Climate Leadership Council of the University of California Office of the President, and Board Member of Strategic Energy Innovations. She holds a Bachelor's degree in biology from the University of California, Berkeley and a Master's Degree in Physiological Plant Ecology from UCLA.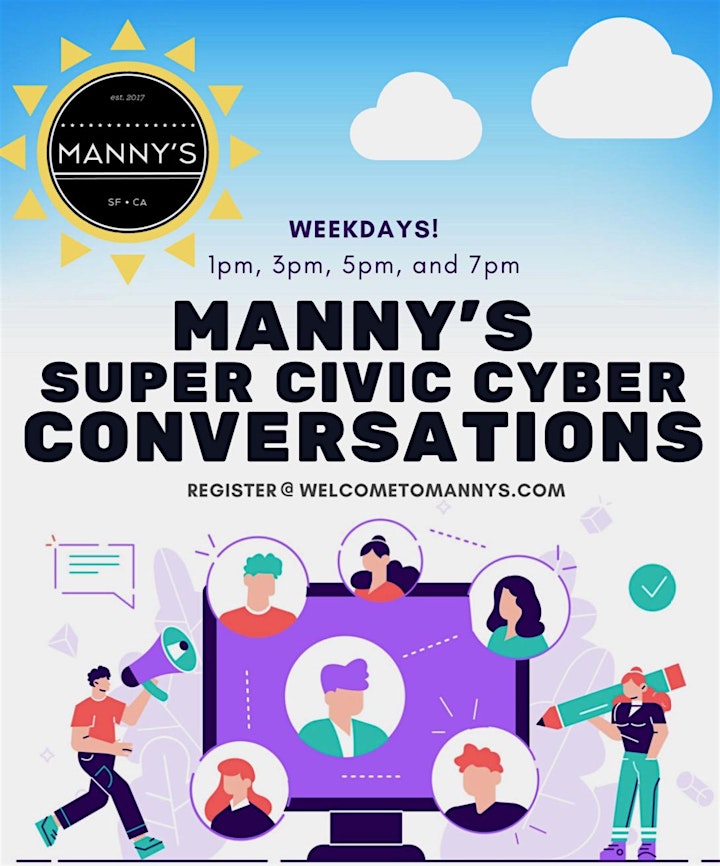 About Manny's Super Civic Cyber Conversations:
San Francisco and the surrounding 5 counties are in the midst of mandated shelter-in-place. All businesses except those deemed essential are closed and many Bay Area residents and scared, nervous, and wondering about the future.
Manny's, a civic gathering and events space located in the heart of San Francisco, is rising to the occasion to create and promote a month's worth of live civic conversations to distribute needed information, give people the hope, and continue to civically engage the public in a time of need.
About Manny's:
Manny's was opened on election night 2018 to create a physical place for people to go to become better informed and more involved citizens. Since opening we've hosted 17 of the Presidential candidates, over 550 civic events, talks, and gatherings, over 40 members of Congress including Speaker Nancy Pelosi, and leaders across different social justice movements like Alicia Garza, Jose Antonio Vargas, Michael Brune, Cleve Jones, and Gabby Giffords.
Organizer of The State of the Environment During and After COVID-19 w/Debbie Raphael