Multiple Dates
The State of Mental Health in the African-American Church: Past, Present an...
Description
The Foundation for Therapeutic and Spiritual Services, Inc. (www.spiritual-empowerment.org) is proud to present its conference, "The State of Mental Health in the African-American Church: Past, Present and Future". This impactful conference is slated to take place June 28, 2019 (8:00 am-6:00 pm) and June 29, 2019 (8:00 am-3:00 pm) at the Hilton Atlanta/Marietta Hotel and Conference Center. This conference will end with a VIP (Fundraiser) Empowerment Awards Luncheon on Saturday June 29, 2019 from 1 pm-3 pm. We will be honoring Bishop Dr. Barbara King and Rev. Dr. Kenneth L. Samuel with many other esteemed mental health awardees. We are planning for an attendance of 100 or more at this life changing conference.
We are in a mental health crisis in our community, especially in the African-American church and community!!!!!! It's time to have real talk about solutions from a mental health perspective and develop partnerships with mental health agencies and providers. The National Institute of Mental Health states, "Research shows that mental illness is common in the United States, affecting tens of millions of people each year. Nearly one in five U.S. adults live with a mental illness (46.6 million people in 2017)." [1]
This empowerment conference will be an interactive, working conference that will help the participant assess the mental health needs of their congregations and spiritual centers, learn new information about mental health and develop partnerships through a mental health network. Presenters and facilitators will explore the past, present, and future of the church and its evolving stance on mental health. You'll hear from experts in the field, share your perspectives with other participants, and gain new insights from this therapeutic experience, as well as participate in interactive workshops and a very special awards presentation honoring some unsung heroes in the mental health and faith communities.
The Conference will also include:
CEU's for Mental Health and other Licensed Professionals (seeking approval from the LPCA of GA)

Empowerment TALKS (15-minute informational sessions inclusive of Q & A: A Therapeutic Perspective of Mental Health, Ministry and Healing)

Informative Breakout Workshops on Mental Health and Sexuality, Domestic Violence, Trauma in the Church, State Licensure and Clinical Training in Mental Health, Unleashing Your Story, Personality Disorders in the Church, A Community Mental Health Panel Discussion, and Mental Health and Clergy Panel Discussion.

Special VIP Luncheon honoring Trailblazers and Difference-makers such as Bishop Dr. Barbara King, Rev. Dr. Kenneth L. Samuel and other esteemed awardees.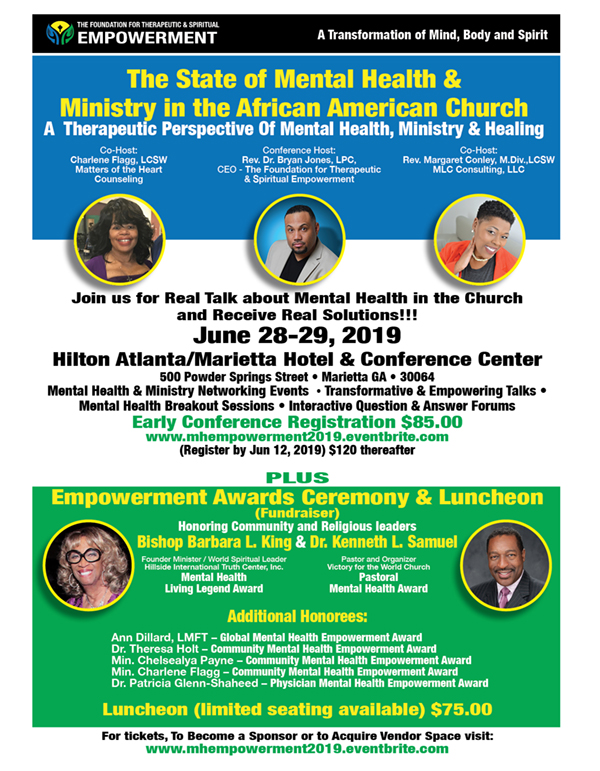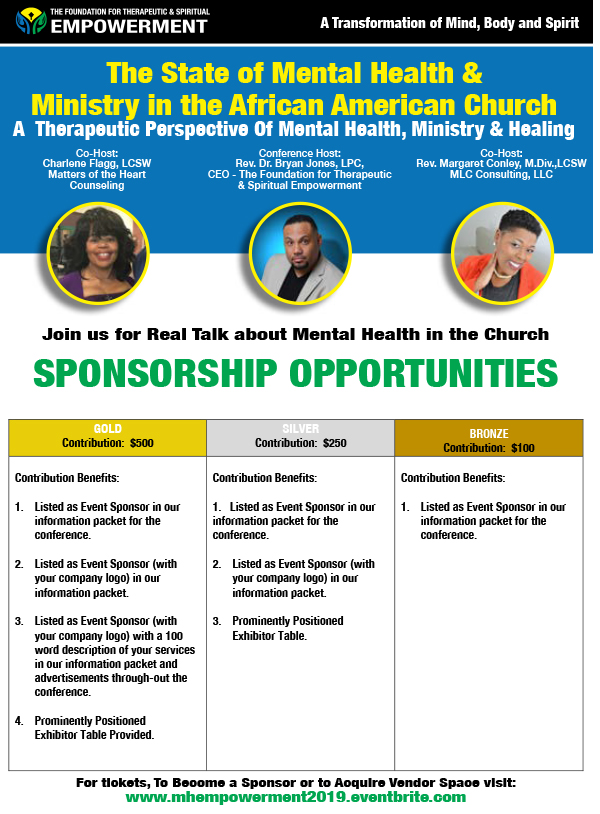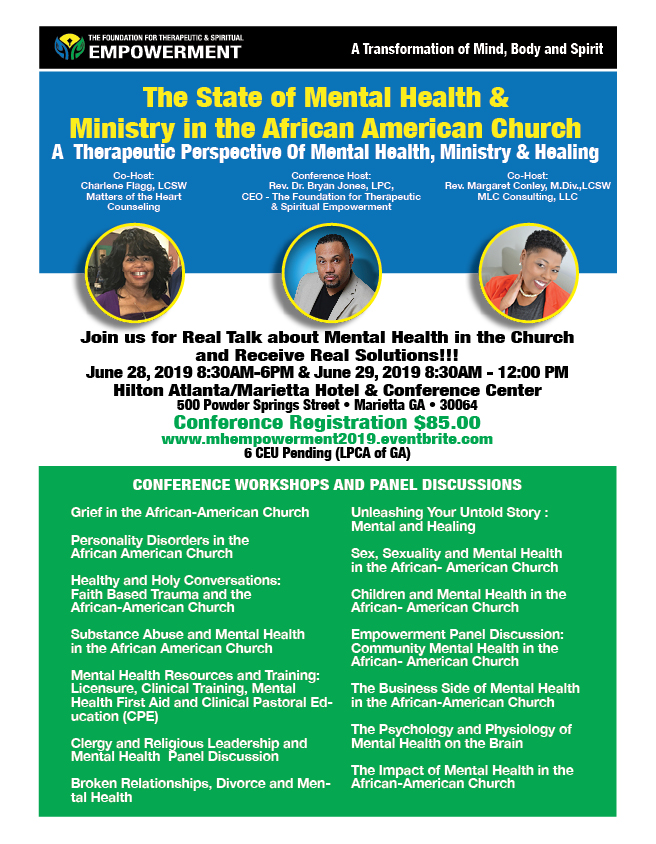 Organizer of The State of Mental Health in the African-American Church: Past, Present and Future