About this Event
Located in the heart of San Francisco, Self-Sovereign Identity Incubator will be holding its kick-off event on Tuesday, September 17th at 6:00 pm PDT. Learn about current developments in the SSI world, the future of digital identity, and meet the early-stage identity startups we've selected for SSII's Fall 2019 cohort.
Representatives from some of the world's leading digital identity protocols and systems will discuss digital identity and more in a panel discussion titled "The State of Digital Identity: Bringing Blockchain, Decentralization, and Self-Sovereign ID to the Internet".
The event will be emceed by:
Dr. Phil Windley, Chair of the Board of Trustees, Sovrin Foundation
The panel discussion will be moderated by:
Brian Behlendorf, Executive Director, Hyperledger
Confirmed speakers include:
Daniel Buchner, Decentralized Identity, Microsoft
Xan Ditkoff, Production Partner, Blockstack
Pelle Braendgaard, CTO, uPort (a ConsenSys formation)
Heather C. Dahl, CEO & Executive Director, Sovrin Foundation
Greg Kidd, co-founder of Hard Yaka, co-founder & CEO of globaliD
Hyperledger, an open source collaborative effort hosted by the Linux Foundation, and Orange Silicon Valley, one of the world's leading telecommunications operators, are sponsoring the event.
Event Schedule:
5:30 pm: Doors open
6:00 pm: Welcome & Introduction to the SSI Incubator's Fall 2019 Cohort
6:30 pm: SSI protocol panel discussion
7:30 pm: Light refreshments & networking
8:30 pm: Doors close
For more information about SSI Incubator, visit out website https://ssiincubator.com/.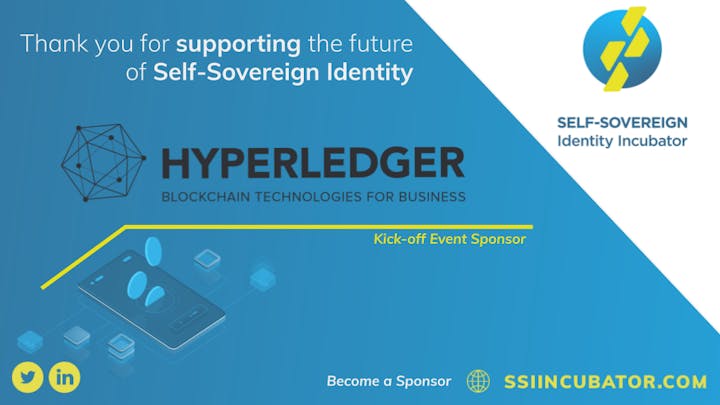 Thank you to the generosity of our kick-off sponsor, Hyperledger.
About Hyperledger
Hyperledger is an open source collaborative effort created to advance cross-industry blockchain technologies. It is a global collaboration including leaders in finance, banking, Internet of Things, supply chains, manufacturing and Technology. The Linux Foundation hosts Hyperledger under the foundation. To learn more, visit: https://www.hyperledger.org/.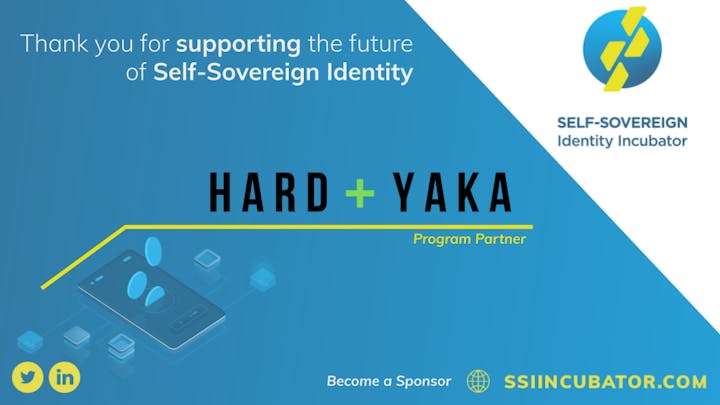 Thank you to our program partner Hard Yaka.
About Hard Yaka
Hard Yaka is an investment firm focused on digital identity, payments, and marketplaces founded by Greg Kidd, an initial investor and advisor for both Twitter and Square. Hard Yaka has investments in over 90 companies including Ripple, Coinbase, Robinhood, Dwolla, and globaliD, where Greg is the co-founder and CEO.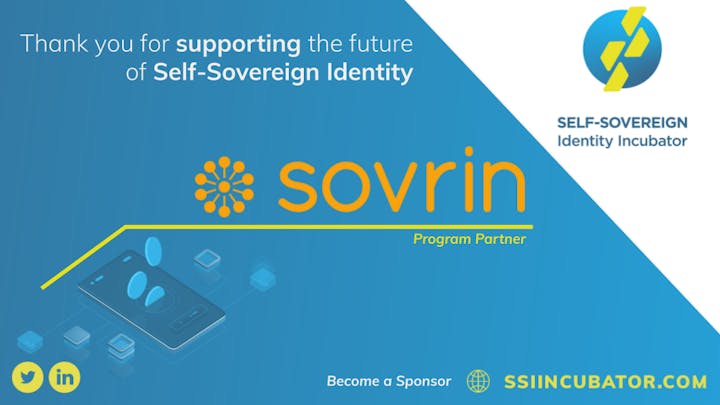 Thank you to our program partner, Sovrin Foundation.
About the Sovrin Foundation
The Sovrin Foundation is a nonprofit organization established to administer the Governance Framework governing the Sovrin Network, a decentralized global public network enabling self-sovereign identity on the internet. The Sovrin Network is an open source project operated by independent Stewards and uses the power of a distributed ledger to give every person, organization, and thing the ability to own and control their own permanent digital identity.
About Orange Silicon Valley
Orange Silicon Valley (OSV) is Orange's Bay Area affiliate, one of the world's leading telecommunications operators, serving more than 264 million customers across 28 countries. Through research, development, and strategic analysis, we actively participate in the disruptive innovations that are changing the way we communicate. For more information, please visit www.orangesv.com