Description
It's time to get together and give back!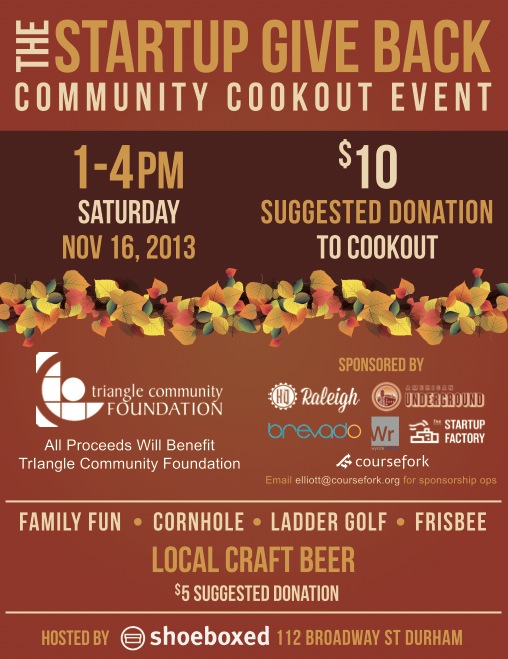 The Startup Endowment
We're no strangers to setting audacious goals. Let's build an endowment that will benefit local charities for years to come. We're both raising money and asking entrepreneurs to donate what they have to give: equity in their businesses. Here are our goals:
$10,000 to open a charitable fund with the Triangle Communitiy Foundation. And then,
$50,000 to endow the fund so that it will provide a reliable resource for area charities
The money is only the beginning. We have the unique opportunity to donate a small fraction of the equity we each own in our businesses - say 1% of the shares we own personally - so that the vision we're working towards day and night can also accrue to the benefit of our community. That gives us two additional goals:
100 entrepreneurs to pledge 1% of the equity they hold in their companies. And then,
1000 entrepreneurs to pledge 1% of the equity they hold in their companies
The pledge can be to ANY chartiable organization, but we hope the fund will become the philanthropic vehicle of choice for entrepreneurs in the area. We think we may be able to accomplish all of these goals in 2014! Think of this description as an alpha release, with more features and details to come.
The Kickoff Event
As entrepreneurs we sometimes must choose between building our businesses and building our community. Or even between spending time at events and spending time with our families. The Giveback aims to combine all of these activities in one day of fun, with proceeds benefiting the Triangle Community Foundation. There will be a $10 suggested donation for free food, and local craft beer for a $5 suggested dontation. 100% of the gross proceeds will go directly to the fund.
Get Involved
In addition to coming to the event there will be plenty of ways to get involved, from staffing the event to contributing food or beer. Email elliott@coursefork.org to learn more.
Organizer of The Startup Giveback