Description
HUMBLE PIE ENTERTAINMENT in association with STER-KINEKOR ENTERTAINMENT cordially invites you to a PRIVATE SCREENING EVENT for the movie 'THE STAR'

ADMIT 2 PERSONS (No children under the age of 13 allowed)
Strictly Only Media/Press allowed.
NON TRANSFERABLE – LIMITED SEATS AVAILABLE.
Right of Admission Reserved Humble Pie Entertainment.
Time: 19:45 for 20:00
ADMISSION: FREE
DRESS: CASUAL

- CITY – VENUE – DATE -
Pretoria - Ster Kinekor Brooklyn Com Centre (Cinema 5)- 8 November 2017

Watch the Trailer & other Videos:
https://youtu.be/9NjvYZtwk00
https://youtu.be/SWk1cfgcwcE
https://youtu.be/xKd58tT29mI
https://youtu.be/XykiQNticxA
https://youtu.be/szi0295fkqc
---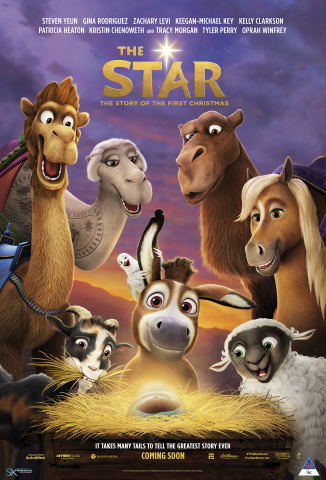 'THE STAR' - IN CINEMAS 17 NOVEMBER 2017
The Story of the First Christmas!
It Takes Many Tails To Tell The Greatest Story Ever.
A small but brave donkey and his animal friends become the unsung heroes of the first Christmas.
In Sony Pictures Animation's The Star, a small but brave donkey named Bo yearns for a life beyond his daily grind at the village mill. One day he finds the courage to break free, and finally goes on the adventure of his dreams. On his journey, he teams up with Ruth, a loveable sheep who has lost her flock and Dave, a dove with lofty aspirations. Along with three wisecracking camels and some eccentric stable animals, Bo and his new friends follow the Star and become unlikely heroes in the greatest story ever told – the first Christmas.
Cast (The Voices of):
Steven Yeun (Bo the donkey)
Gina Rodriguez (Mary)
Zachary Levi (Joseph)
Keegan-Michael Key (Dave the dove)
Kelly Clarkson (Leah the horse)
Anthony Anderson (Zach the goat)
Aidy Bryant (Ruth the sheep)
Ving Rhames (Thaddeus the dog)
Gabriel Iglesias (Rufus the dog)
Patricia Heaton (Edith the cow)
Kristin Chenoweth (Abby the Mouse)
Christopher Plummer (King Herod)
Tracy Morgan (Felix)
Tyler Perry (Cyrus)
Oprah Winfrey (Deborah)
Directed by: Timothy Reckart
Produced by: Jennifer Magee-Cook
Story and screenplay: Carlos Kotkin
Running Time: 90 min
Age Restriction: PG for some thematic elements
Genre: Animation/Adventure/Comedy/Family/Fantasy
---