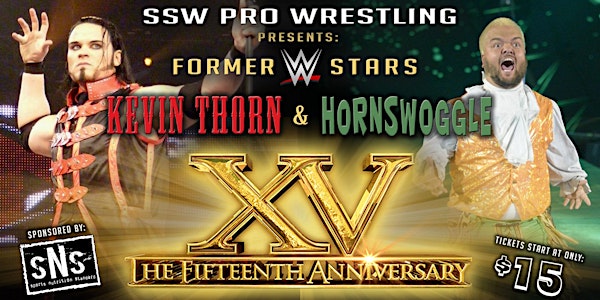 The SSW Pro Wrestling 15th Anniversary Event (w/KEVIN THORN & HORNSWOGGLE)
Description
On Sunday night, May 27th, 2018, at 7pm, SSW Pro Wrestling marks an epic milestone with our 15th Anniversary Event LIVE at The Brat Stop in Kenosha! On this night, we welcome former WWE international superstars KEVIN THORN & HORNSWOGGLE, Ring of Honor's STACY SHADOWS, TNA Impact's MARSHE ROCKETT, and Shimmer's MELANIE CRUISE...making this event one not to miss!
*We will have a special MEET & GREET with all our special guests as well as other members of the SSW roster starting at 6:00pm EXCLUSIVELY for Front Row VIP ticket holders!
SCHEDULED TO APPEAR*:
WWE's Kevin Thorn
WWE's Hornswoggle
Ring of Honor's Stacy Shadows
TNA Impact's Marshe Rockett
Shimmer's Melanie Cruise
MDC Worldwide's Ben McCoy, Vic Capri, & Nick Colucci
The SSW Champion William Jacobs
Midwest Heritage Champion Joey Avalon
Ruff Crossing
Pauly Thomaselli
Jeff Luxon
Matt Dewar
Garrisaon Creed
John Fate
Backwoods Brown
Salem Crane

Also scheduled to appear:
Master of Ceremonies: Mr. Ricolo
Ring Announcer: Krystal
SSW Owner: RJ Daniels
SSW/PRIME Commissioner: Devin Diamond
Commentators: Ryan Young & Scott Beatty
Talent Managers: Jason Jay
Officials: Jason Parks, Junior

EVENT INFO:
----------------------------
The Brat Stop
12304 75th Street (HWY 50)
Kenosha, WI
(Please enter via the Parkway Chateau entrance door "B")

Meet & Greet with WWE stars Kevin Thorn & Hornswoggle begins at 6pm and is exclusive for FRONT ROW VIP ticket holders only.
Doors will open for general and reserved seating at 6:30pm, and the opening bell-time is 7pm.

TICKET INFO:
----------------------------------
VIP FRONT ROW reserved seating with Meet & Greet at 6pm - $25

Second & Third Row reserved seating - $20
General Admission - $15
(Kids 12 & under only $8 General)

Like us on Facebook at Facebook.com/SSWonline
Follow us on Twitter @SSWProWrestling
Follow us on Instagram @SSWProWrestling
Watch us on YouTube at: YouTube.com/SSWonline

*(As always, event card is subject to change without prior notice)
THIS EVENT IS SPONSORED BY:
SPORTS NUTRITION STANDARD of Kenosha
http://www.facebook.com/SportsNutritionStandard/
http://www.instagram.com/iamthesstandard/
Organizer of The SSW Pro Wrestling 15th Anniversary Event (w/KEVIN THORN & HORNSWOGGLE)