Description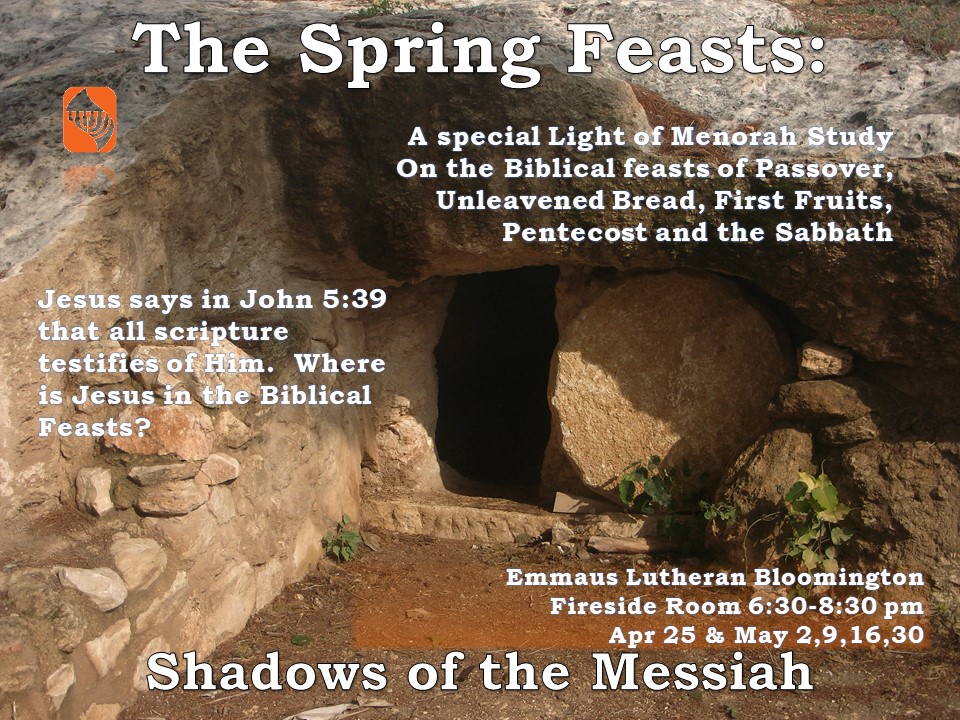 The Spring Feasts of the Lord - Shadows of the Messiah
This course will be held at Emmaus Lutheran Church in Bloomington in the Fireside Room. A class book is available for optional purchase for $50. Class dates are ... Thursdays from 6:30-8:30 pm April 25 and May 2, 9, 16, 30. (June 6 possible add on class if needed)
Adonai commanded 8 specific feasts at Sinai as part of His New Covenant as He established a new nation, a new people, Israel. You can read all about them in Leviticus 23. The Hebrew word for feasts is ( מוֹעֵד ) pronounced MO'ED, and it means an appointed time - not a feast. It is as if God is askking His people to "go on a date" with HIM. They are specific times to meet at specific places and with precise purposes, to REMEMBER. Each year, every year, and even every week on the Sabbath, His people are to remember, remember, remember and thus to teach the next generation of God's grace, mercy, and salvation.
Paul, in Col. 2:16-17 says ...Therefore no one is to act as your judge in regard to food or drink or in respect to a festival or a new moon or a Sabbath day— things which are a mere shadow of what is to come; but the substance belongs to Christ.
Paul is teaching us that the Sabbath, the laws of Torah (the first five books of the Bible), the rituals and practices, were all given to also be associated with He who was coming - Jesus. Jesus is the shadow, He is the substance of the shadow. Jesus is the shadow over the mo'edeem - the appointed times.
This course will be on the spring mo'edeem: Passover (Paysock), Unleavened Bread (Hag HaMohtzee), First Fruits (Bikkereem), and Pentecost (Shavuot). We will also spend one class on the Biblical Sabbath the way the disciples and Jesus practiced it in the 1st century (Lke 4:16) We will study these appointed times and what God commanded in each of them. We will also study how they were practiced in Jesus' day and how Jesus is a SHADOW of these feasts. In other words, how do we see Jesus in these feasts.
What others are saying ...
"Rev. Ferret's classes are over the top! His knowledge and understanding of Biblical culture and tradition, along with his ability to 'dissect' ancient languages makes for "Wow" sessions."
"Think you know your Bible pretty well? I did too, until I began taking Rev Ferret's classes on the history, culture, languages, archeology, and geography of Bible lands. It was then that these sacred texts, known to us as the Bible, took on much deeper meaning than I'd ever realized."
"I am so excited about the classes that Rev. John Ferret has and continues to teach. I personally have learned so much. It has changed my life in that I have a much better perspective of what it means to be a disciple of Jesus."
REGISTRATION REQUIRED - this class is provided at no cost - only one registration per person unless you are registering as a husband and wife or if one is registering for a family. A class book is available for optional purchase. This book is filled with the complete course content, pictures and maps in full color, plus, and most important, the complete bibliography of Rev. Ferret's research and backup on all the course content. The book is $50 and must be ordered when you register. You can chose to pay now or at the door. You can pick the option under PAYMENT when you order the book. Note - this class will be held only if 20 or more register.
This course will be held at Emmaus Lutheran Church in Bloomington in the Fireside Room. Class book is available for optional purrchase for $50. Class dates are ... Thursdays from 6:30-8:30 pm April 25 and May 2, 9, 16, 30. (June 6 possible add on class if needed)