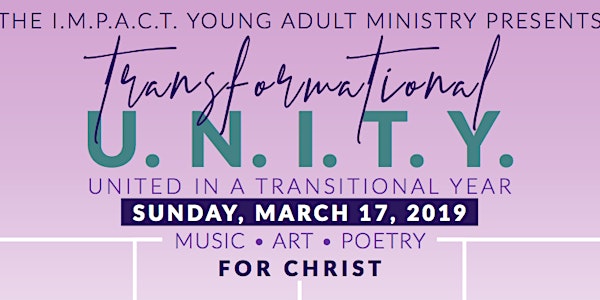 THE SPOT: Transformational U.N.I.T.Y.
Location
Busboys and Poets
5331 Baltimore Avenue
Hyattsville, MD 20781
Description
Join the I.M.P.A.C.T. Ministry of The People's Community Baptist Church (TPCBC), at Busboys and Poets in Hyattsville on Sunday, March 17, 2019. We're hosting, THE SPOT, Transformational U.N.I.T.Y. edition.

Get your ticket(s) today! Admission to THE SPOT is FREE and open to the public. Due to the venue's limited seating, early arrival is strongly encouraged. Doors open at 6:30 pm. Also, feel free to grab dinner or a snack during the event; the Busboys and Poets' full menu will be available. For questions or more information, email impact.tpcbc@gmail.com.

---
What's "THE SPOT," you ask? It's a night filled with live music, spoken word, poetry, live painting, and art that praises the Lord.
Our theme is "Transformational U.N.I.T.Y." so get ready for a thought-provoking discussion and a night filled with entertainment, including guest appearances by Kimiesha Dean, Ray Dugga, David Snipes, She-Uno, and Kezia Snipe.
Invite your friends and see you there!
---
Note: This is not an open mic event. If you are interested in being a featured artist at an upcoming THE SPOT event, please email your request to impact.tpcbc@gmail.com.
Stay connected with us for upcoming events: