Description
Join us for this online course, which will convene every Tuesday night from 7pm to 8:30pm (Central) during the months of January and February 2020.

Systemic oppression is empowered and enabled by legitimizing myths—social narratives that are so taken for granted that they are rarely challenged. And these myths are anchored in a sort of spirituality–an orientation towards the ultimate good–that must be challenged if we are to find liberation.

In this 8 week course, we will explore: How did a radical religious movement in ancient Palestine become the animating force of empire? Why do so many people internalize (and even embrace) myths and systems that harm themselves? How do we begin to discern our current socio-political moment?
Participants will watch an online presentation followed by live discussion with the teacher (our Executive Director, Mark Van Steenwyk). Additional reading and discussion (via online discussion board) will happen at the student's pace.

A short reading will be assigned in anticipation of each week's presentation and discussion.
Week One: Introduction
Week Two: Myths We Live By
Week Three: The Christian Roots of Supremacy
Week Four: A History of Capitalism
Week Five: The Cycle of Uprooting, Pt 1
Week Six: The Cycle of Uprooting, Pt 2
Week Seven: Towards a Prophetic Response
Week Eight: Group Processing
This course is a part of the 2 Year Program in Prophetic Spirituality, but is open to the public.
About the Facilitator: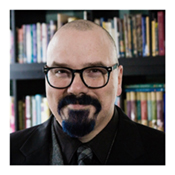 Mark Van Steenwyk is the Executive Director of the Center for Prophetic Imagination in Minneapolis, Minnesota.
In 2004, Mark and his wife Amy founded the Mennonite Worker, where they still reside. The Mennonite Worker is an urban intentional community committed to Jesus' way of hospitality, simplicity, prayer, peacemaking, and resistance.
He is the author of A Wolf at the Gate, The unKingdom of God and That Holy Anarchist, and has contributed to several books (such as Viral Hope, Banned Questions about Jesus, Forming Christian Habits in Post-Christendom, and Widening the Circle). He's been published at Sojourners, Geez Magazine, JesusRadicals.com, Leadership Magazine, the Mennonite, and Mennonite World Review. His work has been featured in the Minneapolis Star Tribute, the Boston Globe, and on CNN.com.
Mark is the former producer/co-host of the Iconocast, which has interviewed folks such as Cornel West, James Cone, Starhawk, Noam Chomsky, Bill Ayers, Wazayatawin and many others.
Mark earned an M.Div. from Bethel Theological Seminary and studied Spiritual Direction at the University of St. Catherine's graduate school. He is a former adjunct instructor at Bethel Seminary, where he taught courses on applied ecclesiology and Christian radicalism.
For the past decade, Mark has traveled around the continent as a teacher, organizer and spiritual provocateur.