The Spectacular 3rd HOBBIT DAY at the Dionysian Sanctuary

Sunday, March 29, 2015 from 6:30 AM to 7:30 PM (EDT)
Event Details
To celebrate the newly complete, The Hobbit Trilogy, the Dionysian Sanctuary will be hosting another HOBBIT DAY!  
This is a celebration of the Epic kind with a Hobbitish movie marathon and the eating of all SEVEN hobbit mealtimes. 
Enjoy First Breakfast, Second Breakfast, Elevenses, Luncheon, Afternoon Tea, Dinner, and Supper. - All while watching a collection of Hobbit movies and specials.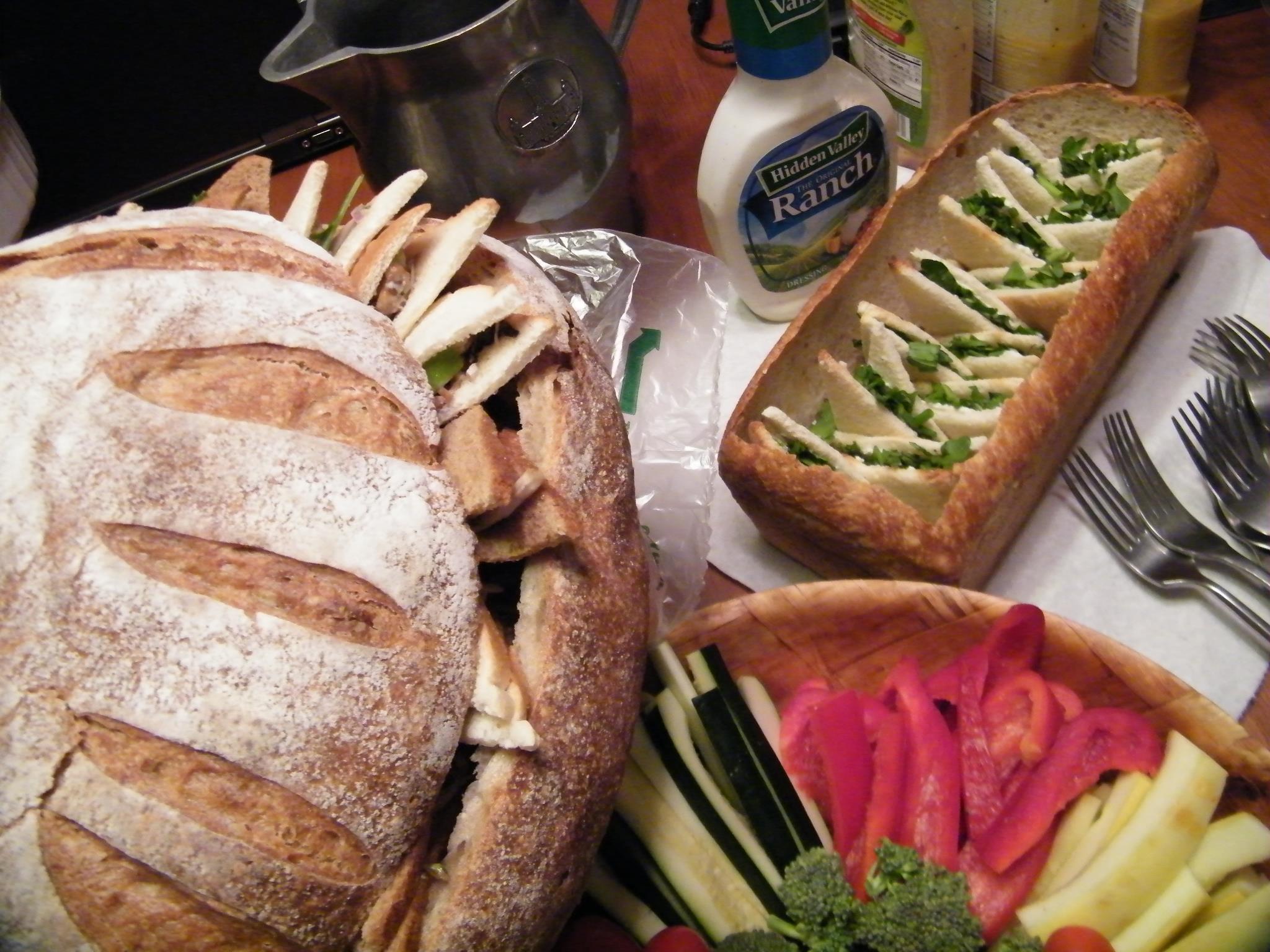 Each meal is a small plate and only about 300 calories or so. Whatever leftovers there are from each meal are set out as snacks for between meal munching. 
The hobbits start thier day at the crack of dawn, and so must we. In order to time the mealtimes and show times to correspond with a typical hobbit lifestyle, we invite all our guests to sleep at the D.Sanctuary the night before (Sat. March 28th) so that you're there for the start of Hobbit Day without even needing to get dressed.
Bring your renn faire mugs, themed items, cloaks, and pipes. Costumes are not expected, but appreciated!
Instead of the Lord of the Rings Trilogy that we showcased at the last two Hobbit Days, this time we're watching Peter Jackson's three Hobbit films that have been re-edited by a fan into ONE Fantastic movie that focuses more on Bilbo Baggins and stays closer to the Book, removing all the filler content. (Details on the re-edit below). We're also showing the 1977 animated The Hobbit movie, along with a collection of LOTR/Hobbit themed specials and clips.
Its going to be the Most EPIC Hobbit Day yet!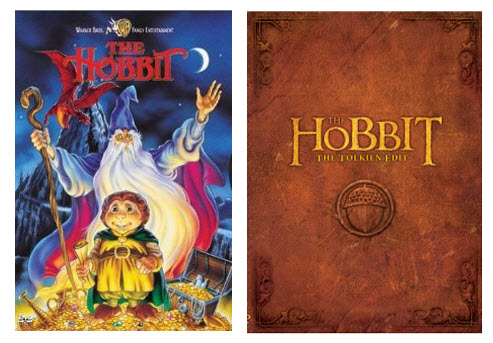 Schedule and timing of events:  (Menu Subject to change without notice)
                             ~~Course of Events~~
Wake up - 6:30am roundabout             
First Breakfast : 6:45am-7:15am
Menu:  Fruit, Pumpkin Bread, and Fresh Churned Butter
1977 Animated The Hobbit Movie
Second Breakfast : 8:45am-9:15am
Menu:  Scotch Eggs (sausage covered eggs) and Hobbit Potato Hash
Air New Zealand LOTR themed Air Safety Video
Leonard Nemoy, The Ballad of Bilbo Baggins
Simpsons Hobbit Couch Gag
The Fan Re-Edit of Peter Jackson's The Hobbit movies into one film (Part 1)   
Elevensies : 11:00am-11:15am
Menu: Crackers, Sliced Cheese & Meats, and a SHOT of Whiskey
The Fan Re-Edit of Peter Jackson's The Hobbit movies into one film (Part 2)
Luncheon : 1:00pm-1:30pm
Menu:  Elven Lembas Bread, and Misc. Veg. Side Dishes and Salads
The Fan Re-Edit of Peter Jackson's The Hobbit movies into one film (Part 3)
How the Hobbit Should Have Ended Animation
Cookie Monster's Lord of the Crumbs
Afternoon Tea : 3:15pm-3:45pm
Menu: Tea, Scones & Homemade Jams
1977 Animated The Hobbit Movie
(Repeated for those that are not morning people, could not stay the night, or arrived late-sometime before 2nd Breakfast)
Dinner :  5:30pm-6:00pm
Menu: Hearty Turkey Stew with Crusty Bread
SNL Sketch - Hobbit Office: Middle Earth
MadTV Sketch - Lord of the Bling (so wrong on so many levels)
LOTR/Frozen Parody by Hillywood - Let it Go
UK Lord of the Rings Parody - Gollum
Clerks 2 - Randal LOTR vs. Star Wars Rant
Best of: LOTR Fellowship of the Ring Rifftrax
Supper :  7:00pm-7:30pm 
(Normal Hobbit Suppertime is later, but it's Sunday and we don't want to keep you too long) 
Menu: Shepherd's Pie with Beef, Sweet Treats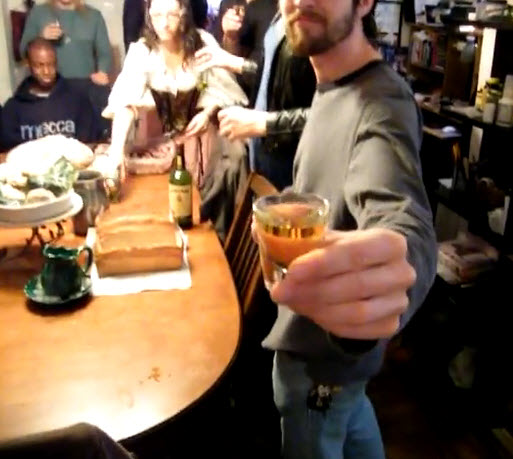 What to Bring: If you're staying overnight at the Dionysian Sanctuary, you're going to need a few things. Please bring your pillow and some bedding or sleeping bag. There's plenty of floor space, but the bed-like areas will fill quickly. Bring your favorite drink (alcoholic or non) to share. And bring your toothbrush.. seriously.
If you are arranging to bring a dish or party supplies for a reduction of admission price, please contact Mistress Zeneca directly at her fetlife.com profile - ElegantlyKinky for a Promo Code before you buy your ticket. 
This is a cooperative effort - help out, pitch in, and everyone has a great time.
Mistress Zeneca makes approx 196 meals during the one-day event.
During the slumber party (of sorts) activities can range from Kinky activities to Geeky activities. There are movies and tv shows on disc, card games, board games, kinky jenga, or you can play on any of the fetish equipment Mistress Zeneca has on display.  Even though technically there is nothing scheduled that would make this an "adult" event, anyone under 18 years of age would be accepted only on a case-by-case basis.
It's pretty much whatever you want to do. This is basically a casual event where kinky-sexy activities may take place,.. or not. It's really up to the guests.
There will be some pictures and video taken, signed media releases will be mandatory.



If you're not familiar with this Fan Re-Edit of Peter Jackson's The Hobbit films, below is a synopses of what has been removed from the film:
The investigation of Dol Guldor has been completely excised, including the appearances of Radagast, Saruman and Galadriel. This was the most obvious cut, and the easiest to carry out (a testament to its irrelevance to the main narrative). Like the novel, Gandalf abruptly disappears on the borders of Mirkwood, and then reappears at the siege of the Lonely Mountain with tidings of an orc army.


The Tauriel-Legolas-Kili love triangle has also been removed. Indeed, Tauriel is no longer a character in the film, and Legolas only gets a brief cameo during the Mirkwood arrest. This was the next clear candidate for elimination, given how little plot value and personality these two woodland sprites added to the story. Dwarves are way more fun to hang out with anyway. :P


The Pale Orc subplot is vastly trimmed down. Azog is obviously still leading the attack on the Lonely Mountain at the end, but he does not appear in the film until after the company escapes the goblin tunnels (suggesting that the slaying of the Great Goblin is a factor in their vendetta, as it was in the novel).


Several of the Laketown scenes have been cut, such as Bard's imprisonment and the superfluous orc raid. However, I've still left quite a bit of this story-thread intact, since I felt it succeeded in getting the audience to care about the down-beaten fisherfolk and the struggles of Bard to protect them.


The prelude with old Bilbo is gone. As with the novel, I find the film works better if the scope starts out small (in a cosy hobbit hole), and then grows organically as Bilbo ventures out into the big, scary world. It is far more elegant to first learn about Smaug from the dwarves' haunting ballad (rather than a bombastic CGI sequence). The prelude also undermines the real-and-present stakes of the story by framing it as one big flashback.


Several of the orc skirmishes have been cut. I felt that the Battle of the Five Armies provided more than enough orc mayhem. If you pack in too much before then, they just become monotonous, and it lessons their menace in the audience's mind. I was tempted to leave in the very first Azog confrontation (since it resembles a chapter from the novel), but decided to cut it for a variety of reasons. Specifically, I found it tonally jarring to jump from the emotional crescendo of Thorin being saved by Bilbo (and the sense of safety the company feels after being rescued by the eagles), straight back into another chase sequence. Plus, I think the film works better if Bilbo is still trying to earn Thorin's respect the entire journey, as he was in the novel. Not to mention the absurdity of Bilbo suddenly turning into John McClane with a sword!


Several of the action scenes have been tightened up, such as the barrel-ride, the fight between Smaug and the dwarves (no molten gold in this version), and the Battle of the Five Armies. Though, it should be noted that Bilbo's key scenes—the encounter with Gollum, the battle against the Mirkwood spiders, and the conversation with Smaug—have not been tampered with, since they proved to be excellent adaptions (in no small part due to Freeman's performance), and serve to refocus the film on Bilbo's arc.


A lot of filler scenes have been cut as well. These are usually harder to spot (and I've probably missed a couple), but once they're gone, you'll completely forget that they ever existed. For example, the 4-minute scene where Bard buys some fish and the dwarves gather up his pay.
When & Where

The Dionysian Sanctuary
South Philly - Address given once ticket is bought
76fwy - Passyunk Ave. exit.
Philadelphia, PA 19145


Sunday, March 29, 2015 from 6:30 AM to 7:30 PM (EDT)
Add to my calendar
Organizer
We are a kink community based on the tenants of Courtesy, Etiquette, Respect, and Attentiveness - it is our duty to extend our hand and hearts to those that desire to participate but may not have the financial means. As Ambassadors of LOVE, we seek to illustrate through actions, that Philadelphia is a wonderful place to travel to and experience the fetish/BDSM community.