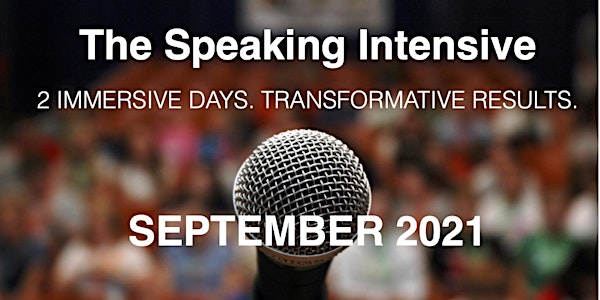 The Speaking Intensive Sept 2021 Virtual Session
Increase your impact & influence by transforming your speaking skills over 2 virtual immersion days with Hall of Fame Speaker Alan Parisse.
About this event
Speaking skills are overrated ... that's why you must get good at it!
If you are a strong presenter, people will think you are smarter than you might be, better informed than you likely are and more promotable than you otherwise would be.
Real People, Real Messages, Real Results.
Audiences crave authenticity. Real people delivering substantive messages that resonate. That's what changes minds and creates action.
Most presentation programs make presenters acceptable by burdening them with cookie cutter rules that leave them looking and sounding like everyone else. They raise the floor.
The Speaking Intensive is broader in purpose, more personal in approach, and far deeper in impact. It removes the ceiling and produces profound improvements that keep growing for years. Past participants describe the program as the "gift that keeps giving" throughout their lives.
Dramatically improve your results by learning how to:
Start talks to create a 'halo effect' for all that follows
Transform dull data into dynamic relatable information
Appeal to both intellect and emotion
Make your message memorable with targeted stories
Use subtext to support and expand your message
The Speaking Intensive is an intense two-day high touch small group program. It is the only program that has hand-selected personalized exercised designed to expand presenting options by breaking down barriers, combatting sameness and removing unconscious automaticities. 
Virtual Session Schedule:
Day 1: 8am - 1pm Mountain Time
Day 2: 8am - 2pm Mountain Time