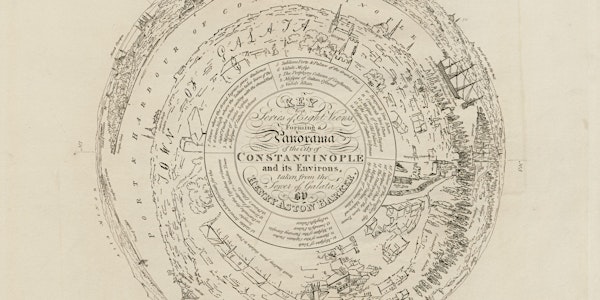 The Spatial 18th Century: Rethinking Urban Networks and Maps, 1650–1850
An online interdisciplinary symposium affiliated with Tate and the University of York, funded by the Paul Mellon Centre and the AHRC
About this event
N.B. The Zoom link for the conference will be emailed to all registered delegates two days prior to the event (2 November), 2 hours before the event begins and 10 minutes before the event begins (9am GMT on 4 November). The email will be sent via Eventbrite to the email that you used to register for 'The Spatial 18th Century,' and the link can be found by scrolling down the page.
Welcome
We are delighted to welcome delegates to The Spatial 18th Century: Rethinking Urban Networks and Maps, 1650-1850. This is an online interdisciplinary symposium organised by doctoral students at the University of York and Tate Britain, and generously supported by the Paul Mellon Centre for Studies in British Art and the AHRC Collaborative Doctoral Programme.
We invite you to join us in exploring and challenging modes of spatial representation in, and of, 18th-century cities. Much scholarship on 18th-century cities has been male- and white-dominated in authorship and in focus, and often London-centric. The 18th Century was a time of great social inequality and massive colonial expansion, and many of these structures of subjugation have been reinscribed in spatial representations of the metropolis. In using spatial models in scholarship today, we cannot ignore this genealogy.
We hope that this event will provide an opportunity to decolonise methodologies that thematise or instrumentalise the spatial representation of urban locales. We welcome participants from as many disciplines, locations, and career-stages as possible.
Delegates will be updated with event details in the weeks leading up to the conference. A Zoom link will be sent to the email that you used to register for your ticket.
To ensure that the event is inclusive for delegates, live captions will be available and recordings will be accessible for a limited period after the event.
List of Speakers
Key note: Sadakne Baroudi - 'The Liquid Archive: Mapping Kongo/ N'golan Cosmology in Colonial Rio de Janeiro'
Sharika Parmar - 'Mapping Colonial Imaginations'
Sarah Collins - 'Spatial Visibility and the Disenfranchised Majority in 1790s Charleston'
Ayşe Çırçır - 'Making of the Empire and De/re-constructing the 18th Century British-Ottoman Relations: The Earl and His Butler in Constantinople, The Secret Diary of an English Servant Among the Ottomans'
Karl Vesterberg - 'Visual Microhistory: Gothenburg and the plague 1710-1713'
Caroline Lesemann-Elliott - '"Invisible female engines": Gender, Space, and Displacement in the 17th-century Parisian soundscape'
Dan Knorr - 'Cities Beyond Walls: Representations of Chinese Urban Space in the Long Eighteenth Century'
Rhian Addison - 'Indoor Spaces for Outdoor Minds: Mapping Landscape Artists' Studios in London'
Jessica Banner - '"In Their Own Words: Remapping Networks of Female Labour for Eighteenth-Century Garment Workers"'
Jacqueline Kolditz - '"To have a look and a smile from lovely Mary Barton" – Elizabeth Gaskell's Mary Barton, gender and mobility networks'
Gabrielle Robilliard - 'Mapping tea- and coffee-selling in late eighteenth-century Hamburg'
A full programme is available on our website.
Organiser of The Spatial 18th Century: Rethinking Urban Networks and Maps, 1650–1850