The South Florida Black Business Directory (#SFLBBD) Release Party
Actions and Detail Panel
The South Florida Black Business Directory (#SFLBBD) Release Party
Sun, February 19, 2017, 6:00 PM – 10:00 PM EST
Description
The moment we have all been waiting for! We are calling for all Kings and Queens who support Black enterprise, to attend the Official South Florida Black Business Directory Release Party. This means Blacks are invited! Other cultures are invited! Business Owners are invited! Non-Business Owners are invited! Men and Women are invited! Politicians, Dignitaries and community leaders are invited! Everyone who wants to see Black communities improve socially and economically is invited.
This celebration is highly anticipated as the directory will lists hundreds of Black Owned Businesses based and/or doing business in the South Florida region. This celebration will highlight the efforts of the Black Business owners, influencers, and community leaders that made this initiative possible. Music by Hot 105 DJ Bigh Man Kelly!!! Jazz Soul by Saxophonist Keenan P.. There will be food by local chefs lead by Chef Chad Cherry, and Jack Daniels is sponsoring so Jack will be flowing! And of course, there are opportunities to rub shoulders, take pictures, and network with the who's who of South Florida! We guarantee you will not want to miss out on this event!

Its a Regal Affair, so wear your crowns and cocktail attire! No jeans, sneakers, baseball caps, white tshirts. DRESS CODE IS STRICTLY ENFORCED!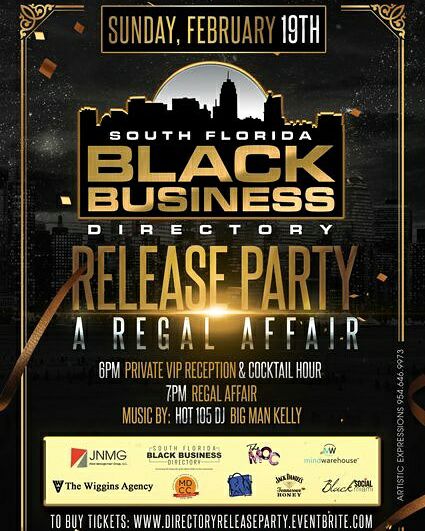 Because #TogetherWeCan build an #EmpireStateofMind. #UnityOverEverything #PatronizeBlackBusinesses #NoBlackBusinessLeftBehind #NoApologies #AreWeDoingEnough #WealthTransfer #CommunityDevelopment #BlackLivesMatter #BlackBusinessesMatter #ProsperityIsATeamSport