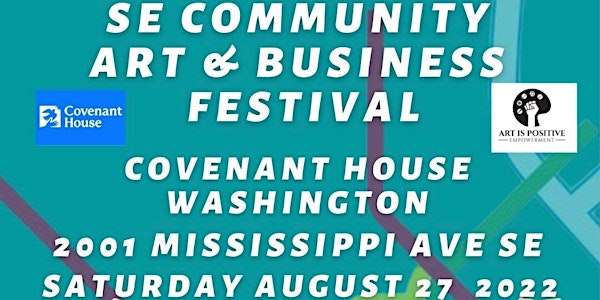 The South East Community Art and Business Festival
Come Join us for a full day of fun celebrating the Businesses, Artists, and Community Organizations of our Communities East of the River!
When and where
Location
2001 Mississippi Ave SE 2001 Mississippi Avenue Southeast Washington, DC 20020
About this event
On August 27th we are hosting THE first ever South East Community Arts and Business Festival (SECAB)! Through the collaboration of Art, Business and the Community can expose residents East of the River to…
· A local Business Vending Marketplace
· Access to community resources for residents, kids, and the entire community!
• Local Artist Performances (Including a Rap Cypher / Fashion Show / Street Art Gallery)
• and Concentrated Workshops to Build your own skills.
Through your support, we can create an event that celebrates and encourages EVERYONE of all ages, and backgrounds to collaborate, connect, and most importantly be exposed to the resources our community has to offer. Our vision is to turn this into THE annual end of the summer community festival.
If you are a business owner and or a community organization/resource and are interested in collaborating, volunteering, or donating anything for this festival please click any of these links below!
Vendors / Workshop Facilitator / Sponsor/ Interest Sign-Up Form
Creatives Interest Sign-Up Form
As a gentle reminder, this event is taking place at the Covenant House Service Center located at 2001 Mississippi Avenue SE Washington, DC this upcoming Saturday, August 27 from 11:00 am to 5:00 pm (tentative rain date September 3rd)
The main purpose of the "SECAB" Festival is to connect and expose the South East community to local businesses, artists, and resources all through a day of family fun!
Vendors: Payments are Due by Friday, August 26: Vendor Payment Link
Vendors if you have any questions please don't hesitate to reach out to Calypso (CC'd) or at Instagram: @melanadestand
PERFORMANCE ARTIST INFORMATION
There will be a 7-minute performance time within the allotted time slot
Ex.) 1:30 - 2:00 pm DJ Artis & Calypso (you will be called up anytime between these times)
You would only have 7 Minutes to perform within that 30-minute timeframe.
(This gives us buffer room to prepare for the artist before and after you.)
Visual Artists if you are interested in showcasing some of your pieces, we are setting up an outside Street Art Gallery. When you arrive, please get in touch with the curator: Oso Smoove.
Rap Cypher Starts at 3:30 pm at the Rear of the Building. This will be hosted by: Merkury Gold
IMPORTANT WORKSHOP INFORMATION
If your workshop needs to be ticketed, please create your ticket links and send them alongside the promo images.
Book your conference room here: Conference Room Schedule
We have 4 different conference rooms to utilize. We want to keep the workshops to 30 Minutes. If you have any questions on this, please contact Yalan Sesay call 202-961-3423.
SECAB SHOW ITINERARY: * Times Subject to shift
8:00 AM - 10:00 AM: Load in: Drive in drop merch, park and return to set up
10 AM – 11 AM: Setup
11 AM: Event Start Opening / Morning Meditation/Yoga Intro
11:30 AM: Dance By Tyice / Phyl / Casey Reanna,
12 PM: Workshops Begin/ Jam Session / Magena / Tik Tok
12:30 PM: Aloneatiq / Brown Paper Doll
1 PM: Community Appreciation of Service: M.A.D Making a Difference/ Azirah
1:15 – 2:00 PM: (WOMEN EMPOWER HOUR) Lemonade Dream/ Cookie B / Poetic Soul / StefMarie Cole Kim B Miller
2:15 PM: Fashion Show Begins (Blufstwd/ 9frequency, Kent Black)
2:30 – 3:00 PM: Big Homey Poetry / Miko / Smoove
3:15 PM - Phreespace Collective Set
3:30 PM - Rap Cypher & Contest (Rear of Building)
3:45 PM - Jam Session
4:00 PM - CrochetKingpin / Nerd The Poet
4:30 PM - Thanks /Raffle Winner
5:00 PM - Thanks and Breakdown
Artists, If you have any questions please don't hesitate to reach out to DJ Art.is at 202-670-5646 or Instagram: @art.isempowerment
If you would like to donate and/or know anyone who would be interested in volunteering for this Festival, please click here: Volunteer Sign Up Form
Vendors if you have any questions please don't hesitate to reach out to Calypso (CC'd) or at Instagram: @melanadestand
All proceeds will go towards supporting the Covenant House of Greater Washington, a Non-Profit that assists youth in transitioning off of the streets between the ages of 18 to 24. To learn more check the website at Covenant House Greater Washington
Donations can be made (HERE)
See you Saturday!