The Sounds: Things We Do For Love Tour with Special Guests Starbenders
About this event
Thursday, September 16th
7:30 doors / 8:30 show
All Ages
$30 advance / $34 day of show
+$2 at the door if under 21
THE SOUNDS
For a band whose history as a band spans a little over two decades, Swedish indie rockers THE SOUNDSsure don't sound like it. Resonating the excitement and dynamism of a band who are getting their very first hint of success, The Sounds are gearing up for the release of their sixth studio album, Things We Do For Love, a sweepingly majestic slice of Nordic indie rock that crackles and pops in all the right places.
Propulsive in its latent passion, Things We Do for Lovekicks off with its urgent and careeningtitle track that strains with Johan Richter'smuscular staccato bassline that highlights vocalist Maja Ivarsson'svery distinctive assertive vocals while the guitar work of Felix Rodriguezalong with the keyboards and guitar from Jesper Anderbergweave inand out of Fredrik Blond'sfocused drums. It's the sound of a band whose chemistry is inherent and natural, not calculated. The pulsating keys in "Safe and Sound" continue to propel the band forward, while the atmospheric and balladic "Changes" displaysthe band's diversity and ability to effortlessly craft impactful songs."I can't put my finger on what it is exactly but I really like the vibe of this track," says Fredrik of "Changes". "It's a simple song and all the instruments and vocals just fit together so nicely."
Formed in 1998 in Sweden, The Sounds exploded on the alt-rock scene with their wildly lauded 2003 debut Living in America and its breakthrough singles "Seven Days a Week", "Rock'n Roll", and the aptly named title track. Fronted by the striking Maja Ivarsson, The Sounds have continued to remain on the forefront of the music scene, releasing a handful of albums, each spawning single after single like "Tony the Beat", "Painted By Numbers", "Song With A Mission", "No One Sleeps When I'm Awake", "Beatbox", "Something to Die For", "Shake Shake Shake" and "Thrill".
"I can only speak for myself but I feel very proud of this one. I'm able to write songs from a different perspective this time, being a mom and all," beams Maja, referring to her babyboy who just turned five years old earlier this year. "It's been quite some time since we last released an album and a lot of great things have happened in between.
"Gearing up for a new album and tour later this Spring, the band is excited to return to the U.S. "It's gonna be absolutely amazing coming back to the U.S again," she says excitedly. We've done almost 20 tours on American soil and we love every bit of it. It feels like coming home.
Starbenders
Hailing from the ATL, Starbenders are the half way home for misunderstood misfits, fringers and glam punks. Front-woman, Kimi Shelter and her gang have concocted a perfect alchemic blend of androgynous rock and roll power with "stuck in your brain" pop melodies. Imagine David Bowie playing 7 minutes in heaven with Debbie Harry.
Shelter began working with producer, Nico Constantine (Lady Gaga , Program The Dead,Institution Records) in 2014 who encouraged her to start a band. Aaron Lecesne was the first call Shelter made. The duo were best of friends and had intense music crushes on each other. The genesis of Starbenderstook form. Guitarist, Kriss Tokaji, entered the scene in early 2015 after the band witnessed him laying waste to a guitar at a shitty house party in the middle of no where. "We couldn't believe our ears and eyes! Our prayers had been answered!", beams Shelter. The dream line up crystallized in 2017 with the entrance of drummer, Emily Moon. "It was the final piece to the puzzle. The band was in the middle of a transition and I thought to check craigslist of all places when I came across Emily's ad." shared Lecesne. After responding to the band's cryptic email, Moon met up with them that same night. It was love at first sight.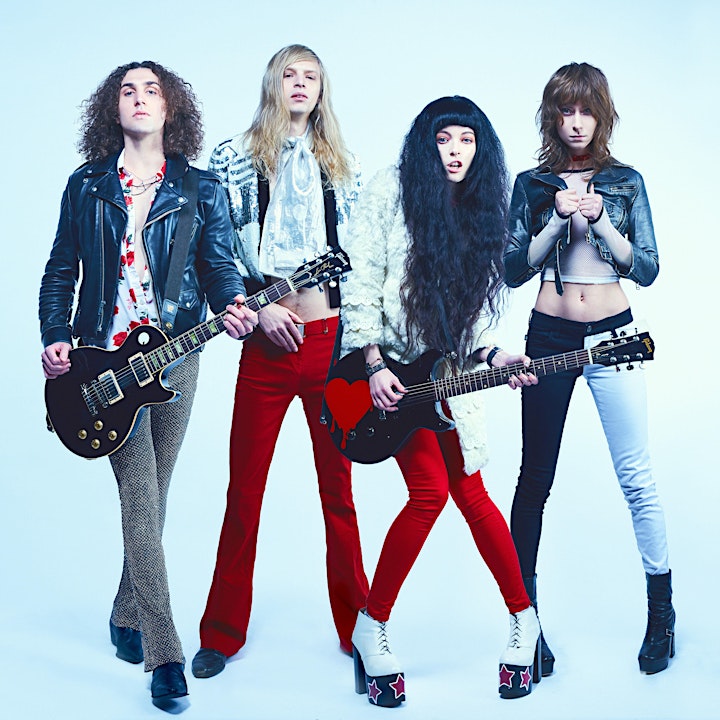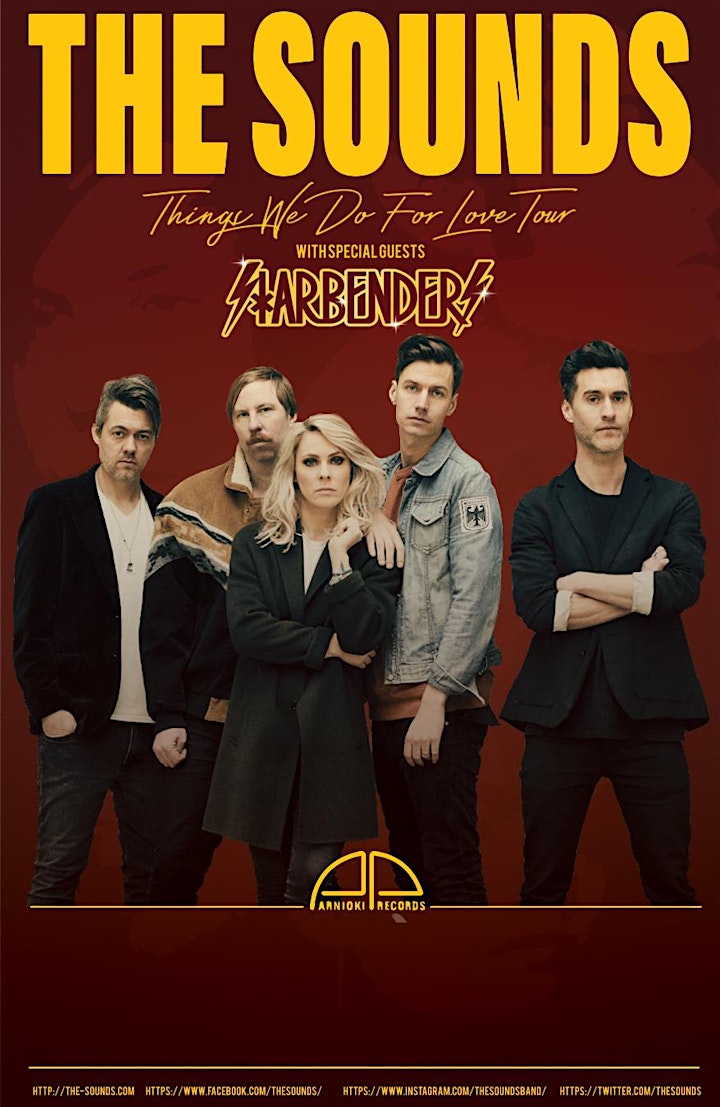 PLEASE NOTE UPDATED COVID-19 SAFETY PROTOCOLS
We care for nothing more than the safety of our staff, patrons, and performers. All ticket buyers for this event must show proof of Covid-19 vaccination or a negative PCR test 48 hours prior in order to gain entry. Proof of vaccination may include a physical card or a photo of a complete vaccination card that matches the patron ID. Proof of a negative test may be a printed or digital test result that matches the patron ID. For more information please visit the "FAQ" page on our website here: https://grogshop.gs/faq/ We appreciate your understanding and support - thank you!
Performers
Date and time
Location
Refund policy
Organizer of The Sounds: Things We Do For Love Tour
The Grog Shop opened in September of 1992 in the Coventry Rd. neighborhood of Cleveland Heights. Though expanded in size when moved to it's current location in 2003, the club maintains the intimacy and raw character it has always been known for. We have a full bar with an extensive list of micro-brews, imports, and domestic beer, and of course plenty of liquor.