Description
This month, we welcome a new friend, Executive Chef Peter Dale! You will not want to miss out on this. Below is a little more information on Peter.
Peter began as an apprentice at Five & Ten, and continued his culinary education through travels and work in Spain. In 2007, Dale and Hugh Acheson, chef of Five & Ten, opened The National in downtown Athens. The National sources from local farms and creates dishes inspired by travel around the Mediterranean.
In 2014, Dale opened Seabear Oyster Bar with The National's former sous chef, Patrick Stubbers and Condor Chocolates with his brother, Nick Dale. Seabear serves a fresh selection of oysters daily alongside a small menu of sea and land offerings. Condor is a bean-to-bar chocolate shop/café and manufacturing facility, specializing in cacao from Ecuador, his mother's homeland.
In 2012, Dale was named Food & Wine magazine's The People's Best New Chef Southeast. That same year, Dale was honored by industry group, Star Chefs, as an Atlanta-area Rising Star Chef, and named to the University of Georgia's list of Forty Under Forty alumni. In addition to culinary pursuits, Dale has served on the boards of the Athens Farmers Market, Boybutante Aids Foundation, Grady College Alumni Board, and Athensmade, an economic development organization. Dale has terriers named Ollie and Tobias and enjoys travel, music, running, swimming and cycling.
MENU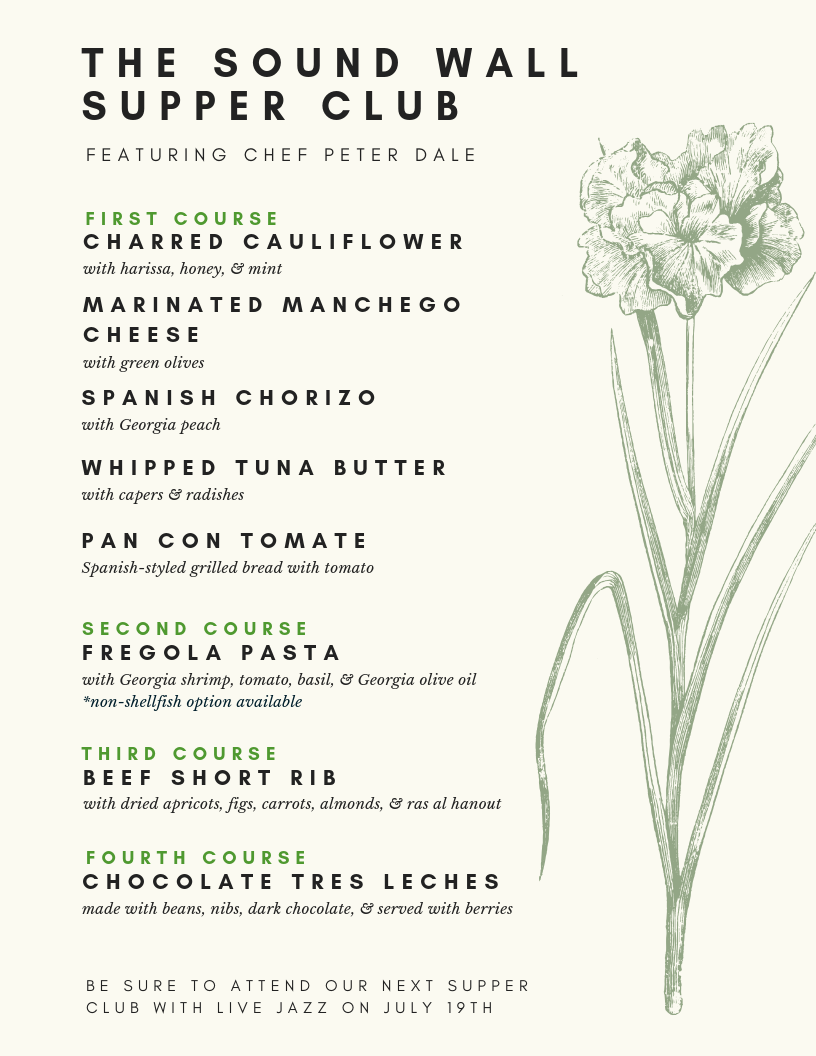 NOTE: Please feel free to bring your own bottle of wine or beer and after dinner drinks.
---
The Sound Wall Supper Club is a monthly gathering to experience new and exciting cuisine prepared by a Professional Chef. Only 12 seats at the table this month! So get your friends together and reserve the table OR come and meet someone new! The Supper Club is for those who enjoy going out for dinner and trying something new. Come as strangers and leave as friends!
---


"Sitting at a table for 10, of which I knew one person, was exciting. Sharing a meal is one of the best ways to get to know a person. The social awkwardness fades once good food is in front of you. I now have new contacts, if not friends, and a better appreciation for mankind's ability to connect with each other no matter how different we are." by Emily Key, Opelika Observer
---