| | |
| --- | --- |
| The Soulful Sounds Series-Live Music Showcase | |
Event Details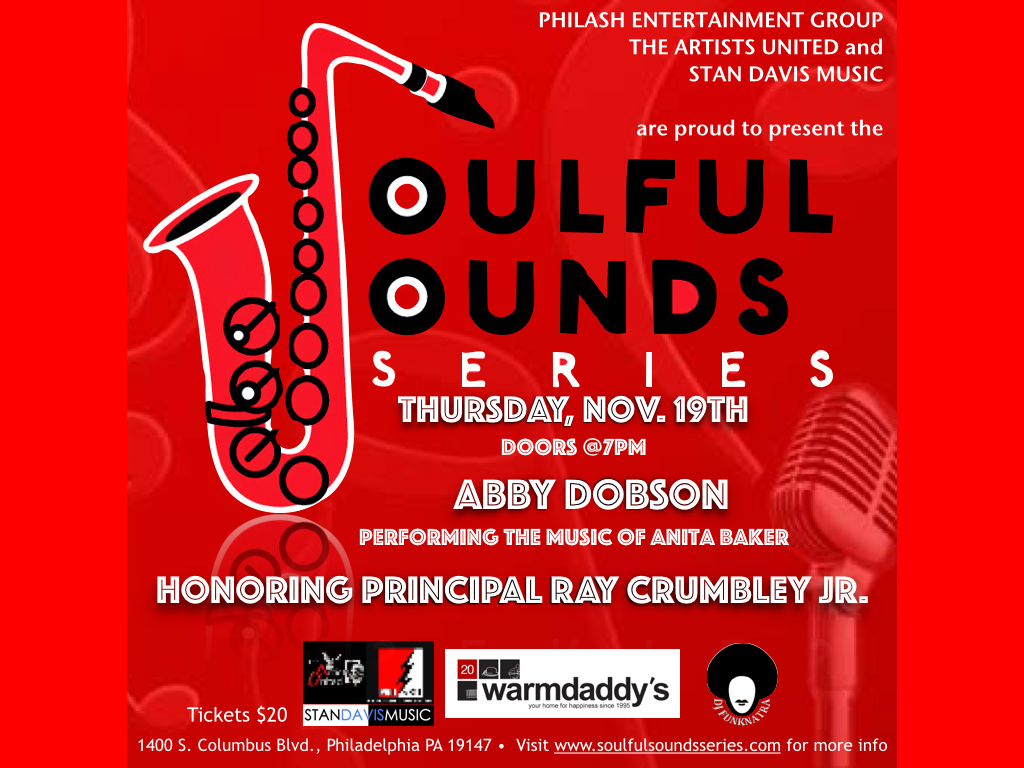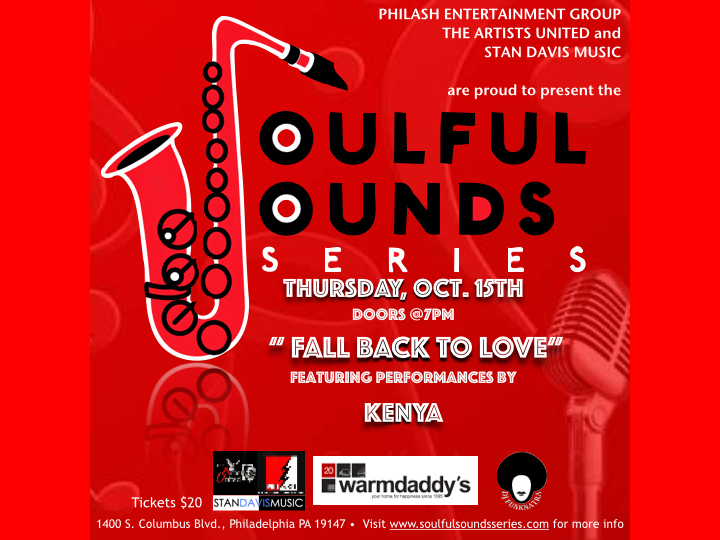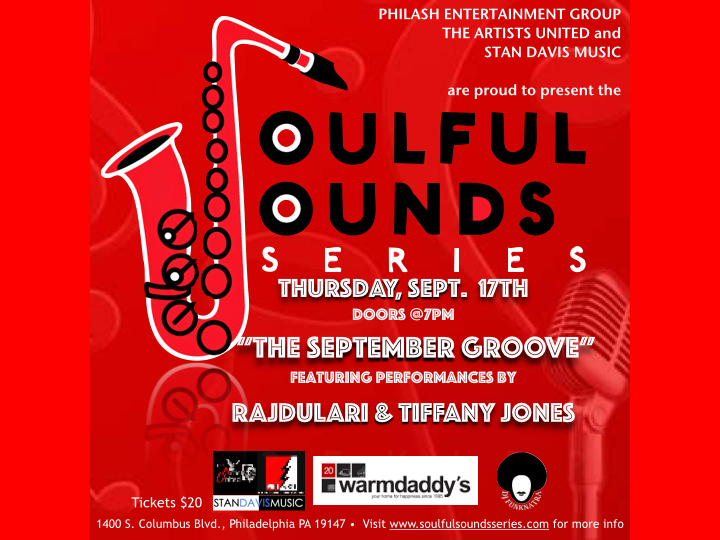 The Soulful Sounds Series returns to Warmdaddy's on September 17, 2015 with The September Groove. This month we present the sultry sounds of Tiffany Jones ( http://www.jonestmusic.com) and the soulful sounds of Radjulari. This promises to be a great evening of sophisticated soul and music. Get your tickets at http:// ssswdphilly.eventbrite.com
About Tiffany Jones
Called an "A-list performer" (Philadelphia City Paper) and a "rising star" (Philadelphia Daily News), Philadelphia jazz-soul vocalist and performer Tiffany Jones has been lauded for the "soul and sincerity behind her voice." Jones moved to Philadelphia in 1994 to attend Temple University, earning a bachelor's degree in music with a concentration in jazz vocal performance. She received a master's degree in music education from the University of the Arts. She has performed in venues across Philadelphia, and has worked with local artists such as Dexter Wanzel, Donald Robinson and Orrin Evans. In April 2011, Jones appeared in the PBS special "Malt Shop Memories" as a background vocalist for Frankie Avalon, Bobby Rydell and other artists at Caesar's Casino. She performed background vocals on tour for gospel singer and musician Jeff Majors and on his album "Sacred 4 You" (2002), which reached #13 on Billboard's Top Gospel Albums chart and #67 on Billboard's R&B Albums chart for 2002. Her original composition, "I Come to Thee" is featured on the album "Kaleidoscope" (2007) by jazz trumpeter Sean Jones. She is currently working on an EP to be released in early 2015, which will include four original songs and one cover performed alongside her five-piece band. This record marks Jones' second recording; her debut album, entitled "Reincarnation," was released in 2002.
About Radjulari
"Hailed as one of Soultrain.com's "Best of What's Next" of 2014, New York-based Jazz vocalist Rajdulari inspires an engaging listening experience for music lovers. Her buoyant voice vibrates with a clear and honest joyfulness. Rajdulari's debut release - Honeywine - remains among Amazon.com's Top 100 Most Downloaded Mp3s. Her new released Journey Of A Woman has reached the Top 100 on Billboard's R&B charts, #1 on the UK Soul Chart (for three weeks in a row), earned a four star review in Downbeat magazine and includes the highly popular anthem "Natural". For Rajdulari singing is a healing and soothing activity. Her ability to share uplifting messages of confidence, empowerment, love, and hope - through song - is the most gratifying gift she can exchange.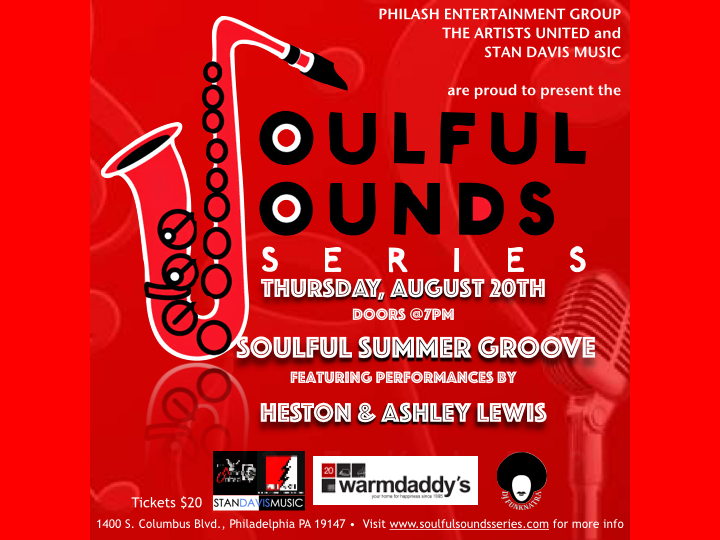 The Soulful Sounds Series returns to Warmdaddy's on August 20, 2015 with The Smooth Summer Groove. This month we present Soul Sensation Heston ( www.hestonmusic.com ) and the sultry sounds of Ashley Lewis. This promises to be a great evening of sophisticated soul and music. Get your tickets at http:// ssswdphilly.eventbrite.com
About Heston
His name is Heston and he is an addict, his drug of choice is love. His soon to be released album 'Love Junkie' is, of course, all about his and your addiction to love. Love Junkie is Heston's fourth and hottest album to date, he believes, is his best yet. This well written and produced album has something for everyone. Production by Dj Kemit, with dance and steppers grooves like, To the Sky and Resign to You. Production by talented and highly sought after producer, Darren Daz I-Que Benjamin, with love ballads, such as the title track, Love Junkie, and second single, Dreaming which Heston's Fans have come to know and love. Influences of roots reggae are peppered throughout the Album - most evident in cuts like, Come Away With Me and Our Father - produced collectively by The Swatt Band and gifted producer and Bassist, Ryan Wilson - pulling songs out of Heston, that have bubbled inside this talented singer songwriter from his early days growing up in Dominica, and being influenced by the best that reggae had to offer.
About Ashley Lewis
Ashley Lewis release her single "Love Is Real" to rave reviews. Originally from Baton Rouge, Louisiana now living in Philadelphia, this sultry vocalist channels various styles of jazz and soul into her music. She got her start singing background with Kindred The Family Soul, Keke Wyatt, and Jaguar Wright. Now ready to embark on her own journey she currently recording new music from her forthcoming CD.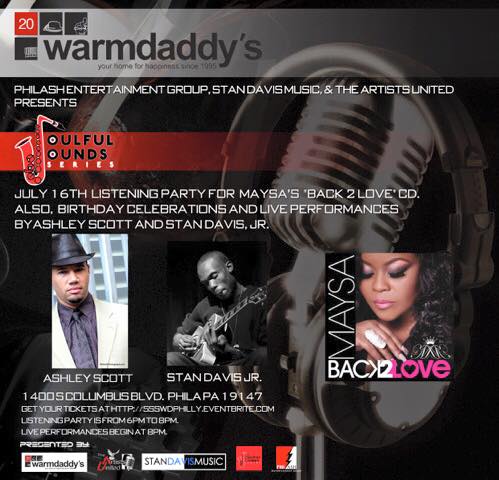 July 16. 2016 Live performances by Stan Davis Jr & Ashley Scott. We are also hosting the listening party for Maysa Leak and her new CD "Back 2 Love"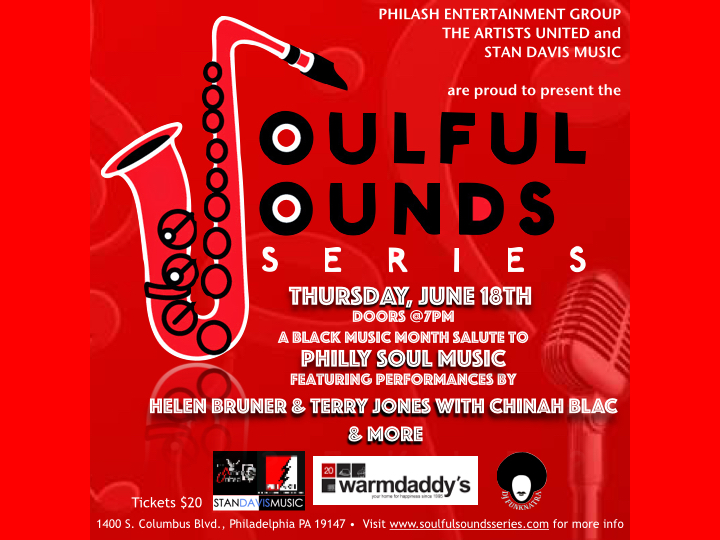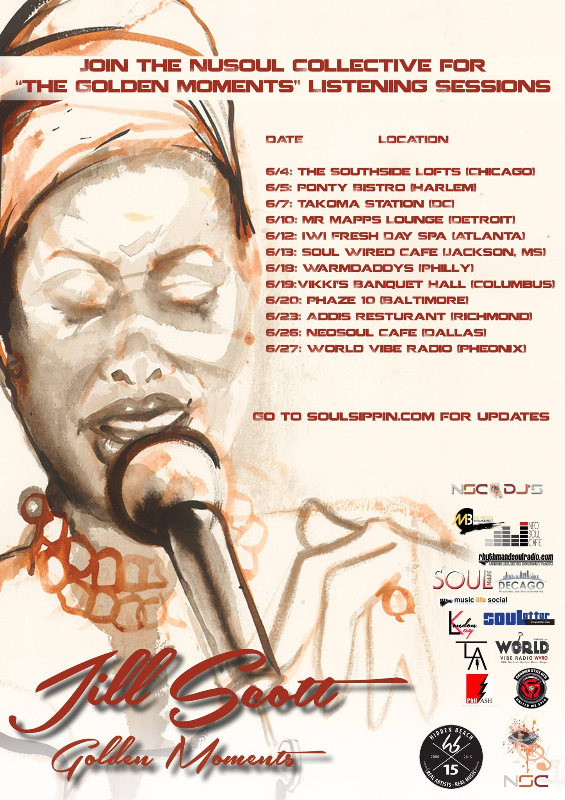 Philash Entertainment Group, Stan Davis Music, & The Artists United Presents The Soulful Sounds Series on June 18, 2015 at Warmdaddy's 1400 S. Columbus Blvd. Philadelphia Pa 19147. For the month of June we will be saluting having a Philly Soul Tribute.

Special Guests Grammy Nominated Duo: Helen Bruner & Terry Jones and Grammy Amplifier Winner Chinah Blac coming back together for a Labelle Tribute.

Our All - Star line up includes

Fes

Rick Tate

Patrick Hart

Taragirl

Kinyon Lanier

More to Be Announced.

The Soulful Sounds Series has also partnered with NU-Soul Collective and Hidden Beach Records to have the Listening Party for the Jill Scott Golden Moments CD. The listening party will be from 5-9pm and the Tribute show will start at 8pm.

Get your tickets at http://ssswdphilly.eventbrite.com/
---
The Soulful Sounds Series Returns to Warmdaddy's on April 16, 2015
Performing Live 
Pat Hart & The Fly Kicks
Kinyon Lanier
Veronique
The Soulful Sounds Series returns to Warmdaddy's on March 19, 2015 with Mandy Decker & Elle.Morris saluting two legendary ladies in music. Doors at 7:00 showtime at 8:30 PM. Mandy will pay homage to The Ivory Queen of Soul by belting classics such as "Square Biz" & "Portuguese Love" while Elle will sing classics by a legendary Pop Princess from New Jersey with songs like "Walk On By" and "I'll Never Love This Way Again."
 Philash Entertainment The Artists United, Stan Davis Music, and Creative Xscape Consulting returns with one of their signature events "The Soulful Sounds Series" on February 19, 2015 to Warmdaddy's 1400 South Columbus Blvd. Philadelphia PA 19147. Hosted by Rahnda Rize.
Performing Live on February 19, 2015
Honoring Radio Personality Tiffany Bacon of Radio One for 25 Years in Radio
Aziz Collins,
Brian Christopher
Kevin Hayden Trio
Phyreneyce
Reunion of The Headline Theatre Company.
Performing Live on January 15, 2015
Chinua Hawk
Julian King
Boomscat
Patrick Donovan
Performing Live on December 18, 2014 
Thanny & Tracyne
Alonzo Wright
Nihkee Bleu
Walt Anderson
The Sound Barrier Experience
When & Where

Warmdaddy's
1400 S Christopher Columbus Blvd
Philadelphia, PA 19147