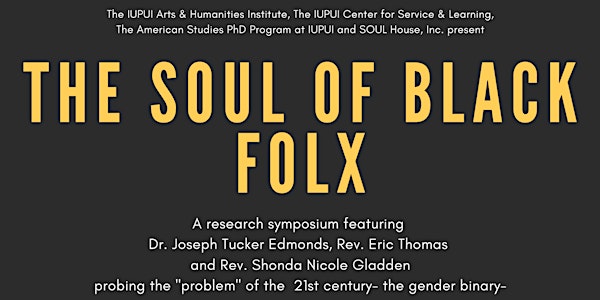 The SOUL of Black Folx
Description
This is an online event and registered participants will be provided with a link to Zoom the webinar by March 30, 2020. NOTE: Only please only register for one person per email address. Only one unique link will be provided per email address. This symposium will NOT be broadcast "live" on any platform other than the Zoom webinar and attendees must utilize the unique access link provided in their registration confirmation to access the symposium. Thank you for registering and we look forward to seeing everyone Tuesday March 31st at 10am.
In 1903, W.E.B. DuBois published "The Souls of Black Folk," a seminal work that spurred and under-girded Black protests movements for more than a century. In the essay entitled, "On the Dawn of Freedom," DuBois suggests that "the problem of the twentieth century is the problem of the color-line,—the relation of the darker to the lighter races of men in Asia and Africa, in America and the islands of the sea." It was upon this notion that the late Rev. Dr. Martin Luther King, Jr. grounded a significant portion of the civil rights campaign he led until his 1968 murder. While "the problem of the color-line" as articulated by DuBois may not be as prevalent in 2020 for cis gendered, hetero normative Black people, one could reasonably assert that the twenty-first century problem is akin to it, and that is the problem of the gender binary, particularly for Black Trans-gendered people.
In recognition of Dr. King's commitment to creating a just and equitable America for all people, in conjunction with the SOUL House, Inc. and the American Studies Methodology Course at IUPUI, The SOUL of Black Folx project seeks to provide a platform for students, staff, and community members to be educated, empowered and inspired to act to create just and equitable spaces for Black Trans lives to flourish. Featuring the research of IUPUI PhD Student, Shonda Nicole Gladden and interlocutors, Drs. Joseph Tucker Edmonds (IUPUI) and Rev. Eric A. Thomas (Drew University PhD Candidate), this project will culminate with a symposium on Tuesday March 31, 2020 (Trans Day of Visibility) and due to COVID-19 will only engage a virtual space to provide participants an opportunity learn, reflect and imagine ways to improve trans visibility.
This is an online event and registered participants will be provided with a link to Zoom webinar by March 30, 2020.