The Sommelier Series Wine Dinner - Celebrity Sommelier Matthew-Lorèn @ Jing
Location
JING Las Vegas
10975 Oval Park Drive
Las Vegas, NV 89135
Join us for a 1-night engagement as celebrity sommelier Matthew-Lorèn teams up with celebrity chef Thomas Griese for a wine-filled evening.
About this event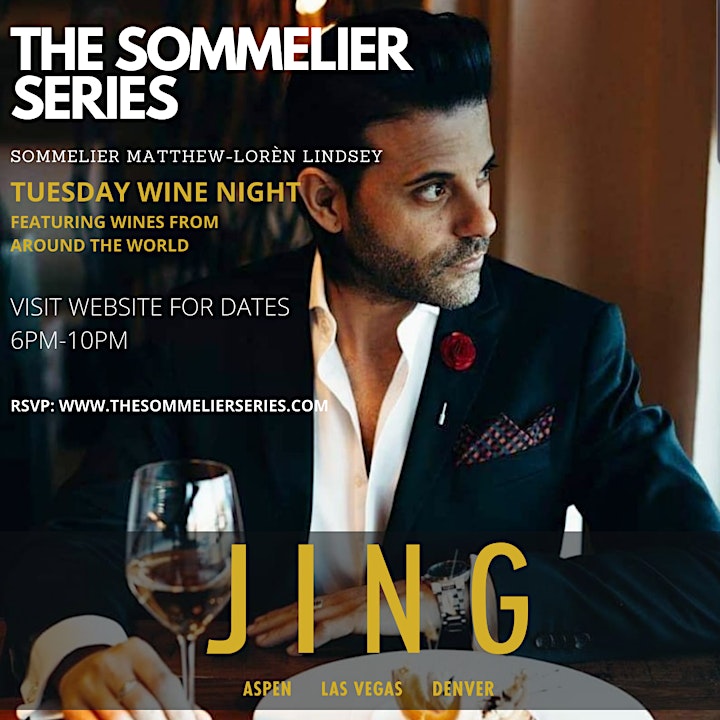 WELCOME TO THE SOMMELIER SERIES
Host Sommelier Matthew-Lorèn brings back his signature event 'The Sommelier Series' back to Summerlin's famed Jing Restaurant.
Join Sommelier Matthew-Lorèn as he makes a guest appearance at the hottest restaurants throughout Las Vegas.
Here, he will take you through a series of rotating wine-dinner themes such as A TASTE OF BURGUNDY, A TOUR OF ITALY, CALIFORNIA CLASSICS, OLD WORLD VS. NEW WORLD, and more.
Experience these boutique and rare wines in a casual setting as Matthew-Lorèn guides you through the flight with an intimate, table-side presentation. Personally educating on the country of origin, regional history, understanding wine structure, and a comparative analysis between the various wines.
All wines are expertly paired with custom dishes inspired and prepared by our celebrity chefs.
An RSVP is required as this event will sell out.
FEATURED WINES OF THE EVENING (A Taste of Burgundy Listed below. Wines themes vary by event)
Listed - Producer, Varietial, Region
GEORGES PAUCHON | SAUVIGNON BLANC (SANCERRE)
FELIX FOULLEY | CHARDONNAY (CHABLIS)
CUVEE LA FLORANDE | ROSÈ (PROVENCE)
LAURENT CHARDIGNY | WHITE BURGUNDY (BURGUNDY)
LAURENT CHARDIGNY | RED BURGUNDY (BURGUNDY)
5 boutique wines will be paired with 5 dishes prepared by celebrity chef Thomas Griese. Come sip boutique wines from around the world and enjoy live entertainment.
*Wines subject to change without notice based on availability. 
An RSVP is required as this event will sell out.
DATE: Monthly, please see dates on www.TheSommelierSeries.com.
WHERE: Jing Las Vegas
(Downtown Summerlin)
10975 Festival Plaza Drive
Las Vegas, Nevada 89135
TIME: 6pm-10pm
COST: No tickets required. RSVP required.
Wine flight featuring all 5 wines -varies by pairing
Wine + food pairing - varies by pairing
Must be 21 to participate (families welcome)
NOTE: We will have large communal tables for us to sit as a community and make new friends. Ask the hostess to seat you at 'The Sommelier Series Table'. If you wish to sit at a table with your own party, please just tell the hostess upon arrival :).
*Please ask your server for The Sommelier Series Wine/Food menu*
**Group picture on the red carpet will be at 7:45/8:00 pm**
Looking forward to sipping with you,