The Soho Loft Webinar Series on The Top 100 Crowdfunders of All Time: Daniel Daboczy and Chris Fure

Thursday, March 7, 2013 from 1:00 PM to 2:00 PM (EST)
Event Details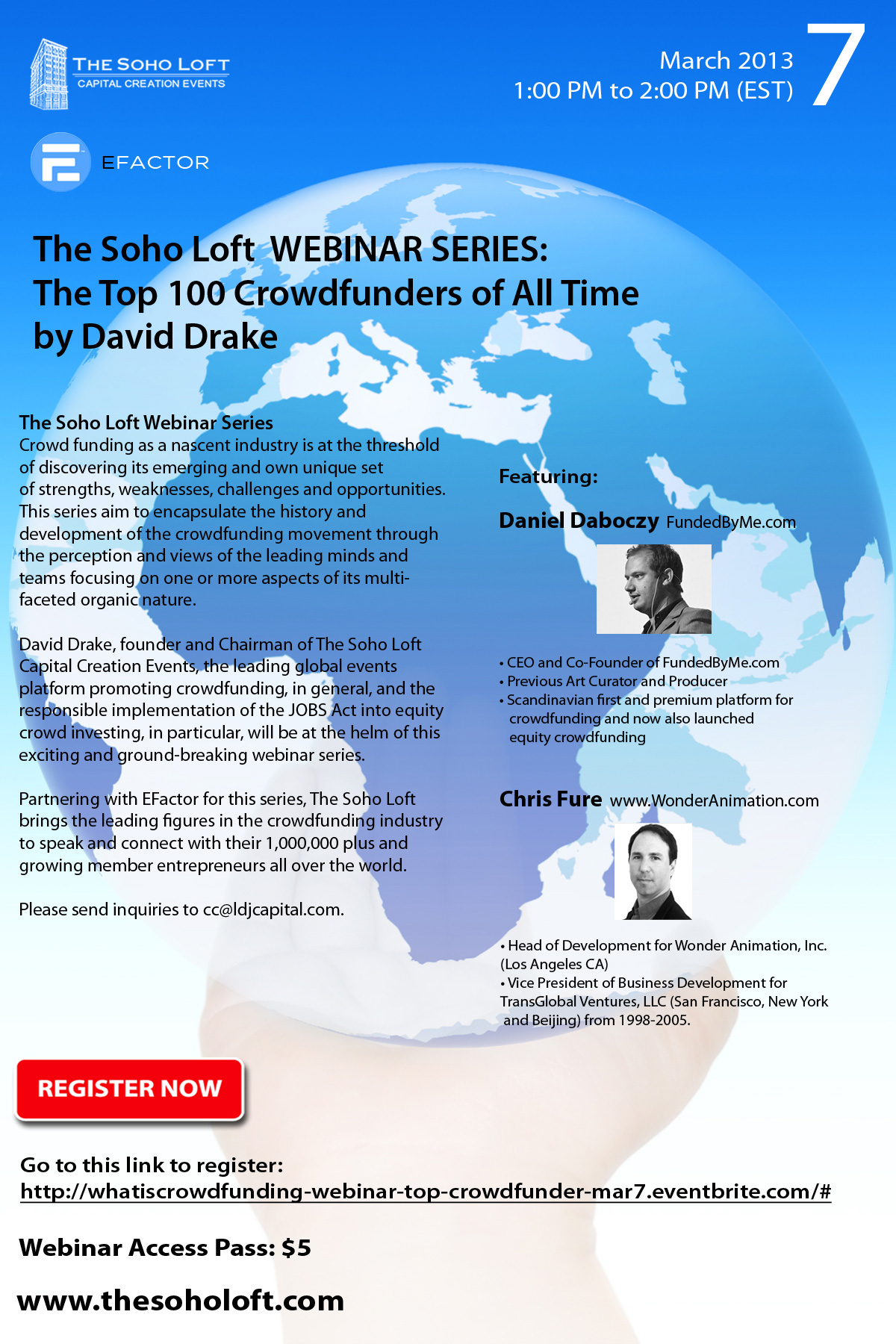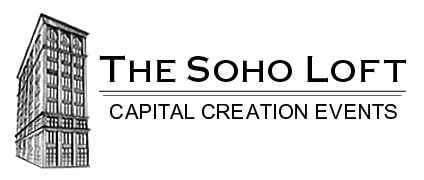 The Soho Loft
WEBINAR SERIES
for
EFactor entrepreneurs
presents
The Top 100 Crowdfunders of All Time

By David Drake
March 7, 2013
1:00 PM - 2:00 PM EST

featuring
Daniel Daboczy is a previous art curator and producer. As the CEO and co-founder of FundedByMe.com, Scandinavian first and premium platform for crowdfunding and now also launched equity crowdfunding. The big draw of equity crowdfunding is that you open up your company to a potentially much greater pool of investors.

He is passionate towards finding new ways to make sure that brilliant or creative ideas get as much input and support at a very early stage.
 Chris Fure is a partner and the Head of Development for Wonder Animation, Inc. (Los Angeles CA). Previously, Chris was a partner and the Vice President of Business Development for TransGlobal Ventures, LLC (San Francisco, New York and Beijing) from 1998-2005.
Among his TransGlobal Ventures (TGV) clients, Chris consulted SBC, Inc. (now AT&T) in the launch of its long distance unit with Bell South. On behalf of SBC Long Distance (Pleasanton CA), Chris also contracted the service agreements with Cingular and Ameritech, as well as managed the amendment negotiations of SBC's carrier relationship with Williams Communications. Within the broad-band space, Chris generated TGV's entertainment clients with strategic outsource relationships for two-time Academy Award winning visual effects producer Manex Ent., and for stereo 3D animation pioneer Midland Production Corp. (MPC).
 Chris has developed two feature films (?Galactic Academy? and ?Hard Drop?) for Wonder Animation(www.WonderAnimation.com). To make his team competitive in the burgeoning Transmedia space, Chris developed a Social Media strategy and partnered MPC's 30 year veteran CEO Don Fox with LongTale International's 40 year veteran Founder (Producer's Sales Rep.) Omar Kaczmarczyk. Chris then wrote the business plan and PPM to launch the entity. Along the way, Chris built Wonder's Board with Oracle Corp. Treasurer Dr. Eric Ball, former Sony Pictures Exec. VP Al Ovadia, among others, including Chris' former TGV Chairman Dr. Victor Nee.
Chris' philanthropic activities include serving as the Director of Development for Abundant Seas Foundation (ASF,www.AbundantSeas.org). Chris contributed the business model of vertically integrating environmental/marine advocates and engineers/fabricators to produce chemical/plastic scrubbers for the growing demand of inter-coastal clean-up.
Chris Fure holds a MBA that was earned with distinction (4.0 GPA) from NYIT. He achieved magna cum laude for his BA from UC Berkeley, where he also produced the 1988 and 1989 Pacific Coast Jazz Festivals for Cal Performances. Upon graduation, Chris received a grant from the International Trade Institute, which published his thesis ?Sony's Dilemma: Takeover of CBS Records?. The publication launched Chris as an international music producer (1990-97), where his RCA/Iceberg artist SISTA SISTA (1994-97) enjoyed releases in Germany, Austria, Switzerland, France, the UK, Brazil and Japan. Note: SISTA SISTA opened for MICHAEL JACKSON on the 1997 ?History Tour? in Europe. It was after this accomplishment that Chris exited to join TGV.
TO REGISTER FOR THIS WEBINAR,
PLEASE GO TO WWW.EFACTOR.COM FOR SIGN UP.
INVITE TWO OF YOUR FRIENDS TO JOIN!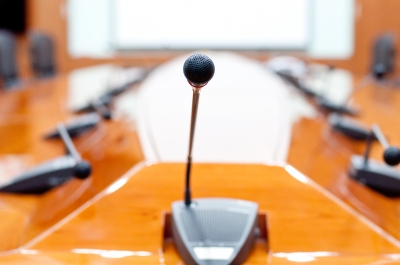 Image from freedigitalphotos.net

The Soho Loft Webinar Series
Crowdfunding as a nascent industry is at the threshold of discovering its emerging and own unique set of strengths, weaknesses, challenges and opportunities.This series aim to encapsulate the history and development of the crowdfunding movement through the perception and views of the leading minds and teams focusing on one or more aspects of its multi-faceted organic nature.

David Drake, founder and Chairman of The Soho Loft Capital Creation Events, the leading global events platform promoting crowdfunding, in general, and the responsible implementation of the JOBS Act into equity crowd investing, in particular, will be at the helm of this exciting and ground-breaking webinar series.
Partnering with EFactor for this series, The Soho Loft brings the leading figures in the crowdfunding industry to speak and connect with their 1,000,000 plus and growing member entrepreneurs all over the world.
Please send ticket inquiries to cc@ldjcapital.com.
About EFactor (www.efactor.com)

EFactor Corp., the world's largest entrepreneurial community, provides its members with the people, tools, marketing and expertise to succeed and make real, trustworthy and lasting connections. At the core of EFactor is a strong algorithm that allows members to not only connect with a lot of people, but with the right people. In addition, EFactor provides knowledge, funding access and resources to reduce business costs, delivered through a unique mix of online social networking and offline domestic and international events. EFactor has over one million members in 185 countries across 90 industries. It is incorporated and headquartered in San Francisco.
EFactor Corp. is also the parent company to a number of subsidiary service organisations including: MCC International, a UK communications and public relations agency; EQmentor, a company that delivers matching software for mentors to find the best mentees. In addition, it develops a partnership with companies such The Soho Loft, a global event platform where attendees assemble in order to exchange ideas and opportunities that will help reshape capital markets and stimulate economic growth.
About The Soho Loft (www.thesoholoft.com)
The Soho Loft Capital Creation Events ("TSL") is a corporate strategy  and advisory services company specializing in financial innovation and economic sustainability. Through its global events and media platform it advances diligent mainstream and alternative investing for start-up entrepreneurs and small and medium-sized enterprises. TSL provides visionary leadership and relevant education in the areas of capital formation, crowdfunding, angel networking, non-conventional funding, eb5 green card programs, micro-finance, venture capital, private equity and hedge funds.
TSL is a subsidiary of LDJ Capital based in New York USA. Its founder and Chairman, David Drake, is a founding member of Crowdfund Intermediary Regulatory Advocates (CFIRA) and of Crowdfunding Professional Association (CFPA). He played a key role in the passing of the JOBS Act (Jumpstart Our Business Startups Act) in the United States. His advocacy for financial innovation has taken him to the global stage when he joined the U.S Commerce Department's delegation to Brussels and Rome at the Transatlantic Economic Forum for SME Policy last July 2012 where he met with European ministers and national legislators. He is an international speaker and prolific writer on these topics.
Overall, TSL's mission is to bring global awareness and develop infrastructure to facilitate innovative capital formation and access and spur job creation. As such, The Soho Loft operates as the leading global corporate strategy adviser on financial and economic policy.
Organizer
THE SOHO LOFT Media Group (www.thesoholoft.com)
The Soho Loft Media Group is a global financial media company with 3 divisions:
THE SOHO LOFT CONFERENCES organizes up to 200+ investor-focused global summits, talks and events annually.
TIMES IMPACT PUBLICATIONS produces relevant content on investing and entrepreneurship that are published and syndicated in  100+ leading online publications and growing.
VICTORIA GLOBAL Corporate Communications specializes in client Investor Relations, Public Relations, Branding and Social Media Marketing.
The Soho Loft Media Group is your global partner for your investment and business startup and growth strategies.
For additional information, please visit us at www.thesoholoft.com 
or email Donna@LDJCapital.com