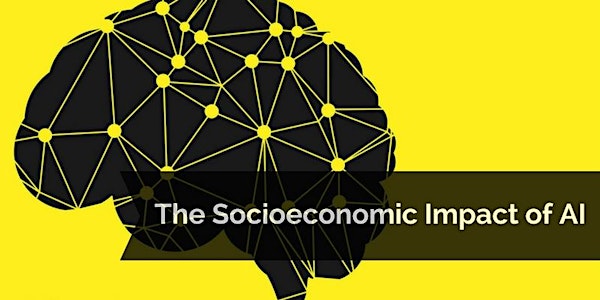 The Socioeconomic Impact of AI
When and where
Location
Galvanize 315 Hudson Street New York, NY 10013
Description
Technological innovation in recent years has made computers, robots, and software so sophisticated that machines are now entering the realm once thought to belong exclusively to humans: cognition. Computers today can recognize patterns and generate insights being used for fraud detection, medical diagnostics, legal research, and auditing, among others. Artificial intelligence algorithms can process thousands more documents – and then act faster – than any human and are free from human biases. Their productivity also need not be interrupted by rest breaks or lapses of concentration. The new technological revolution will create tremendous societal benefits – the creation of new goods, services, markets and jobs, greater productivity.

How as a professional of any description can you prepare for this? how do you capitalize on this as an opportunity, not a threat? what role should government play?

In this discussion we will explores some of these subjects with experts in AI from IBM, Centiment and those very involved with the preparing new york for these challenges from a political and social perspective, providing practical solutions on how you as a professional can prepare for these challenges through training and a discussion of policy and technology.
Moderated by:

Callie Leone | Membership Manager - Galvanize
Callie is a creative and strategic marketing, business, and product development specialist known for leveraging emerging technologies to accelerate the growth of startup ventures. She's worked with clients such as the United States Department of Defense, FDNY, NYU, Amazon, Google, HP, Hilton Hotels, and Blackberry. She was a judge of MIT Media Lab's RealityVirtually hackathon last year, spoken at Metaio's InsideAR Munich conference in 2014 and published in Fortune on the future of technology in business. Callie is also the founder of Coders vs. Cancer - a hackathon to develop preventative solutions for breast cancer, which was runner-up for Best Event and Best Guerrilla Marketing at the 2015 Webby Awards.


Michael Basch | NYC Mayoral Candidate
Michael Basch is a serial entrepreneur (BAMKO, Spotad) and community organizer (AIPAC, Hillary Clinton) with a commitment to public service and policy. Most notably, he is a soon-to-be-announced NYC Mayoral candidate for the Democratic Party, running on a platform centered on innovative technology, social justice, open-politics, and data-driven policy. Basch believes that politics as usual is the way of the past – and aims to reimagine both how campaigns are run and governing is done by bringing a start-up mentality to the political arena. He was born in California, but has long-called NYC home.

Micah Brown | CEO & Founder - Centiment
Micah Brown is the CEO of Centiment, founder of FilmFundr, and a visionary technologist at the intersection of data, algorithm understanding, HCI-centric digital technologies, financial services, financial engineering, and media services. He has over 10 years of experience across companies like Aon, Barclays, NBC and Viacom. Micah also has a strong commitment to social causes. Both Centiment and FilmFundr play a pivotal role in his effort to level the playing field in media for minorities.


Kelcey Gosserand | Technical Evangelist - Galvanize
Kelcey is an experienced Community Development and Strategic Partnerships professional who curates a lively and robust community of startup founders, investors, and tech enthusiasts. Creative and results-driven, she has nearly a decade of experience working within the NYC startup and tech ecosystem.

SPONSOR