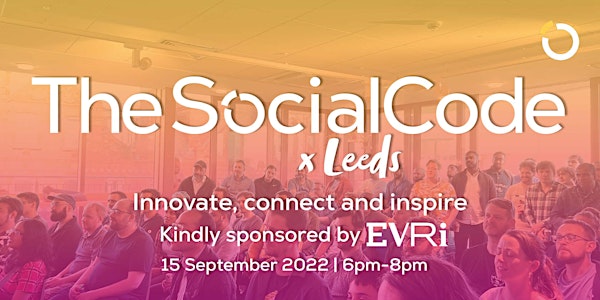 The SocialCode x Leeds
Don't miss the very first SocialCode x Leeds
When and where
Location
1 Riverside Way 1 Riverside Way Leeds LS1 4BN United Kingdom
About this event
The SocialCode is an inclusive event aimed at all of those with an interest in software development - whether you're a seasoned veteran or just starting out, you are more than welcome to join us. 🤝
We've got some incredible speakers lined up on some refreshing subjects. We'll be looking at a whole range of topics with speakers who are renowned in the Yorkshire tech scene! 💻
So, come and share a slice of FREE pizza, have a few drinks on us and network with some of the most inspiring industry professionals across Yorkshire. We've even got a FREE bar for after the event too! 🍕🍻
We've also been kindly sponsored by Evri, a market-leading multinational delivery company, who are generously holding this event at their stunning headquarters in Leeds, which has a fantastic canal-side view of the River Aire. 🏙
ON THE DAY OF THE EVENT:
The speeches will be starting at 6:00pm but doors will be open, and drinks will be available from 5:30pm.
The address for the event is:
No.1 Whitehall, Riverside Way, Leeds, LS1 4BN (just 10 mins walk from the train station).
The closest car park to this event venue is:
9 Whitehall Rd, Leeds LS1 4AW
THIS IS A HYBRID INSTALMENT OF THE SOCIALCODE! THIS EVENT WILL BE HELD BOTH IN PERSON AND ALSO LIVE STREAMED FOR ANYBODY WHO CHOOSES NOT TO ATTEND THE EVENT IN PERSON.
Zoom Link:
https://us02web.zoom.us/j/81774621199?pwd=QTgxT2FUUHhEUmo2djk0M0NPZi9Udz09
The passcode is: 116138
The Speakers
Tim Lewis - Principal Digital Lead at Evri - New Beginnings – A Re-engineering Journey
This talk will be looking at how they approached the rebrand of Hermes to Evri from the digital delivery side of the business. Tim will be looking at some of the challenges they faced, the tech stack they decided upon and new and improved approach.
David Johnson - Software Engineering Manager at Flipdish - Dealing with Imposter Syndrome
Imposter syndrome is something we hear a lot about in the industry. Sometimes it's obvious, but other times its not.
It is important to be able to identify imposter syndrome in others and yourself, and how you can deal with it yourself, as a leader or as a team member.
In this talk, David will discuss these topics along with real life instances of imposter syndrome, including some from his own career.
David Gregory - Senior Developer at Opencast Software - Giving Back To Open Source Software: Why and How
In David's talk he will be discussing about what Open Source software is, why it's important, how people of varying skill profiles and backgrounds can contribute to Open Source and why they might want to do that.
David has been a Software Developer for nine years and is a functional programming enthusiast who loves the Scala, Clojure and Haskell programming languages. He has been fascinated with open source software since 2014, which is when he began contributing to Open Source projects.