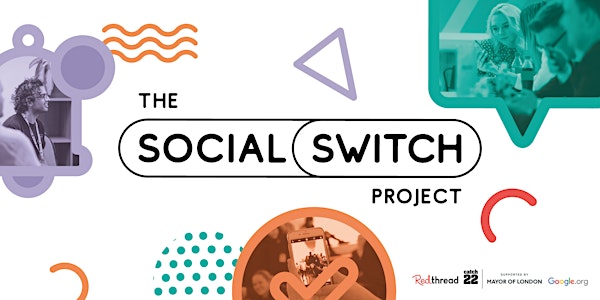 The Social Switch Project – Digital Youth Work Training
An interactive course designed for professionals working with young people about the challenges and opportunities presented by social media.
About this event
About this Event
Young people live online. It is vital that they are encouraged to be a positive voice in this digital world and that they have opportunities for creative expression.
However, there is a pressing need to support frontline professionals in dealing with harmful and inappropriate online behaviour and the violence which can escalate as result.
The Social Switch Project, delivered by Catch22 and Redthread, is switching on professionals and employers to the challenges and opportunities of social media. It is designed to give frontline professionals, who work with young people, the confidence to use their existing training and knowledge to deal with harmful social media activity. By using the same principles frontline professionals are using offline, this free course teaches best practice for dealing with the digital world.
With more and more practitioners having to work remotely and needing to find innovative ways to stay connected with the young people they work with, this training is now more relevant than ever.
Who is course for?
If you are a frontline professional working with young people in London, The Social Switch Project is free.
What is covered?
The training will:
• Build your understanding of young people's online behaviour
• Discuss the safeguarding risks associated with social media use and how to appropriately respond
• Discuss the legal and ethical factors involved in social media use
• Improve your understanding of and ability to tackle harmful social media use
• Increase your capacity to support young people to be positive voices online
https://www.thesocialswitchproject.org.uk/
Should you have any questions, please contact the project team on kristina.andrulyte@redthread.org.uk.
About Mayor of London's VRU
Keeping London safe is the Mayor of London's top priority. The London Violence Reduction Unit (VRU) was established in 2018 to coordinate a fundamentally new public health approach to reducing violence and spreading opportunity in the capital. The VRU works with a range of public and private sector institutions and with communities across London to identify and tackle the underlying causes of violence, and to support solutions that are proven to mitigate them.
About Catch22
Catch22 is a social business, designing and delivering services that build resilience and aspiration in people and communities across the UK. Its vision is a strong society were everyone has good people around them, a purpose and a good place to live. Catch22 works across children's social care, delivers alternative education, gets people into work through apprenticeships and employability programmes, and builds stronger communities through social action, social justice and rehabilitation services.
About Redthread
Redthread is a dynamic youth work charity that for 20 years has supported young people through the vulnerable transition of adolescence. Redthread uses health services as reachable, teachable moments and has revolutionised the support available to young victims of crime. Last year they worked with over 2,500 young people whose lives were impacted by violence, disadvantage or vulnerability, and trained over 500 professionals to more effectively engage and support traumatised or violence-affected young people.