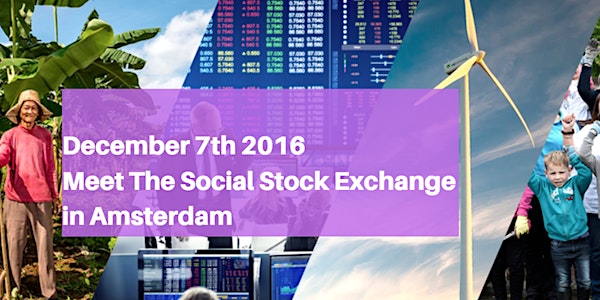 The Social Stock Exchange live in Amsterdam: join the crowd!
When and where
Location
to be defined Amsterdam Netherlands
Description
Thank you for registering to the #EUCrowdShow in Paris - it's been the world's first (and biggest!) crowdsourced roadshow across 29 countries in Europe. We met and discussed with more than 2000 people all over Europe about entrepreneurship and crowdfunding, and we understand that, unfortunately, the venue became fully booked very soon.
Now we have an amazing update for you, a last-minute call for a very important event in AMSTERDAM on 7th December! Save the date and spread the word!
The
Social Stock Exchange
thinks the current investment model is broken and we have the objective to fix it.
We aim to support Socially Responsible companies that not only care about the profit that they generate but also about the broader impact they have on society.
It's no longer just about making more money. It's about making money more: more sustainable, more impactful, more responsible – enter impact investing.
And now, maybe for the first time, you can be a part of it through a European crowdfunding campaign: we will be visiting Amsterdam on 7th December.
We kindly invite you to join us for this exciting evening where you will get the opportunity meet our team, think together about how we can make capital markets work for society, and enjoy this historical moment together.
Register now!