Description
Join Future of Sex and MakeLoveNotPorn for an exclusive screening that will open your eyes to the world's first #socialsex video sharing platform, making it easier for everyone in the world to talk openly and honestly about sex.
The evening will consist of an introduction by MLNP Founder + CEO, Cindy Gallop, a 30 minute #realworldsex screening followed by MLNP Curator, Sarah Beall, who will provide tips for filming your own #realworldsex video. The evening will close with a Q&A with the MLNP team and MLNPstar, FeverDream.
Your FREE ticket also includes:
- A raffle entry to win a sex toy provided by Unbound
- Giveaways from MLNP
- Complimentary drinks

MakeLoveNotPorn and Future of Sex are bringing The Social Sex Revolution to the Sex Positive Pop-Up. Come out and join us!
We are pro-sex. Pro-porn. Pro-knowing the difference.
Let's celebrate #realworldsex together.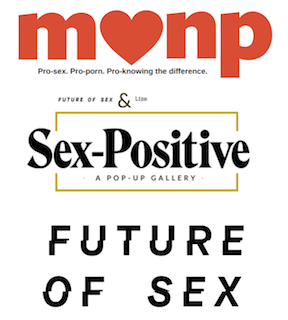 ---


DOORS OPEN FOR THE EVENT AT 7:15PM.
...
PLEASE NOTE, THIS SCREENING CONTAINS FOOTAGE OF SEXUAL ENCOUNTERS AND CONTENT, AS WELL AS FULL AND PARTIAL NUDITY.
...
CANCELLATIONS + LATENESS: PLEASE REMEMBER THAT OTHERS MAY BE WAITING FOR AN OPENING IN THE WORKSHOP YOU HAVE REGISTERED FOR. CANCELLATIONS MADE WITH LESS THAN 24 HOURS' NOTICE ARE NOT ELIGIBLE TO RECEIVE A REFUND..
. . .
SEX POSITIVE POP-UP IS OPEN TO PEOPLE OF ALL GENDERS AND SEXUALITIES, INDIVIDUALLY, IN COUPLES, OR IN GROUPS.
YOU MUST BE MUST BE 21+ TO ATTEND ANY EVENTS WITH ALCOHOL.
IF YOU'RE WRITING ABOUT A FUTURE OF SEX EVENT FOR A MEDIA OUTLET, PLEASE CONTACT
PARTNERSHIPS@FUTUREOFSEX.ORG