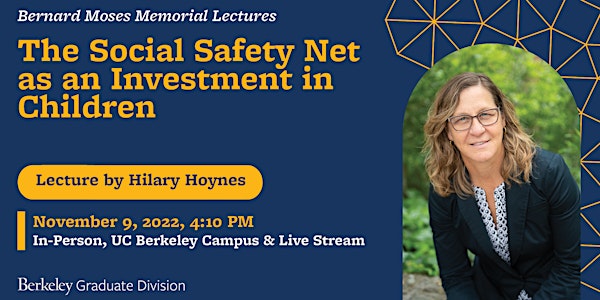 The Social Safety Net as an Investment in Children
UC Berkeley Bernard Moses Memorial Lecture with Hilary Hoynes on The Social Safety Net as an Investment in Children
When and where
Location
Toll Room, Alumni House Alumni House Berkeley, CA 94704
About this event
Join UC BerkeleyPublic Policy and Economics Professor, Hilary Hoynes, for a Bernard Moses Memorial Lecture on the topic of The Social Safety Net as an Investment in Children.
This lecture will discuss the emerging research that examines how the social safety net, a collection of public programs that deliver aid to the poor, affects children's life trajectories. The long run benefits are significant for the families, but also show that many programs prove to be excellent public investments. This has implications for current policy discussions such as the expanded Child Tax Credit.
Please be advised that this event is currently being offered virtually and in person, though that is subject to change.
The in-person event will be held at Toll Room, Alumni House on the UC Berkeley Campus. You can find directions to the Toll Room here.
The event will also be available virtually via live stream on the lecture webpage.
For updates about this lecture and upcoming lecture series events, please visit the Berkeley Graduate Lectures website.