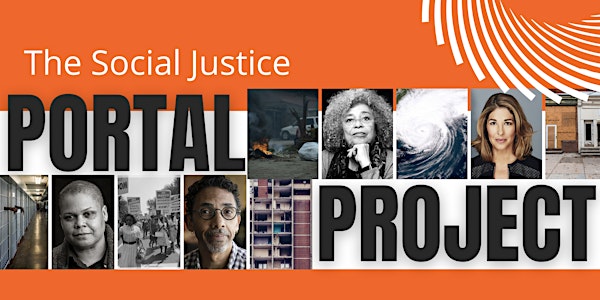 The Social Justice Portal Project Launch!
The Social Justice Initiative Launch!
About this event
The Social Justice Initiative is excited to launch the Social Justice Portal Project. Over the next two years the Portal Project will convene hundreds of scholars, artists and activists. Together we will think, debate, strategize and share our visions for a more just and sustainable future.
Join us for a conversation about this new movement-centered, praxis-oriented think tank. This will be a space to explore critical questions that confront racial and social justice organizers and thinkers committed to systemic change.
Participants include scholar activists: Derecka Purnell, Francisco Perez, Aislinn Pulley and Stacey Sutton and SJI director, Barbara Ransby.
Participants:
Derecka Purnell is a human rights lawyer, writer, and organizer. She works to end police and prison violence by providing legal assistance, research, and trainings to community based organizations through an abolitionist framework. As a Skadden Fellow, she helped to build the Justice Project at Advancement Project's National Office which focused on consent decrees, police and prosecutor accountability, and jail closures, providing community training, political education and legal representation to organizers. Her advocacy efforts led to the dismissal of over 3,000 cases based on unconstitutional policing practices. Additionally, she supports several campaigns and grassroots organizations around the criminal legal system, electoral justice, and community investment
Francisco Perez is a solidarity economy activist, educator and researcher currently pursuing a PhD in economics at the University of Massachusetts at Amherst. He is the Director of the Center for Popular Economics, a nonprofit collective of political economists whose programs and publications demystify the economy and put useful economic tools in the hands of people fighting for social and economic justice. Francisco has worked on social and economic development projects in Brazil, the Dominican Republic, Guinea, Senegal, Sierra Leone, the US and Venezuela. He also worked for the Museum for African Art in NYC and was a member of a collective of artists fighting to free political prisoners called the "Scientific Soul Sessions." His research focuses on the political economy of the CFA Franc, a currency union of fourteen West and Central African countries.
Barbara Ransby is the John D. MacArthur Chair, and Distinguished Professor, in the Departments of Black Studies, Gender and Women's Studies, and History at the University of Illinois at Chicago (UIC). She also directs the campus-wide Social Justice Initiative, a project that promotes connections between academics and community organizers doing work on social justice.
Stacey Sutton is an Associate Professor in the Department of Urban Planning and Policy and the Director of Applied Research and Strategic Partnerships at UIC's Social Justice Initiative. Her scholarship and teaching are in community economic development. More specifically, her research investigates collective action and equitable development in marginalized communities; the solidarity economy; racialization and alternatives to capitalist formations; gentrification, dispossession, and neighborhood change; and racially disparate effects of place-based policy and planning.
Aislinn Pulley is a Co-Executive Director at the Chicago Torture Justice Center, and a long timer organizer who has worked on a variety of campaigns including the Reparations Now movement to pass the historic 2015 Reparations Ordinance for survivors of CPD torture. Born and raised in Chicago, Aislinn founded the Chicago chapter of Black Lives Matter as part of the Freedom Ride to Ferguson in August 2014 and was the youngest founding member of the cultural non-profit that used art for social change, Insight Arts. She is the founder and creator of urban youth magazine, Underground Philosophy as well as a founder of the young women's performance ensemble dedicated to ending sexual assault, Visibility Now.