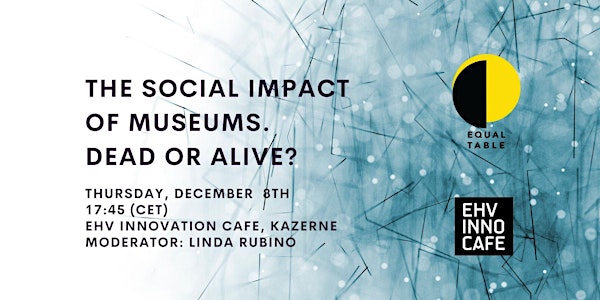 THE SOCIAL IMPACT OF MUSEUMS. DEAD OR ALIVE?
THE SOCIAL IMPACT OF MUSEUMS. DEAD OR ALIVE?
When and where
Location
Kazerne 2 Paradijslaan 5611 KN Eindhoven Netherlands
About this event
The topic of museums and their impact on society will be discussed at this Equal Table.
Museums are non-profit organization with the aim of educating, engaging and sharing knowledge to the community. However, sometimes it isn't easy to understand the message they are trying to share(Does everyone understand the underlying message?).
From the outside, museums can sometimes look like "elite" places where only cultured people can afford to gain insights from the work of art: Should museums foster inclusivity by focusing on a wider range of audiences?
During this discussion, we are going to open a dialogue on how museums can create experiences to reach a broader audience and how they can create an impact on communities.
Linda Rubino, the moderator of this Equal Table discussion, is looking forward to exploring the role of museums in your life and the experiences you are expecting when you decide to visit one.
The interactive discussion will be structured into three rounds. For each round, members of the audience will be drawn by lot and offered to actively join the discussion by taking one of the six chairs 'on stage'. A seventh chair is always available for those in the audience who were not drawn.
We are excited to host this Equal Table with our new partner EHV Innovation Cafe at Kazerne. The place is beautiful and well-designed, and it is a place you should see.
The Equal Table discussion will be held in English and will last for approximately 1.5 hours. Photos will be taken during the event.
Agenda:
17:30 Walk-in
17:45 Equal Table discussion starts
19:30 Equal Table discussion finished
19:30-20:00 Drinks (on your consumption)
20:00 Meet up Table *
*Meet-up Table Choose whatever you feel like from the menu or treat yourself with a special and changing Meet-up Dish at 19,50 euro (food and drinks on your expenses).
Make your decision if you plan to stay for dinner before the event and let the person at the door know.
Details:
Date: THU, December 8th
Time: THU 17:30- 20:45
Place: Kazerne, Paradijslaan 2-8 | 5611 KN Eindhoven | The Netherlands
_________________________________________________________________________________________
About Equal Table:
WHAT Equal Table is an interactive discussion between a group of people where a moderator guides a free and equal conversation, leading to new and meaningful insights.
HOW Organize Equal Table in different cities in the world so it can spread organically.
WHY Everybody in the world can feel valuable