Vintage, outdoor, mini market to support local curators & artists. SANTA CRUZ LOCATION WHAA! Mask up, max cap + social distance enforced
About this event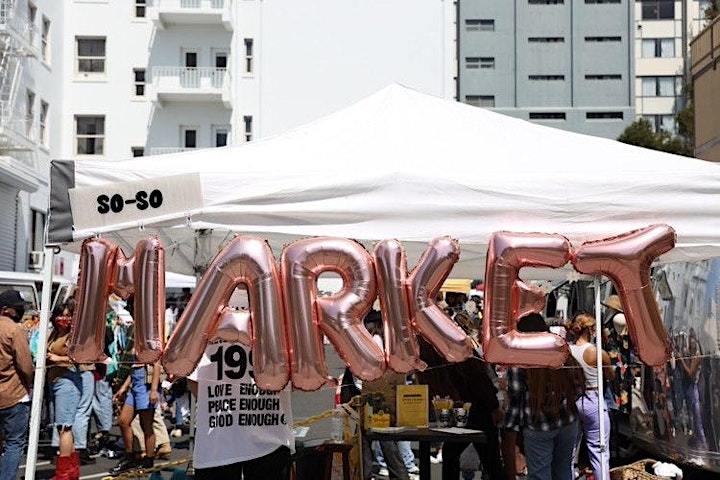 The So-So Market is a COVID-19 baby, founded & Hosted by Indigo Vintage Cooperative. Outdoor, 'mini' markets are a great alternative to traditional indoor retail. Outdoor retail markets and events like farmer's markets + smaller-scale fleas are the only events allowed in CA. This is due to the fresh moving air supply, more space to distance, and shorter chain supply "vendor to customer" model. In addition to our events following citywide guidelines, we have solid COVID protocols in place and have taken the necessary steps to make our events as safe as possible. Masks are required for entry, online ticket reservations gauge the number of people who are attending to enforce max capacity, sanitation stations + temp checks upon entry, and social distancing markers and protocols enforced.
This event gives small businesses a chance to survive this pandemic on a much smaller + safer scale. What makes So-So special is the ability to find amazing, unique, sustainable items, interact with the small business you are directly supporting, and be surrounded by a community of creative, fashionable, COOL ppl. We differ from an upscale market, simply because we keep it SO-SO, every vendor who is invited to sell with us is asked to bring DEALS in addition to their fab curations. This makes our market safe, sustainable AND accessible to all.
EVENT DETAILS:
FRIDAY, 6/18/2021
THE SO-SO MARKET: THE SO-SO CARNIVAL IN SANTA CRUZ
530 FRONT STREET, SANTA CRUZ CA
12-8PM
TICKETING:
**TICKETS ON SALE FRIDAY 6/11 @ 12PM PST
- $15 EARLY BIRD ADMISSION 10AM (ONE PER PERSON)
- $2.50 ONLINE RESERVATIONS TO LIMIT WAIT TIMES (2 PEOPLE PER RESERVATION)
- FREE GENERAL ADMISSION THROUGHOUT THE DAY, WAIT TIME VARIES
THERE WILL BE TWO LINES: GENERAL ADMISSION + RESERVATIONS. GENERAL ADMISSION WILL BE ON THE LEFT OF THE ENTRANCE IN FRONT OF THE BUILDING, WRAPING AROUND TOWARDS SOQUEL/BRIDGE AND RESERVATIONS ON THE RIGHT DOWN FRONT STREET (DO NOT BLOCK BUSINESS DOORS) MAKE SURE YOU DOUBLE CHECK WHICH LINE YOU'RE IN SO YOU DON'T HAVE TO START OVER.
PARKING: FREE STREET/METER PARKING ON SUNDAYS. ADDITIONAL PARKING GARAGE ACROSS THE STREET. SANTA CRUZ GARAGE 607 FRONT STREET.
For our visiting shoppers, THANK YA for coming to support local SC vendors and business. Here are a few walkable and must see attractions (for more make sure to follow along w our insta page w our SC faves).
- The market will be just a few blocks from PACIFIC AVE, this is the hub of downtown Santa Cruz. Plz enjoy eateries and small boutique shopping:
- Abbott Square, an indoor/outdoor food court with bomb local food stands like vegan-friendly Veg on the Edge, the best burger you'll ever have at Belly Goat Burger, dreamy coffee at Cat & Cloud and so much more.
- Indigo Santa Cruz, a MUST see of our newest Indigo Cooperative showcasing 15+ local vintage vendors and makers.
- More shopping: Leaf & Vine, Realm (new biz), Botan & Luxe (cute af home & gift), plz plz check our Level Up Games so sick, and Comicopolic and Book shop Santa Cruz, Iconic surf shops: Pac Wave & Oniell Surf Shop, STRIPE, Sock shop, Urabn Outfitters, Free People, Moon Zoom Vintage, Lulu Lemon, It's Sugar, + so much more.
- Tons of eateries, breweries, coffee shops, and more
- NATURE shit- beach, hikes, redwoods, posting our fave nature tingz on insta @thesosomarket
- MUST SEE SANTA CRUZ BOARD WALK + MYSTERY SPOT
- Stay @ the Paradox Hotel or cute ass airbnbs
A little bit about your host, Indigo Vintage Cooperative:
COVID SAFETY GUIDELINES:
- MASKS REQUIRED FOR ENTRY
- LIMITED CAPACITY ENFORCED
- SANITATION STATIONS PROVIDED + TEMP CHECK UPON ENTRY
- PLZ DON'T COME IF U ARE FEELING UNWELL, OR TESTED POSITIVE
- 6 FT SOCIAL DISTANCING
- REGULATED, LIMITED FITTING ROOMS
BLM
We will be bringing back our Communal Black Lives Alter, a memorial to celebrate black lives and livelihoods, and remember BIPOC lives lost to police brutality. Please feel free to bring any photos of loved ones, florals, art, poems, etc to contribute to this alter and pay respects. There will be local BLM resources and organization info on-site.
General FAQ:
- Dogs are welcome!
- We will have local Coffee offered onsite, and some snacks + water BUT plz support our local eateries at this time
- 1 early bird ticket per person, 2 people per online resvations
- Please limit your time in the market to 2 hours max, and be mindful of people waiting in line if you have finished shopping
- Wait times vary- I've seen 15 min to 1.5 hours (before we implemented our online reservations)
- Feel free to bring line snacks + waters, umbreallas, games, beach blankets + chairs to make the line more comftrable if you are GA
FOLLOW US ON INSTA @THESOSOMARKET @INDIGOVTG @INDIGOSANTACRUZ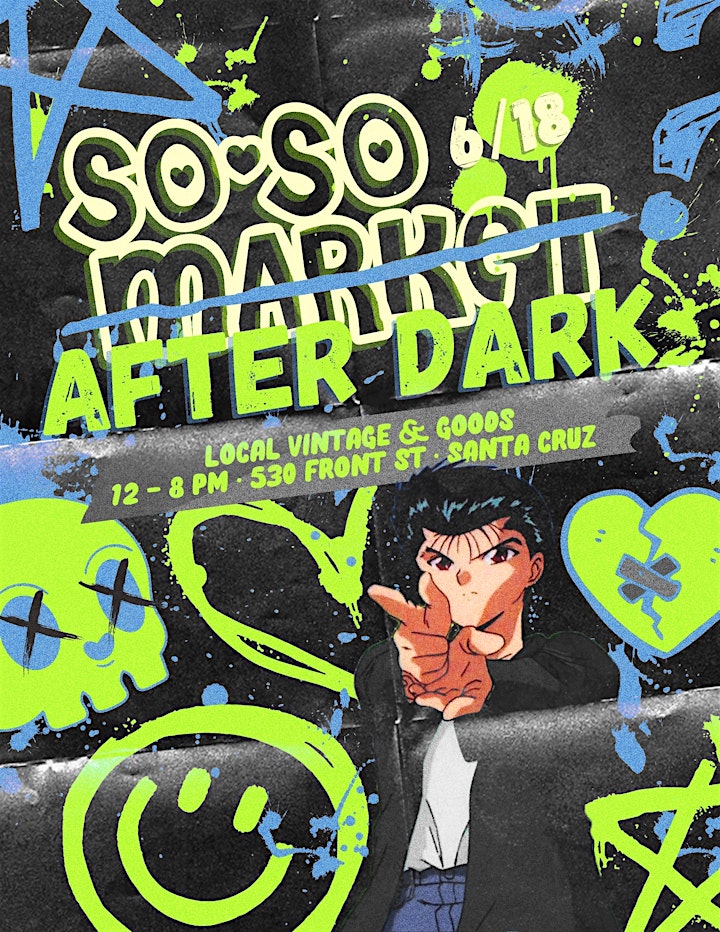 Organizer of The So-so Market: So-so After Dark