SPECIAL HOTEL EVENT SHOWCASING RARE/DESIGNER/GRAIL/DROOL-WORTHY VINTAGE + ARTISANS @ THE PHOENIX HOTEL SF.
About this Event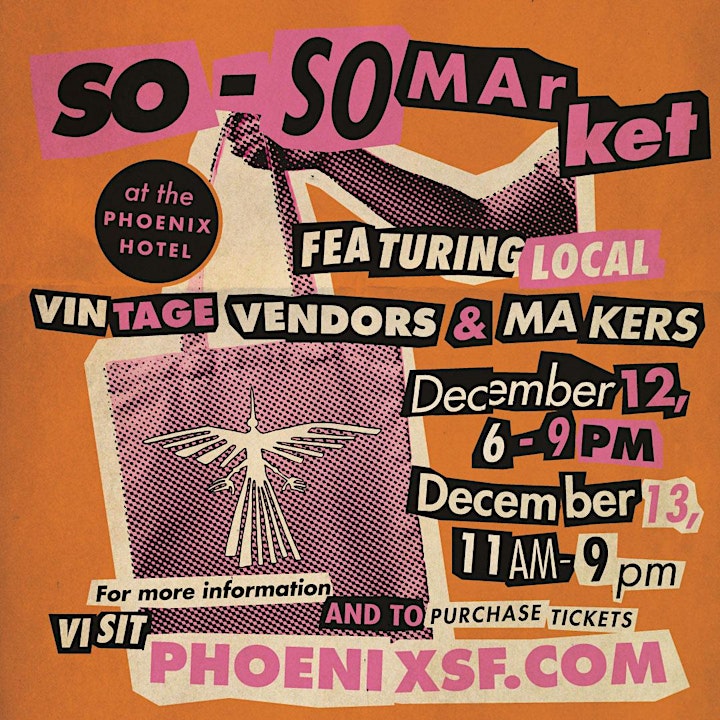 The So-So Market is a COVID-19 baby, founded & Hosted by Indigo Vintage Cooperative. Outdoor, 'mini' markets are a great alternative to traditional indoor retail. Outdoor retail markets and events like farmer's markets and smaller-scale fleas were/are the only events allowed in CA. This is due to the fresh moving air supply, more space to distance, and shorter chain supply "vendor to customer" model. In addition to our events being following citywide guidelines, we have a solid COVID action in place and the necessary steps to make our events as safe as possible. Masks are required for entry, online ticket reservations gauge the number of people who are attending to enforce max capacity, sanitation stations upon entry, and social distancing markers and protocols enforced.
Our community's bigger markets like Alameda + Rose Bowl are canceled, which are considered too large and have been canceled indefinitely. This event gives small businesses a chance to survive this pandemic on a much smaller + safer scale. What makes So-So special is the ability to find amazing, unique, sustainable items, interact with the small business you are directly supporting, and be surrounded by a community of creative, fashionable, COOL ppl. We differ from an upscale market, simply because we keep it SO-SO, every vendor who is invited to sell with us is asked to bring DEALS in addition to their fab curations.
EVENT DETAILS:
SATURDAY, 12/12/2020 PREVIEW/ EARLY BIRD EVENT 6-9PM
SUNDAY, 11/13/2020 MAIN EVENT 11AM-9PM
SO-SO MARKET @ PHOENIX HOTEL SF
601 Eddy Street
San Francisco, CA 94109
A special one-off holiday event, dress-up and come thru, enjoy a upscale an intimate setting, grab a bite + drink at Chambers on-site, and spoil yourself and loved ones with insanely curated vintage, designer, 1x1's, and more.
TICKETING:
**TICKETS ON SALE FRIDAY 11/27 @ 12PM PST
THIS EVENT REQUIRES A TICKET, NO FREE GA
EACH TICKET INCLUDES A PLUS ONE (2 PPL PER TICKET)
_______________________________________________________
$35 PREVIEW EARLY BIRD ADMISSION INCLUDES:
- early preview/admittance to SATURDAY 12/12/2020 EVENT ONLY
- free tote
- (1) drink ticket
$10-20 GENERAL ADMISSION SUNDAY 12/13/2020 THROUGHOUT THE DAY
- admittance to SUNDAY 12/13/2020 EVENT ONLY
- free tote
PARKING: FREE STREET/METER PARKING ON SUNDAYS. ADDITIONAL PARKING GARAGES AROUND THE AREA OR BART BUT UBER/RIDESHARE OR DROP-OFF PREFERRED.
A little bit about your host, Indigo Vintage Cooperative:
We started in 2018 on Telegraph Ave in Berkeley CA. We have a non-traditional retail method that is not only sustainable but emphasizes community and small business. Our brick-and-mortar shops are open 7 days a week and house over 50+ local vendors over three locations: Berkeley, San Francisco, and Santa Cruz.
We share resources as a cooperative, and ALL of our items are VINTAGE, re-cycled, small-batch, local, or small businesses. We are womxn-owned and operated, our vendors are a diverse pool from all backgrounds. Our shops are all on iconic streets in their Bay Area cities- which means our rent + operations cost is high. We know our shop prices can be higher and less affordable options, so we decided to start So-So Market to make our offerings accessible to everyone. Our vendors often bring huge markdowns and new sales items starting at $5. We believe fashionable, sustainable, vintage items should be available for everyone! So come get yours at the So-So Market <3
COVID SAFETY GUIDELINES:
- MASKS REQUIRED FOR ENTRY
- LIMITED CAPACITY ENFORCED
- SANITATION STATIONS PROVIDED + TEMP CHECK UPON ENTRY
- PLZ DON'T COME IF U ARE FEELING UNWELL, OR TESTED POSITIVE
- 6 FT SOCIAL DISTANCING
- REGULATED, LIMITED FITTING ROOMS
BLM
We will be bringing back our Communal Black Lives Alter, a memorial to celebrate black lives and livelihoods, and remember BIPOC lives lost to police brutality. Please feel free to bring any photos of loved ones, florals, art, poems, etc to contribute to this alter and pay respects. There will be local BLM resources and organization info on-site.
General FAQ:
- Dogs are welcome!
- Please limit your time in the market to 2 hours max, and be mindful of people waiting in line if you have finished shopping
FOLLOW US ON INSTA @THESOSOMARKET @INDIGOVTG @INDIGOSANTACRUZ