Brian Powers, aka "Snowman", & his band will be coming to the Music Factory for the first time for a great night of sax-led Jazz & Funk!
About this Event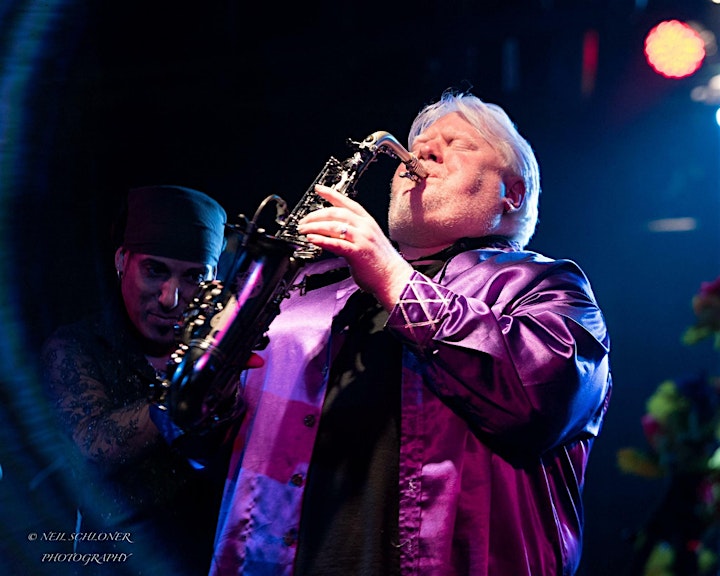 The Snowman Band will be coming to the Music Factory for the first time for a great evening of Jazz and Funk! Don't miss this great show!
Tickets are $20.00 in advance and $25.00 at the door. Seating is general admission and doors open at 7:30 PM. Concessions will be available for sale during the concert.
The Music Factory is located on the 2nd floor of the WWI era Old Milk Factory on the Rum River in Anoka. It is not a wheelchair accessible building and there are some stairs to climb.
Read more about Brian Powers aka Snowman, here:
Brian "Snowman" Powers grew up in the music traditions of New Orleans. At an early age he was exposed to roots country gospel, funk, and jazz. When he reached the age of eight the saxophone became his instrument of choice. After discovering that the saxophone and music theory were natural instincts for him, Brian went on to study jazz and classical music throughout his schooling. Snowman's skill became apparent in high school where he won countless awards for band and choir including first in the state and tri state competitions. Soon following, at the age of fifteen he caught the eye of several renowned local artists and began his professional touring and performing career. Brian went on to attend and graduate from the New School for Social Research/Mannes College of Music Jazz program in NYC with a BFA in jazz as well as an emphasis in composition. During this period, he toured the country and shared the stage with many top groups including The Samples, Spin Doctors, Junior Mance, Reggie Workman, Chico Hamilton, Deep Banana Blackout, Swampadelica, Antigone Rising, Blues Traveler, and many others. After graduating and working in music in New York, many studio session opportunities arose and Snowman became a mainstay in the jazz and R & B scene. After a move to Minneapolis in 2001, Brian continued to tour and play with top artists such as Wain McFarland, Excelsior Gospel Choir, Cookie Coleman, The New Primitives, Sounds of Blackness, Darnell Davis and the Remnant, Mick Sterling, The Petersons, and Minneapolis Gospel Sound. After working as a top requested studio musician for so many years, a move behind the scenes was not a surprise. Brian became a producer and engineer where he has been recognized as one of the top Mixing engineers in the world. A few of his studio clients include multi Grammy Award winner Juanes, audio for video work for MTV productions, AOL Live studio sessions, Grammy Award Nominee Oleta Adams, Paul Peterson, Swampadelica, New Primitives, Ricky Peterson, Living Word Christian Center, Sony, RCA, Universal Music Group, Darnel Davis and the Remnant, and many others.
More important than an extraordinary career is faith in God. Snowman started playing at Living Word Christian Center in early 2004 and has been involved in music ministry ever since. From playing saxophone and wind synth on the worship team, to singing in the choir, programming and running tracks during services, recording, mixing, and producing Living words videos, DVDs, CD's, to mixing their internet broadcasts. He has also served at Revive EV Free, Liberty Church, Westminster, Speak the Word International Church, Emanuel Tabernacle COGIC, Passion Church, Worship Pastor at Faith Family Life Center, and many others. Brian's calling to be a light and to minister to the secular music industry however is the main calling on his life. Brian "Snowman" Powers continues to tour and record with the best and brightest in the world, and now has formed his own group based in the New Orleans music traditions he grew up with. You don't want to miss hearing The Snowman Band!!!
In accordance with current State of MN regulations, face coverings are required and social distancing will be observed.