Description
THE SLING EXPERIENCE - Presented by: Team Mancuso Powersports Gulf Freeway, March 22nd - 24th 2019 - Marriott Westchase – 2900 Briarpark Dr. Houston, TX 77042

FREE Multi-day National Polaris Slingshot Event
Featuring: Sling-A-Rama - Polaris Slingshot Mobile Vendor Trade Show, Group Rides, Competitions, Vendors, Parties, Demo Rides, Prizes and More!
Vendors open at noon on Friday!
EVERYONE join us for the Kickoff Party at the Marriott Westchase on Friday March 22nd from 5:00 – 8:00 PM! Food trucks, live DJ, cash bar and prize giveaways! City ride to follow!
Come see some of the coolest machines on the road!
Then EVERYONE join us again for the Grand Finale Slingshot Show on Sunday 3/24/19 from 2:00 – 6:00 PM to Vote for your favorite Slingshot, and watch them compete for prizes! Family friendly event!
Free Breakfast Sponsored by Slingshot Only on Saturday morning!
Full Weekend Timeline Below!

Host Hotel: Marriott Westchase – 2900 Briarpark Dr. Houston, TX 77042 – Book Now 713-978-7400
Room Block: The Sling Experience - $89 Night

Web Link to book rooms at the Host Hotel $89 per night.
https://www.marriott.com/event-reservations/reservation-link.mi?id=1550180488314&key=GRP&app=resvlink

Follow us on Facebook or Instagram for more info!
This is a rain or shine event.

Friday
12:00 Noon – 5:00 PM – Vendor Booths Open, Registration Open (Houston Marriott Westchase, 2900 Briarpark Drive, Houston TX 77042)
5:00 PM – 8:00 PM – THE SLING EXPERIENCE Kickoff Party (Friends and Family Welcome! Houston Marriott Westchase, 2900 Briarpark Drive, Houston TX 77042, Live DJ, Food Trucks, Cash Bar, and more)
8:30 PM – 11:00pm – Urban City Night Ride, Video and Photo Shoot (Leaving from Marriott, Westheimer Ride, Memorial Park Video Shoot, Rockets Game Invasion, Graffiti Building Photos, and more)
11:30pm - 2:30am - Bombshells Pearland - Afterparty - Resturant, Drinks and Music.

Saturday
8:00 AM – 10:00 AM – Free Breakfast Sponsored by Slingshot Only (Houston Marriott Westchase, 2900 Briarpark Drive, Houston TX 77042)
10:30 AM – 2:30 PM – Group Ride to Galveston, Donuts by Twist (Leaving from Marriott, Buc-ee's Stop, Donuts, Galveston Seawall Cruise)
3:30 PM – 5:00 PM – Team Mancuso Powersports Gulf Freeway Party / Free Food (11415 Gulf Freeway, Houston TX 77034)
8:00 PM – 9:00 PM – Light Competition Sponsored by House of Sound (Houston Marriott Westchase, 2900 Briarpark Drive, Houston TX 77042)
10:30 PM – 1:30 AM – Late Night City Ride / Prizes (City Center, Washington Ave, Main St. Midtown, Parking Garage Invasion)

Sunday
8:00 AM – 1:00 PM – Countryside Scenic Ride (Leaving from Marriott)
2:00 PM – 6:00 PM – THE SLING EXPERIENCE Grand Finale Slingshot Show (Friends and Family Welcome! Houston Marriott Westchase, 2900 Briarpark Drive, Houston TX 77042, Competitions and Trophies, Live DJ, Food Trucks, Kids Activities, Cash Bar, and more)
7:00 PM – Tear Down / Safe Travels
THE SLING EXPERIENCE
Presented By:
Team Mancuso Powersports Gulf Freeway


Sponsors:
Houston Slingshot Rental
Greater Texas Risk Management
Slingmods

Vendors:
Slingshot Only
Twist Dynamics Welter
House Of Sound Car Audio
Lite the Nite LEDs
Underground Auto Styling
NOS Energy Drink
SlingLife
Siramic
iDetail
J&D Slingworks


Additional Vendors and Sponsors wanted: Please email theslingexperience@gmail.com

FRIDAY ROUTE: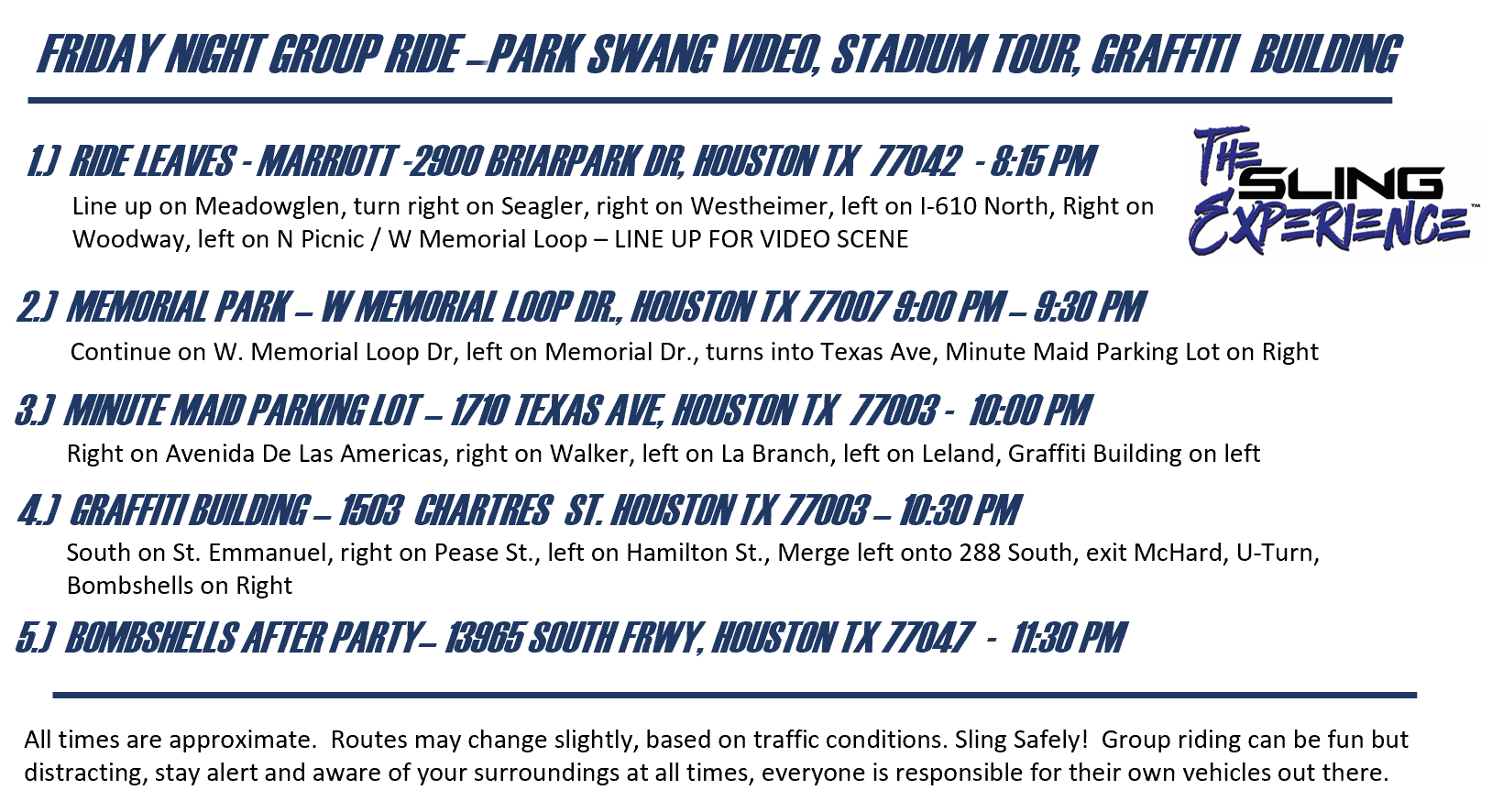 SATURDAY DAYTIME RIDE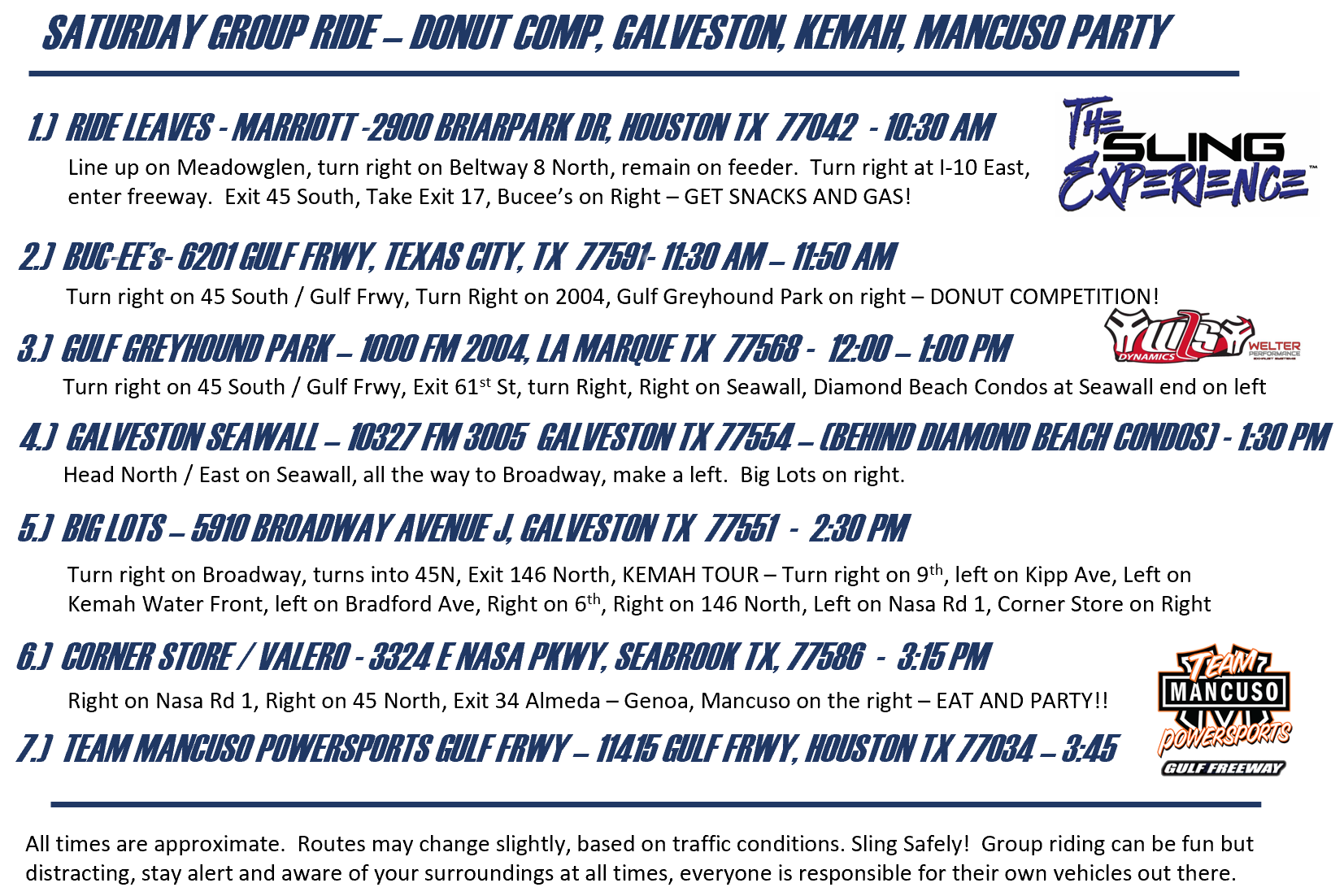 SATURDAY NIGHT RIDE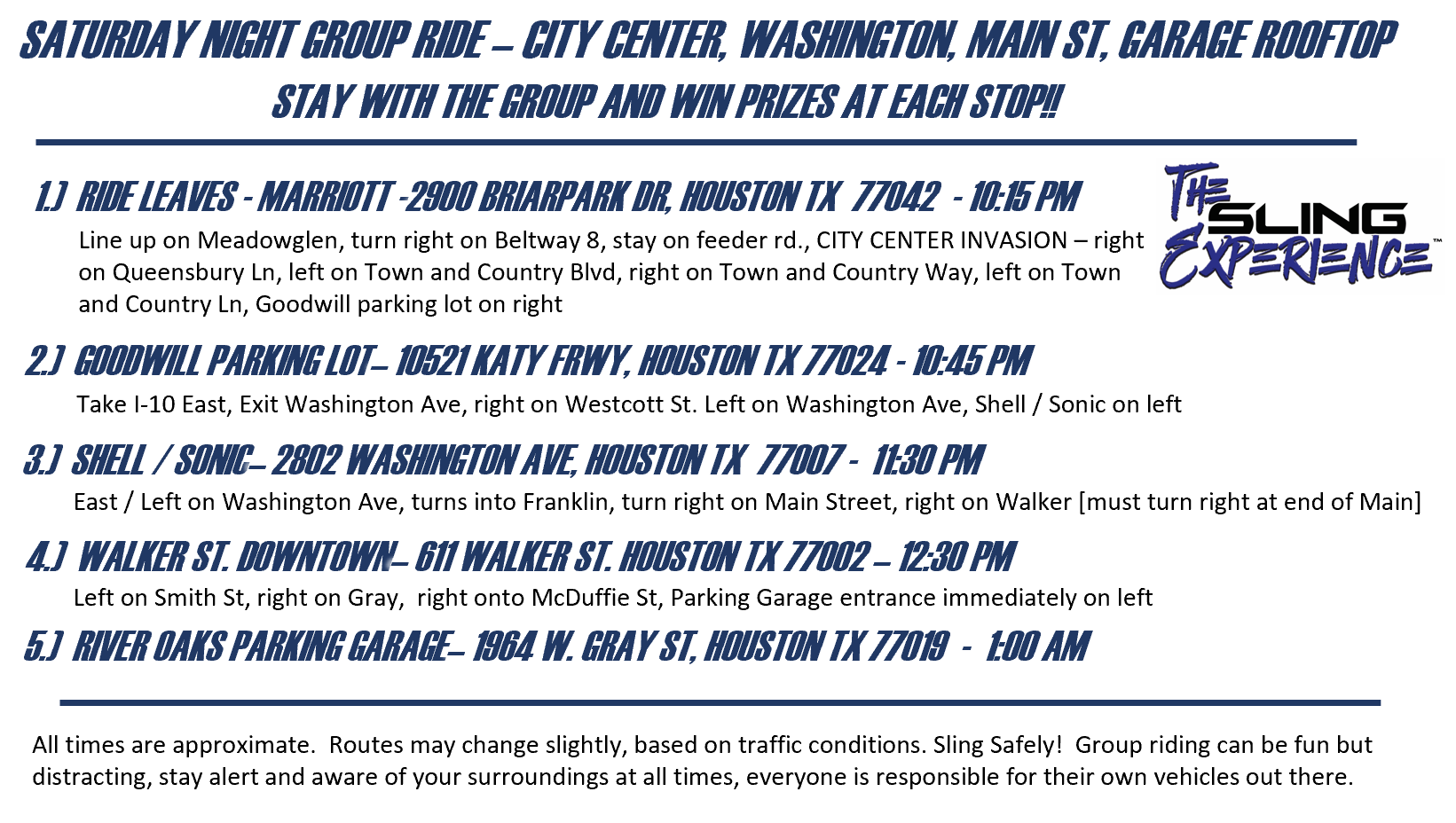 SUNDAY ROUTE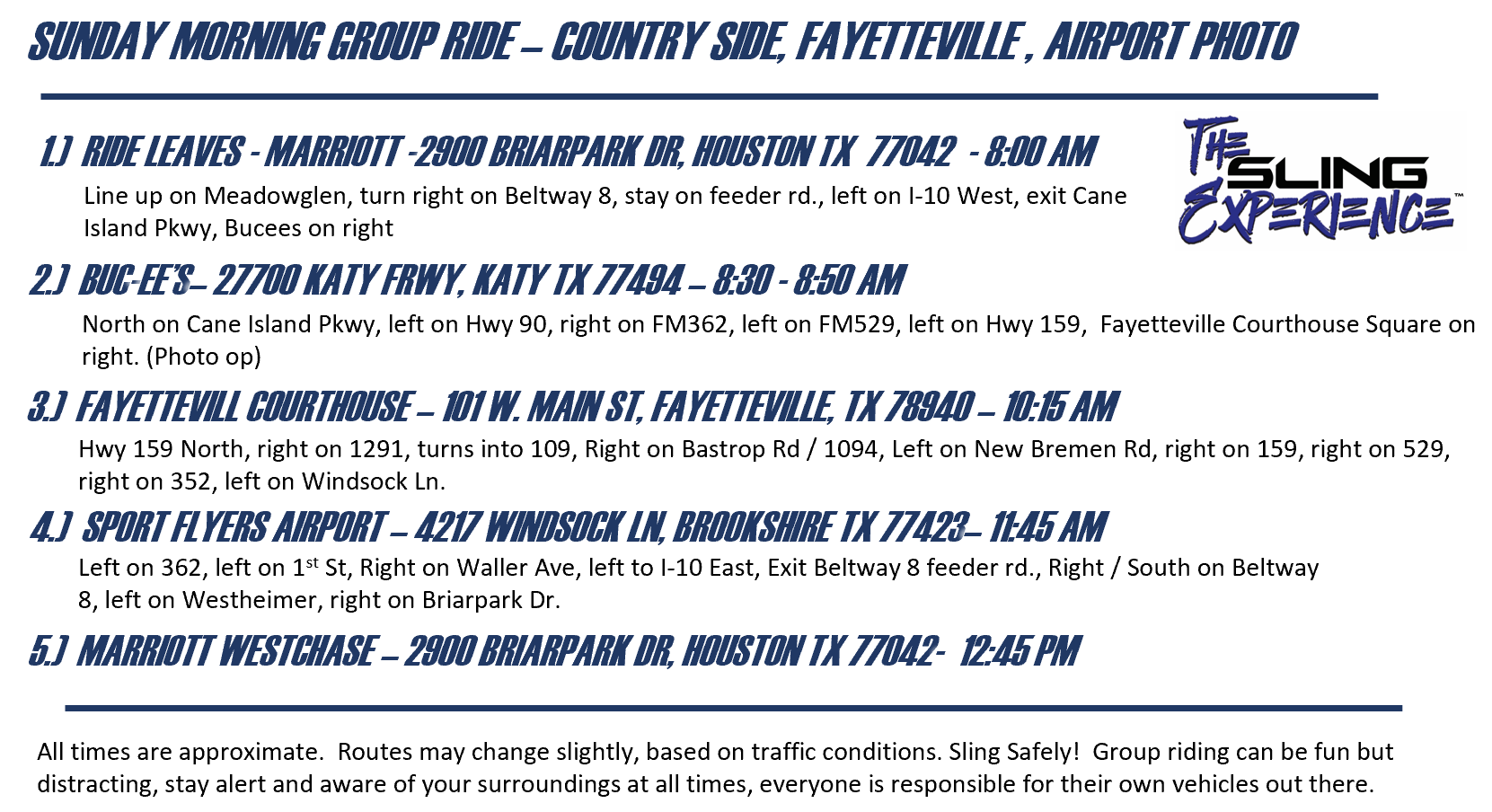 THE SLING EXPERIENCE - Special Edition Apparel - Only Available Online
Special Edition Logo Hat - $25.00+processing fee
Purchase Ticket indicated for HAT - Select the Size and Quantity you will like to order.
*Purchase not necessary - The event is FREE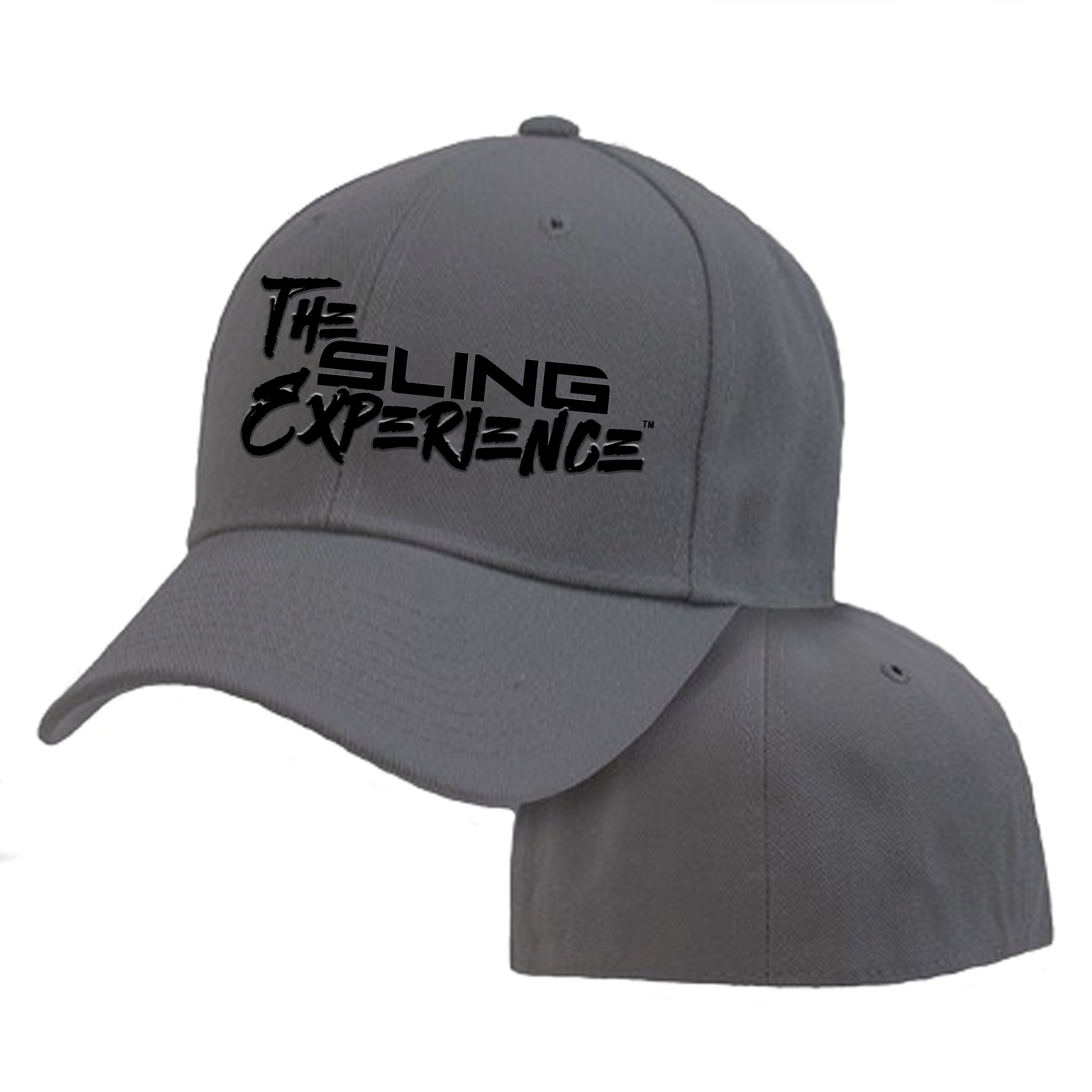 Special Edition Logo T-Shirt - $20.00+processing fee
Purchase Ticket indicated for T-Shirt - Select the Size and Quantity you will like to order.
*Purchase not necessary - The event is FREE