The Sky's the Limit: Disrupting Packaging Culture Through Collective Action
Event Information
Location
Anaheim Marriott
Orange County Ballrooms 3 & 4
700 West Convention Way
Anaheim, CA 92802
Description
SFTA Sustainable Packaging Summit @ Expo West
This summit is for the leaders who would embrace the transformation of the conventional packaging ecosystem through the power of collective action. The Sky's the Limit seeks to harness the power of the entire natural products industry to identify the most critical blockages, potential fixes, and resulting collective action that would help reverse unintended impacts (i.e., marine pollution, toxic residues, climate emissions) of our packaging system. Stakeholders from myriad sectors will attend, including packaging manufacturers, end-of-life handlers, retailers, food manufacturers, and consumer insights.
Envisioned by PCC Community Markets, organized by SFTA, and facilitated by Conscious Brands, this interactive two-hour session will utilize a diverse expert roundtable and extensive small group discussions to dissect the interplay of consumer purchasing paradigms, available packaging technology, product quality needs, and end-of-life infrastructure in our packaging ecosystem. Discussion questions will include topics related to the role of single-use plastics, an industry definition of "sustainable packaging," and how policy could be leveraged to influence change. But that won't be all.
If you've always been interested in alchemy, and hold a desire to support radical goals that create far-reaching sustainable change, we hope to see you there. The Sky's the Limit.
* Please note this event is free to Expo West badge holders (Attendees and/or Exhibitors). If you will not have an event badge, please contact lisa@sustainablefoodtrade.org.
SFTA would like to extend a special "thank you" to New Hope Network, OSC2, and the Climate Collaborative for making this session possible.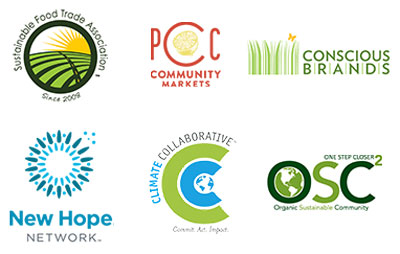 Date and Time
Location
Anaheim Marriott
Orange County Ballrooms 3 & 4
700 West Convention Way
Anaheim, CA 92802