About this Event
8.29 Thursday (Folk)
Nectar & The PBJ Present:
THE SKY COLONY (album release)
Cedar Teeth
Funeral Dove (ft. members of Kuinka)
$8adv / $12dos
7:30pm doors
8pm show
21+
THE SKY COLONY
The Sky Colony are a indie folk rock group, focused on what matters most to them: simply creating wholesome music with real instruments, and more importantly, their intention behind doing so. Since their formation in 2012, the story behind the lyrics of their 1960's reminiscent sound has organically grown into one of personal empowerment, discovery, and social awareness. Authentic and heartfelt lyrics, intricate tonal harmonies, catchy hooks, and well-practiced guitar leads are what you'll hear of this group from Skagit Valley, Washington.
The Sky Colony's first full-length album ,"In A Dream", was released in February, 2015, and featured Master's College banjo extraordinaire Molly Hazel and brilliant drummer dad Jeff Lacy. The title was publicized with blog coverage and radio play at stations worldwide. "It's a mixture of the call of the Cascadian wilderness and an the 60's psychedelia era" (Tom Franks, Folkwords UK). Time upon time it has been deemed unique. "They create a sound of luminous spirituality that sets a fire in the mind." (Scot Casey, What's Up Magazine). Music critics were interested in "a lack of special effects, just pure musicianship." (John Apice, No Depression).
Since then, personnel shifts have landed the full-time band member lineup of the founders Kyle Findley-Meier (rhythm guitar, lead vocal) and Ben Meyer (lead guitar, vocal), along with Jeff Lacy (drums, vocal), and Marcus Nevitt (keys, lap steel, vocal). "We've had a lot of great crews in this band. This feels like the one, though." says Findley-Meier. "We are good friends, kinda brothers with a mission. It's important to all of us to create substantial lyrics and music that makes us feel something."
Now, in 2019, their second full-length album, "All of Us" is projected to be released. Recorded by Pacific Northwest studio master Michael Iris in the Cascade foothills' Bell Creek Studio, featuring a smattering of skillful musicians and friends from the area, the record is a true call out to the band's influential roots. "It's kind of our response to both not releasing anything for a while, and how much everything has changed since then." Findley-Meier says. "All of us know how important this project is in our lives, seeing what art can do to inspire us to come together in strange times of adversity. It's our homage to the music that inspired us the most from the 60's, when rapid social change led by art was as necessary as it is now."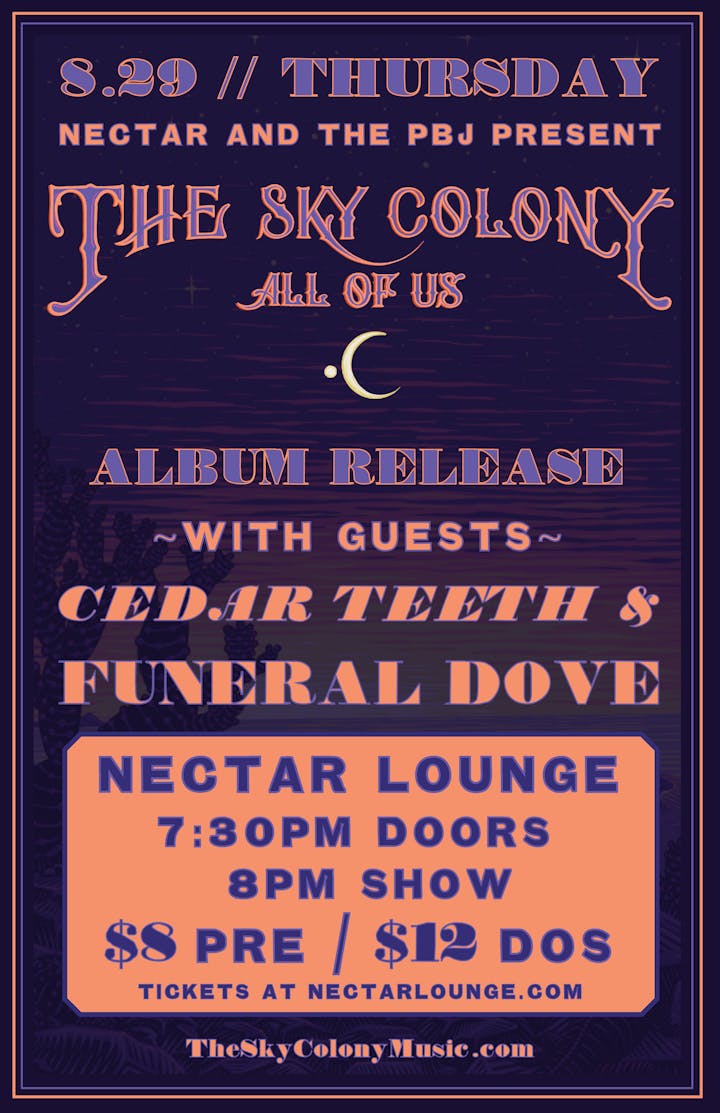 Performers
Date and Time
Location
Refund Policy