The Skill of Mind Hacking: Live Well, Love Life & Be Here Now! 
Description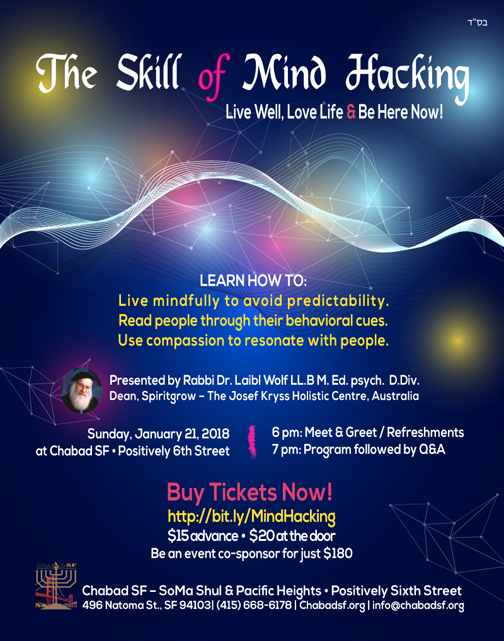 Rabbi Dr. Laibl Wolf has pioneered mindfulness meditation training to assist with spiritual growth and emotion mastery. For more than 30 years, he has been a spiritual mentor and a worldwide teacher of the mystical side of Judaism.
Although based on the Kabbalah, Laibl's philosophies are modern, progressive, and facilitate the growth of one's inner spirit in a technologically driven society. Although an Orthodox Hassidic Rabbi, his teachings are universal, open to people of all backgrounds and spiritual orientations.
Laibl is a master of, and draws his teachings from, the 4,000-year-old, esoteric and encrypted texts of the Kabbalah which provides a guide to the mysteries of cosmic and human consciousness, which is the source for much of the "new age" wisdom that we are familiar with today. Don't miss this engaging and entertaining presentation.

Chabad SF – SoMa Shul & Pacific Heights
Positively Sixth Street
496 Natoma St., SF 94103| (415) 668-6178
Chabadsf.org | info@chabadsf.org