About this Event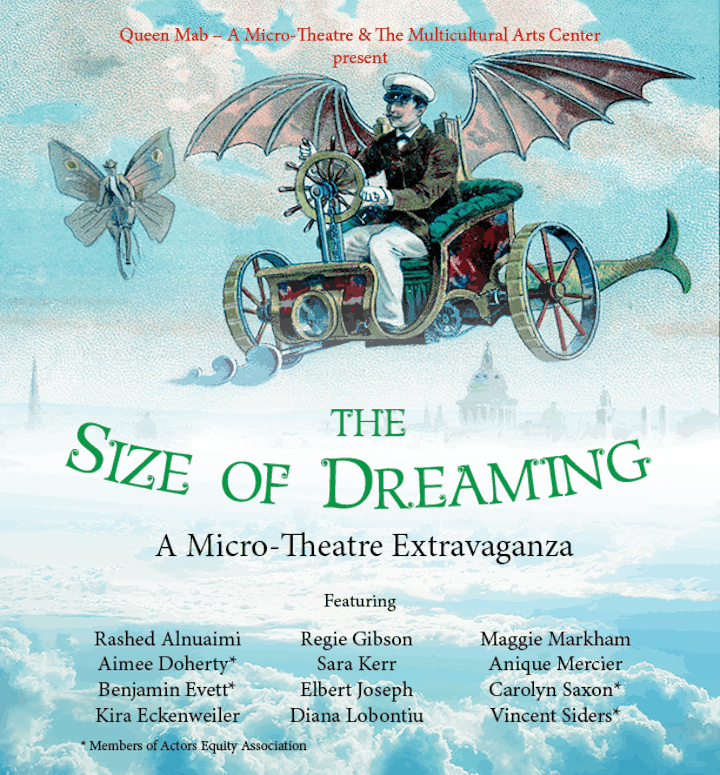 The Multicultural Arts Center and Queen Mab are proud to present The Size of Dreaming: A Micro-Theatre Extravaganza.
Join us for an evening of scenes, songs, food and drink to celebrate the launch of Queen Mab – a Micro-Theatre!
What is Micro-Theatre? It's a two-person Romeo & Juliet; a solo Midsummer Night's Dream; three actresses doing Three Sisters. It's powerful drama, distilled down to its essence; fully realized, professional productions of the greatest plays, performed by no more than three actors. Language, storytelling, and the transformational power of theatre. That's Micro.
Come witness Queen Mab's Micro Magic with scenes from our upcoming seasons, as well as special performances from Regie Gibson's astounding new blues musical, The Juke. Feast on delicious food, enjoy our cash bar, hobnob with the artists, and help launch this exciting new company.
Performers:
Rashed Alnuaimi
Aimee Doherty*
Kira Eckenweiler
Benjamin Evett*
Regie Gibson
Elbert Joseph
Sara Kerr
Diana Lobontiu
Maggie Markham
Anique Mercier
Carolyn Saxon*
Vincent Siders*
and others
*members of Actors Equity Association, the union of professional actors and stage managers